To keep your WordPress website running smoothly, there are some maintenance tasks that you should do each and every month. Regular maintenance will keep your site up-to-date, secure and performing as well as it did on launch day. And in turn, will improve both user experience and search engine rankings.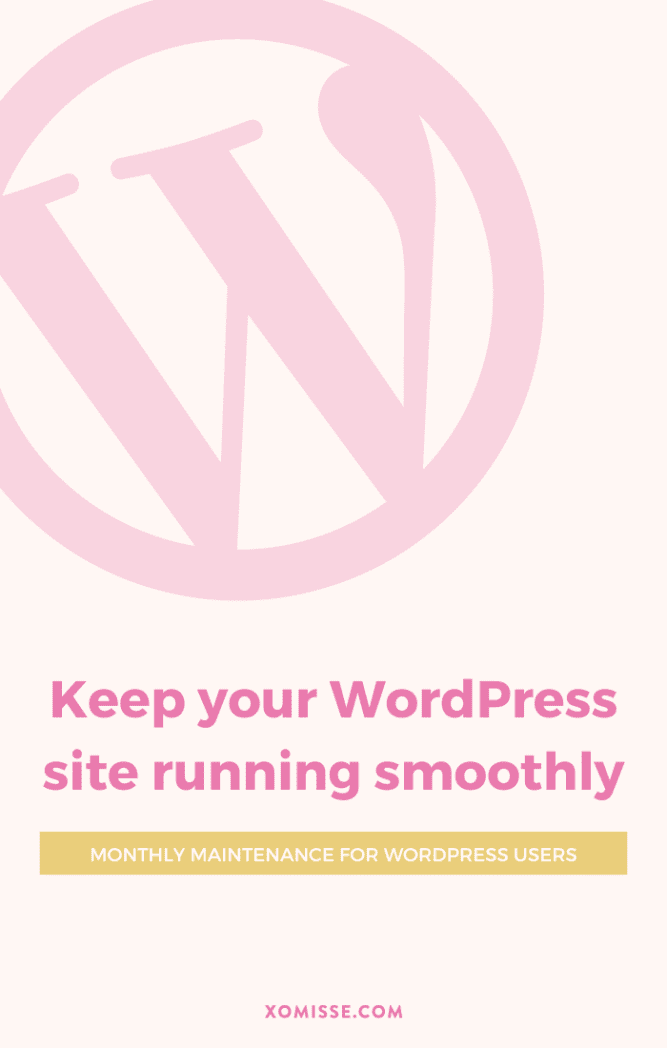 Think of your website like your house or your car. You look after it and it will work for years to come, leave it to its own devices and issues may start piling up.
While it can sound time consuming or intimidating, it doesn't have to be and making it an ongoing process will make life easier in the long run.
1. Backup your entire site
Regularly backing up your site is the best first step you can take. If something happens to your site (like something breaking, being hacked or otherwise compromised) then you'll be able to easily restore a previous version.
You will want to back up your entire website. This means everything from your content and themes to the core files and your database. BackupBuddy, VaultPress or UpDraft Plus can be used to do this this.
The frequency is up to you, you may want to do it daily, weekly or monthly. It all depends on how often your site is producing content or making changes.
2. Install necessary updates
Keep an eye on the Updates tab on your WordPress Dashboard, this will let you know if there are updates available for your site.
If there is a new release of WordPress Core available, take the time to do the update as these new releases often include bug fixes and other security improvements.
Next, make sure that all plugins and themes installed on your site are also up to date. And as an added security measure, check when your plugins were last updated by the developer. You'll find that information on the plugin details page under "last updated".
Related: How to safely update WordPress, themes and plugins
3. Scan for security issues
If you've been a long-time reader of this blog, you'll know I'm a big fan of iThemes and Wordfence for WordPress security. If you haven't already, I recommend installing these.
Once installed, look through the dashboard and logs for any unusual activity. You can also scan your website for infected files or malware.
You can also check Tools > Site Health for other recommendations.
4. Review who has access
Review what users have admin access to your site and remove any inactive user accounts. Double check that you have strong passwords in place and ensure no accounts have been compromised.
5. Remove unused files
Remove any themes or plugins that are not in use. Leaving them installed, even if deactivated, opens your site's up to security risks.
To take things one step further, you may also want to remove any images, videos or audio files that aren't being used on your site.
6. Perform a visual site audit
Review the frontend of your site and make sure everything is working as it expected on both desktop and mobile devices.
Click around, scroll through pages and test some key features. Don't forget to test your buttons, contact forms, email opt-in forms and search fields as well as other important functionality (like the checkout process for example).
You may also want to login to your dashboard and check that the backend is working correctly.
7. Check your site speed
Run your site through Pingdom speed test or Google PageSpeed Insights to test the speed of your site. These tools will give your details about what could be improved when it comes to your site's performance.
Related: 8 ways to speed up your WordPress site
8. Optimise your database
The database stores everything to do with your website, including content, settings, post revisions, comments and so on.
Over time it can hold a large amount of unnecessary data which can increase the size of your website and slow things down. It's good practise to periodically clean and optimise your site's database to remove junk.
You can use a plugin like WP-Optimize or WP Rocket to optimise your database, compress images, remove unused media, delete spam comments and remove unneeded post revisions.
9. Fix broken links
Broken links can affect the experience your users have on your site. For example, an increase in your site's bounce rate may signal to Google that your site isn't good. More importantly, broken links can cause major frustration to your readers.
To prevent this, check for broken links across your entire site. You could manually do this by clicking around, or you can use a tool to automate the process. Once you have a list of broken links, you can start to resolve them.
10. Build your 404 error page
It's also a good idea to optimise your 404 error page to include elements that may be useful to a user – like important links and a search bar for example. That way, if a user follows a broken link and ends up on your 404 error page, they have a way of trying to find what they're looking for.
11. Check Google Search Console
In order to keep on top of issues to do with your site, it's important to make check in with Google Search Console regularly. If Google has had problems accessing your site, it will show up on Google Search Console so check in frequently for crawling or indexing errors.
12. SEO + content review
Like the previous point, check that Google Analytics is installed and collecting data correctly. Take note of your website statistics, including where your visitors are coming from, how long they consume content, and what content is performing best. This will give you so much information that can help with SEO, marketing strategies and performance improvements.
Perform a content audit on your previously published content and review your on-page SEO to see if improvements can be made to titles or meta descriptions. Consider ways your content could be updated or improved upon whether that's uploading new images, reformatting the headings or organising the categories/tags.
Keep your WordPress site fast, secure and running smoothly
WordPress maintenance is critical to ensure your site remain fast-loading, performing its best and is secure from hackers. I hope this post helps breakdown the tasks into actionable steps. While it can seem like quite a lot, keeping on top of these tasks means that the more you do it the less time it will take.
If this feels overwhelming, you may want to consider a managed WordPress host, which will look after tasks like backups, updates and security scanning. And if you would rather not worry about any of these tasks, I have a Monthly Maintenance service where I take care of your WordPress site for you.