One of the major advantages to having a self-hosted WordPress (wordpress.org) site is being able to access over 50,000 plugins in the WordPress Plugins Directory and hundreds more premium plugins available all over the web.
Plugins allow you to easily add extra functionality to your blog without having to manually code it yourself. Here are some recommendations for great free and premium plugins that you should think about installing on your blog.
Here are 50 WordPress plugins across 10 different categories, so you have everything you need for managing, growing and developing your site.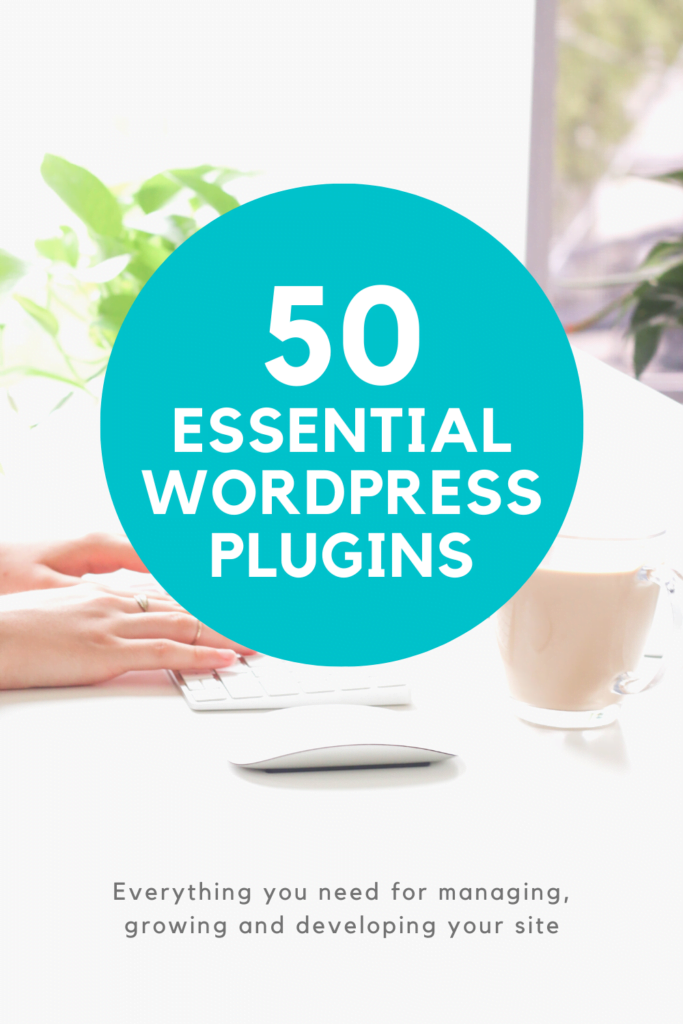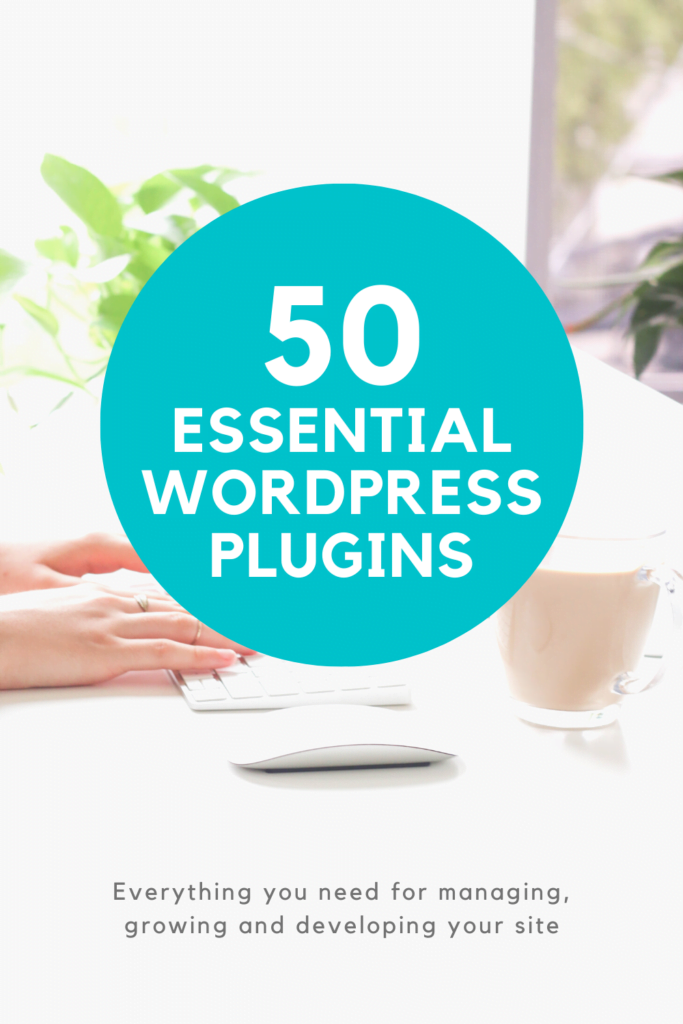 This post contains affiliate links, which will be clearly marked. If you click on these links and choose to purchase something, I may receive a commission at no extra cost to you. I only recommend products and services that I trust to be useful and of high quality, whether an affiliate relationship is in place or not.
A note on plugins
I'd like to note that the only plugins that are actually "must have" are ones you actually need. Don't overload your site with unnecessary plugins as this can slow down your site.
Try to keep the number of installed plugins to a minimum, thinking about what is truly needed for your site. Having a lot of poorly coded plugins will negatively affect your site in terms of speed and security. Keep that in mind when installing them!
When choosing a plugin to install, have a look at the number of downloads, the plugin ratings and reviews, the support given and credibility of the author. Keep all plugins updated and if you aren't using a plugin, it's best to deactivate and delete it.
Also, be extra cautious when installing plugins that are out of date and no longer supported or updated. These could cause security issues.
Security + spam
Wordfence Security [Free/Paid]
Wordfence allows you to scan your site, implement firewalls, block IP addresses, monitor hack attempts, protect againest brute force attacks and enable Two-Factor Authentication.
iThemes has a one-click setup to fix common security holes. You can also schedule malware scans, enable two-factor authentication, protect brute force protection and more.
Sucuri will monitor all security related events, scan for malware, harden your security, give you action steps for a post-hack and more.
Defender by WPMU Dev [Free/Paid]
Defender helps prevent againest brute force attacks and SQL injections, it also scans for malware, block failed login attempts and allows you to enable firewall protection and Two-Factor Authentication.
This moves computer-generated spam comments to the trash automatically so you don't have to filter through to find genuine comments. Use it with Akismet, which deals with human spam comments.
Akismet is the most popular spam plugin out there, it checks your comments and contact form submissions against their global database and marks suspicious content as spam.
Limit Login Attempts Reloaded [Free]
Limits the number of allowed login attempts to your site, with anything over this limit getting blocked for a set time period. This helps prevent against a brute-force attack.
Speed
Hummingbird by WPMU Dev [Free/Paid]
Hummingbird allows you to speed up your website and improve your Google PageSpeed score. You can run a performance test, which will give you a list of steps to improve. You can enable different types of caching and connect to your Cloudflare account. You can also enable GZIP Compression (compresses your web pages and style sheets before sending them over to the browser), asset optimisation (combine and minify the files your website outputs when a user visits your website), and more.
Smush looks after the optimisation and compression of your images. This will reduce the file size of your images, loading them quicker and improves the performance of your site. You can also enable lazy-loading to prevent all images loading when someone initially visits your site.
This plugin delivers static cached files to the majority of your visitors, which improves the performance of your site by reducing the loading time and server resources used.
Another caching plugin where you can enable lazy loading, minification of HTMl/JS, defer JS loading, Integrate with CDN, optimise your database and Google fonts.
Optimizes your site's database tables and deletes old post revisions to help with your site's page load speed.
You can minify and cache your files, defer scripts to your footer, enable lazy-load on images, optimise Google fonts and more to help speed up your site.
Membership, learning + forums
Adds a forum to your site where users can discuss different topics within different boards.
BuddyPress can help you add a forum to your WordPress site and help you create an online community.
LearnDash is a learning management system (LMS) for creating and selling online courses.
LifterLMS is a learning management system (LMS) allowing you to create, sell and protect online courses and training based membership websites.
MemberPress allows you to create a membership site where readers pay to access exclusive content, downloads or paid products. You can restrict access to pages, posts, custom post types, categories and so on. It integrates with BBPress and other forum options so you can password-protect your forums. You can also drop content, give coupons, manage subscriptions and more.
Ultimate Membership Pro [Paid]
Ultimate Membership Pro gives you the ability to create multi-level membership options with recurring payments and social logins. You can restrict posts, pages and custom post types on your site, offer couples and trials, drop content, verify email address and more.
A free plugin that was created 'by podcasters for podcasters'. It helps you manage podcast files on your blog with multiple audio/video player options, subscribe tools, sidebar widgets, SEO features and more.
Ultimate Book Blogger by NoseGraze [Paid]
Connects to Google Books and/or Goodreads to automatically get information about a book and formats that information neatly within your post.
Ecommerce
One of the most used eCommerce plugins available on WordPress. It adds ecommerce functionality to your site, allowing you to sell physical or digital products, services, subscriptions and more.
Easy Digital Downloads [Free/Paid]
A free easy-to-use plugin which adds ecommerce functionality to your site allowing you to easily sell digital-only downloads through WordPress.
Connects with WooCommerce and your emarketing tool (Mailchimp) to sync extra details to your mailing lists in order to send follow up emails, abandoned cart emails, card expiry notifications, subscription renewals and more.
AffiliateWP allows you to setup users as affiliates so they can earn a commission to promote your business.
E-marketing
OptinMonster is a lead-generation tool, which lets you create optin forms to help you turn more of your website visitors into email subscribers.
Easy to use form builder with embedded or pop-up forms to help you grow your email list. They both integrate with popular email platforms like MailChimp, are customisable and allow for A/B testing.
Search engine optimisation (SEO)
Checks how well your content is optimised for search engines and gives you some guidelines for improving your SEO.
Want a less overwhelming plugin? This will help you optimise your WordPress site and content for search engines
Want a less overwhelming plugin? This will help your content rank better in search engines, and has companion plugins to help you with additional functionality.
This adds Accelerated Mobile Pages (Google AMP Project) functionality to your WordPress site, making it faster for mobile visitors.
Social media
Social Sharing for WordPress – Social Share Buttons & Toolkit by Social Snap [Free/Paid]
Add customisable social share buttons to encourage social sharing either before or after your post content, both or have floating icons that are visible to your readers while reading your posts. You can also enable OpenGraph tags for social media platforms like Twitter Cards, Pinterest Rich Pins, etc.
Add social media icons to your site to let users easily share your content on social media. You can choose to display them above your post, below your post or both. You can also add them manually to your site or have floating share buttons so your visitors can always access them.
Smash Balloon Social Photo Feed [Free/Paid]
Display posts from your Instagram accounts anywhere on your site. You can set up multiple feeds to show different accounts, configure the settings to show follow buttons or your username and customise how your images are displayed.
Naked Social Share by Nose Graze [Free]
Naked Social Share lets you insert plain, unstyled social share buttons to your site allowing you to style the buttons as you wish. The reason I love this so much is that it doesn't add any extra bloat to your site, which a lot of social plugins do!
Allows you to easily create "click to tweet" content for your readers to encourage sharing on social media.
Handy short-terms tools
CMP – Coming Soon & Maintenance Plugin by NiteoThemes [Free]
This allows you to activate and customise a maintenance, coming soon/under construction or landing page. Very useful if you're still working on your site and don't want it to be live yet.
Seedprod Coming Soon [Free/Paid]
Allows you to put your site in maintenance mode and add a custom "coming soon" page, excellent if you're making some changes, doing design updates and planning a launch/re-launch.
If you've recently changed theme, this plugin will be your saving grace. You can regenerate your thumbnails for images on all posts and pages.
P3 (Plugin Performance Profiler)
This handy tool created a performance report for your site and lets you see which plugins are slowing it down.
A broken (or dead) link is one that directs visitors to a page, post or file that no longer exists. This plugin monitors your site to alert you when there's a broken link so you can fix them which improves the user experience of your site.
Advanced
Advanced Custom Fields [Free/Paid]
Allows you to easily create custom fields for posts and pages, including text, images, files, links, checkboxes, radio buttons, date picker, repeater fields, flexible content, and galleries.
If you're having issues with WordPress not sending emails (like alerts, or WooCommerce notifications, etc.) then this will fix it. It reconfigures WordPress to use a proper SMTP (Simple Mail Transfer Protocol) provider, which helps deliver your emails and avoid spam lists.
An easy to use interface for creating custom post types and taxonomies, with a wide choice of custom fields that are added to your post editor.
Have an SSL Certificate and want to switch to HTTPS but not sure what to do next? This plugin will look after everything for you.
Have a lot of 404 errors from changing your post URLs? This plugin will let you manage 301 redirects and even has an automated monitoring to create a redirect if you've changed the post slug.
This helps you track down bottlenecks in your WordPress site's database. You can see all database queries performed on the current request, slow queries, duplicate queries and queries with errors.
Miscellaneous
UpDraft Plus [Free/Paid], VaultPress [Paid] or Backup Buddy [Paid]
If you're going to choose one plugin from this list to install straight away, make it one of these. These plugins will automatically backup your site with a very useful restore tool incase anything does go wrong. You can also clone and migrate your site easily to another domain or web host.
Clone, backup, move and transfer an entire site from one location to another.
Gravity Forms [Paid – Affiliate Link]
Premium plugin that allows you to build 'drag and drop' contact forms with a number of different options including conditional logic (show or hide fields based on user selection).
Configure your Cookie Notice, Cookie Consent and Cookie Policy. Periodical Cookie Scan for changes in Cookies, Plugins and 3rd Party services.
Automatically generated and updated cookie policy and cookie declaration, with purpose descriptions and categorization of your cookies. Allows you to scan your site to detect all first and third party cookies.
Add a responsive gallery to your site letting readers look through multiple photos and videos. It is easy to set up with a drag and drop builder and pre-built templates.
Allows you to create responsive sliders using a builder interface and place them anywhere on your WordPress site.
Really popular premium plugin for adding responsive dynamic sliders to your blog with an easy drag and drop builder.
Popular plugin allowing you to add sliders to your site, with different slideshow types. You can also search and download images from Unsplash to use within your slider.
Allows you to see all blog posts in a calendar format which makes organising and planning posts really easy.
Highly customisable, responsive, mobile-friendly premium plugin that adds a mega menu to your site. Add images, tabbed sub-menu items, multiple columns, contact forms and widgets to your navigation menu.