Are you looking to build an online store using WordPress but not sure how to go about it? It can be overwhelming trying to figure out the best option to get started with. So here are three of the most popular e-commece plugins available for WordPress users.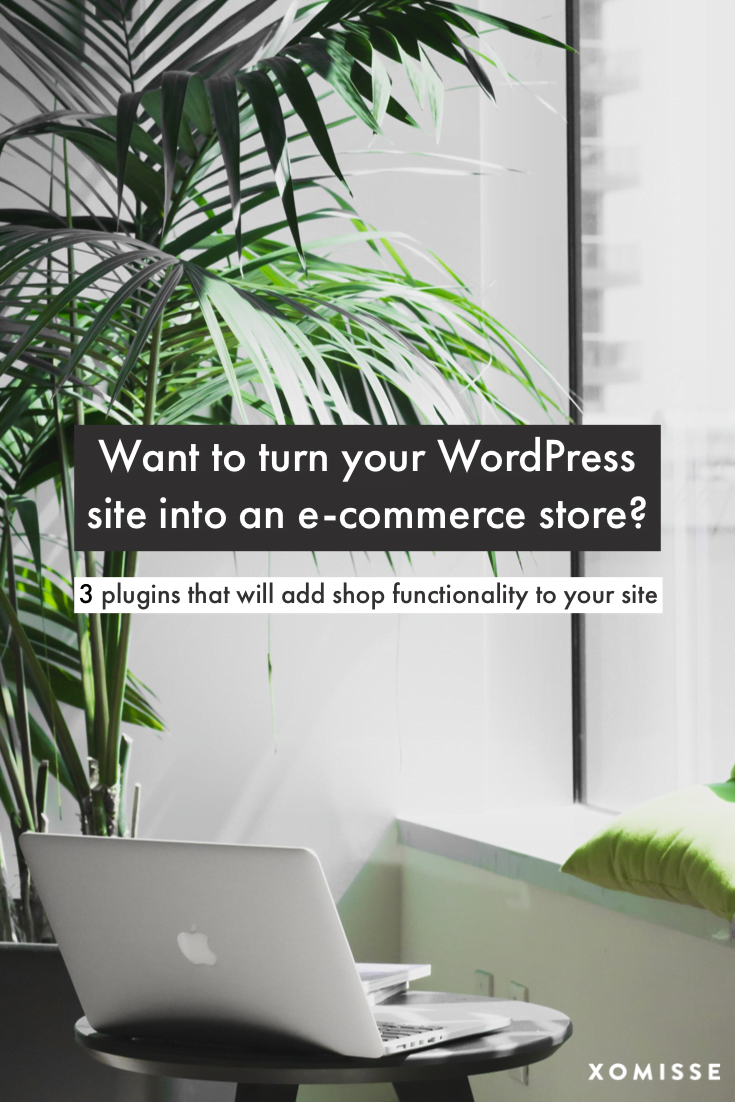 This post contains affiliate links, which will be clearly marked. If you click on these links and choose to purchase something, I may receive a commission at no extra cost to you. I only recommend products and services that I trust to be useful and of high quality, whether an affiliate relationship is in place or not.
1. WooCommerce
WooCommerce [affiliate link] is one of the most popular eCommerce plugins on WordPress. The free WooCommerce plugin was first released in 2011, it was acquired by Automattic (the company behind WordPress.com blog hosting service) in 2015.
With WooCommerce, you can sell physical goods and digital downloads. You can also add affiliate or external products to your shop. It comes with a checkout system, inventory management, built-in support for popular payment options as well as shipping and taxes management.
There are a lot of options available on the settings page, which can be quite overwhelming to start with but WooCommerce have a get started guide which will guide you through the setup process.
There is now a large number of free and paid add-on extensions available that will allow you to do even more with your shop – like creating members-only content and recurring subscriptions. There are also a number of themes created specifically for WooCommerce. WooCommerce does work with any WordPress theme, but you may need to tweak it slightly to make it fit seamlessly with your theme.
As well as WooCommerce support and documentation, you'll also find a collection of helpful articles and forums from the community.
2. Easy Digital Downloads (EDD)
Easy Digital Downloads (also referred to as EDD) was created in 2012 to allow WordPress user's to sell and deliver digital goods. It created by Sandhills Development, who have also created a number of popular WordPress plugins.
The Easy Digital Downloads plugin is designed to sell digital products and downloads. Though you can install an add-on extension to add support for external or affiliate products and shipping simple physical products too. It's easy to use and comes with a checkout system, customer and inventory management, support for popular payment options and taxes management.
Just like WooCommerce, there are hundreds of free and paid for add-on extensions available for Easy Digital Downloads, including recurring payments, software licensing and members only content. While the EDD plugin is free, you can upgrade to one of their paid plans which gives you access to a number of extensions and integrations.
There are also a number of themes built specifically for EDD, but it should work with the majority of third-party themes too. If you need help with anything, there's a wide collection of documentation, free support forums, videos and tutorials as well as priority support for premium users.
3. BigCommerce (Integration)
Another option is using a SaaS (software as a service) platform like BigCommerce and connecting it to WordPress using the BigCommerce For WordPress plugin. This takes away some of the technical aspects for you, so you can concentrate on selling products rather than managing how to sell them. The starting price for BigCommerce is $29.95 per month, but you can get a free trial to test out the platform.
BigCommerce is a fully hosted eCommerce platform that offers seamless integration with WordPress so you can easily embed your products in WordPress. It automatically creates the checkout process, account creation and other important pages for you. You can also connect it to Facebook, Instagram and Amazon.
Conclusion
Stuck on what to choose? I recommend WooCommerce if you're looking to sell mostly physical products and Easy Digital Downloads if your focus is digital products. Both of these options have a huge collection of add-ons to help you build the perfect online store.
If you don't want to look after the more technical aspects then you could look at integrating BigCommerce with your WordPress site. Other options include Selz and Gumroad.
If none of these appeal to you, there are other WordPress plugin options including Ecwid Ecommerce Shopping cart and WP Easy Cart. And if you're not a fan of WordPress, you could look into Squarespace, Shopify, Sellfy or Wix.