A broken (or dead) link is one that directs visitors to a page, post or file that no longer exists. Instead of seeing the linked page they will typically see a 404 not-found page. Broken links are very common, and the longer you have your site the more broken links you'll likely see – due to a change of post slug, deletion of post/page, re-structured site, deleted site, new domain, etc.
Why you should fix broken links?
1. Better user experience for your readers and visitors – they won't be frustrated trying to visit a site you've linked to that no longer works, or an old post of yours that isn't available anymore. Making sure that all links are correct makes your site look much more professional.
2. Better flow of traffic and a lower bounce rate – the chances are that if someone clicks on a link to your site from somewhere else and they reach a 404 not found page they'll likely click off straight away instead of trying to find the original post. This increases your bounce rate, and loses you traffic and link juice.
3. SEO – while search engines such as Google haven't actually confirmed that fixing broken links gives you an SEO boost, the majority of people believe it does. The overall experience of your site is improved when you do fix broken links and this has a knock on effect on your SEO. If someone has had a good experience on your site then they are more likely to share it, which boosts your SEO ranking you higher in search results and sending you more traffic.
TIP: Make sure to have a really great
404 page
– one with a search bar, popular posts or an archive list. That way visitors can find what they are looking for, or find something else that interests them rather than clicking off your site.
How to find broken links and where they are located
You need to monitor both internal broken links (on your own site) and incoming broken links (other sites linking to you). If you're not also fixing incoming broken links then you're potentially missing out on a lot of "link juice" and traffic. There are many tools you can use but here are some of the popular.
Option 1: Find Broken Links using Google Search Console
Log in to Search Console (Webmaster Tools), choose your site and go to Crawl > Crawl Errors. You'll see a list of 404 errors from both internal and incoming links. For each listed, click the URL to get the pop up window with more details. From there you can click the Linked From tab to see a list of everywhere that broken link is used on your site.
Option 2: Find broken links using Broken Link Checker WordPress plugin
Once you install and activate the Broken Link Checker plugin, go to Settings > Link Checker and customise your options. You can turn on email notifications for broken links, edit the broken links styling, choose where you want to scan for broken links, and so on. The plugin will start to scan your site for broken links, which can take some time depending on the size of your site. The results will be available in Tools > Broken Links. You can then fix the broken links right there within that page. This plugin is really handy for WordPress users, however it does tend to conflict with some other plugins so be careful when installing it.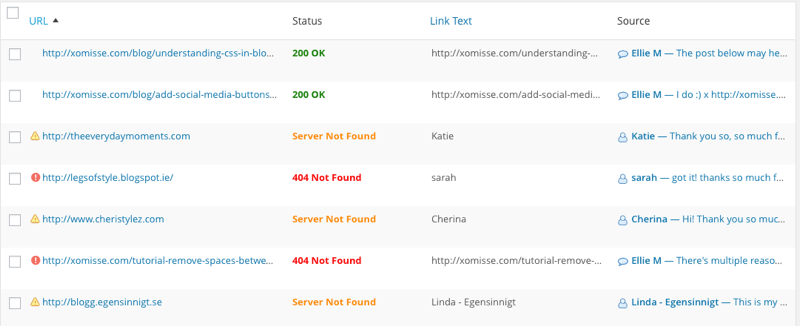 Option 3: Find broken links using Broken Link Check
Add your URL to Broken Link Check, select "Report all occurrences of each dead link" and click the search button. A list will be displayed after a few minutes showing all instances of broken links on your site. If you click URL under "Page where found" it will bring you to the page with the error, and if you click SRC it will open up the source code and show you the error.
Option 4: Find broken links using W3C
Add your URL to the search field on W3C and click check. After a few minutes an in-depth list of broken links will show, allowing you to resolve all errors.
How to fix a Broken Link
Now that you have a list of your broken links, it's time to fix them. There are a couple of things you can do with broken links to fix them, it's up to you what you think will work best
Correct Link – It's important to remember the correct link structure when fixing broken links. A lot of times a link will be broken because it's missing http:// at the beginning. If that's the case simply edit the URL to be the correct link. Double check the link in a new tab before saving.
Replace Link – if the URL has been altered due to a new domain or moved blog post, you'll want to replace the URL with the correct one.
Remove Link – if the site you've linked to no longer exists, or the post/page has been removed and you don't have anything else you want to link to then you'll want to remove the link completely. If it's in a comment on your site you may want to remove the comment if you can't remove the link by editing.
Redirect Link – if you've changed your URL make sure to set up redirects so that the old URL redirects visitors to the correct link. If you notice that somebody has linked to you and it's now a broken link you could email them to make them aware of the change or set up a redirect for that specific link. You can install a Redirect Plugin on WordPress or use the Redirect feature on Blogger to do this.
This is a tedious task and does take time, but once you've done it once you'll be able to monitor it regularly and keep up with it rather than having hundreds to fix all at once. I hope you've found this helpful, if you have a question please leave them below and I'll be happy to help!