Work with me
WordPress, SEO + troubleshooting services
You don't have time to wrestle with your site and you have enough to do without fiddling with code or researching reasons why you aren't getting the visitors you want. You know that having an online presence is important and you know that first impressions are lasting ones – what you don't know is how to achieve the site of your dreams. That's where I can help!
If you're looking for a developer with over 11 years experience, who understands what it means to be a blogger, who can turn your dream design into a fully functional live site and who can help you grow your blog through customised guidance, then you're in the right place.
Want to have the site of your dreams without the headaches? Take a look below at the different ways I can help!
One-to-one help
Need a helping hand? A developer on call? I've got you covered – from one off jobs to monthly retainers.
Consult + Code
Hire a helping hand for anything your need (available for WordPress and Blogger)
£50/hour
Site tweaks + customisations
Code fixes + functionality updates
Speed optimisation
Security setup
Pinterest setup
Domain + hosting setup
SEO + domain redirection
Blog + social media consultation
Canva + Adobe template design
Print + digital collateral
Monthly Maintenance
Your dedicated developer for WordPress support, choose any tasks you'd like completed
£200/month (up to 5 hours)
Site updates (including themes, plugins + WordPress Core)
Admin tasks (fixing broken links)
Content management (uploading, tidying and scheduling)
Site tweaks + customisations (including feature/functionality additions)
Troubleshooting + code fixes
Secure backups
Security scans, uptime monitoring + firewall protection
Site + database optimisation
Email support
WordPress Starter
Looking to start a WordPress site? I'll look after the self-hosted setup and correctly move your old blog
Starter: £150 / Starter with migration: £300
Install and setup WordPress
Install and setup chosen theme
Setup security, backup and SEO solutions
Install and configure recommended plugins
Video tour of WordPress
With/without: Blog platform migration

(ie: Blogger to WordPress)

Transfer and redirect content
Redirect RSS feed
Submit a Google Change of URL (if using different domain)
Submit sitemaps and re-index content
Supercharged SEO
Done for you SEO for WordPress. Get setup with on-page and technical SEO to grow your blog traffic
£200/month (£300 one off)
Site, content + image optimisation
Setup Google Search Console, Google Analytics and SEO plugin
Install SSL Cert (HTTPS)
Submit sitemaps and fix any crawling errors
Fix broken links
Improve loading speed
Improve site usability on desktop and mobile
Optimise and clean WordPress database
Site audit + recommendations
Custom WordPress, Genesis or Blogger Site
Thinking of setting up a blog, website, e-commerce, membership, forum or e-courses site but want something unique? This service is built from scratch, just for you. Get in touch for further details.
Site Build (Web Development)
Already have your perfect site designed but need a developer to turn it into a fully functioning live site? Need to find a web designer? I can recommend some!
£1,300+ / 2-6 week timeframe
Installation + setup of your new site
Custom theme including

All the features/functionality you need

Responsive design optimised for search engines (SEO)

Security, backup, analytics, email opt-in integration and speed optimisation solutions

Video tour of your new site and aftercare email support
Site Design + Build (Web Design + Development)
Sick of DIYing your site and bloated themes that don't do want you want? Ready for your perfect site designed and developed just for you?
£3,000+ / 4-8 week timeframe
Discovery + strategy session
2 site design concepts including

Web style guide with font system + colour scheme

Two rounds of refinements

Plus everything in the Site Build package
About the developer
Hello and thank you for your interest in working together. I'm Elaine – the owner of XOmisse. I was born and raised in Dublin (Ireland) but I am currently based in London (UK), and I love working with creatives from all over the world.
Education and training
I have a BA (Hons) in Creative Digital Media, but the majority of what I do on a daily basis is self-taught through research, training and experience. During my degree, I got a fantastic insight into a range of creative areas but I quickly realised that web design and development was my thing. I get to use the creative and logical sides of my brain – I love that!
Industry experience
I've been blogging since 2009, it's a huge passion of mine so I know how important your site is to you. During that time I had the opportunity to intern at a digital marketing, SEO and web design agency working with clients one-on-one to take their businesses to the next level. This sparked my interest in SEO and digital marketing. Once graduated, I decided to start my own business in 2013 and have loved working with other creatives who are passionate about what they do. I have spoken at the Blogtacular conference about blog design (June 2015) and SEO (2018) and gave one-to-one advice at their Creative Genius Bar in 2016 and 2017. I'm also Creative Director and Head of Operations at Blogosphere, a media-tech company rooted in the influencer industry.
Values
I fully support Black Lives Matter, pro-choice and LGBTQIA+. If you don't share my values, then I may not be the person for you.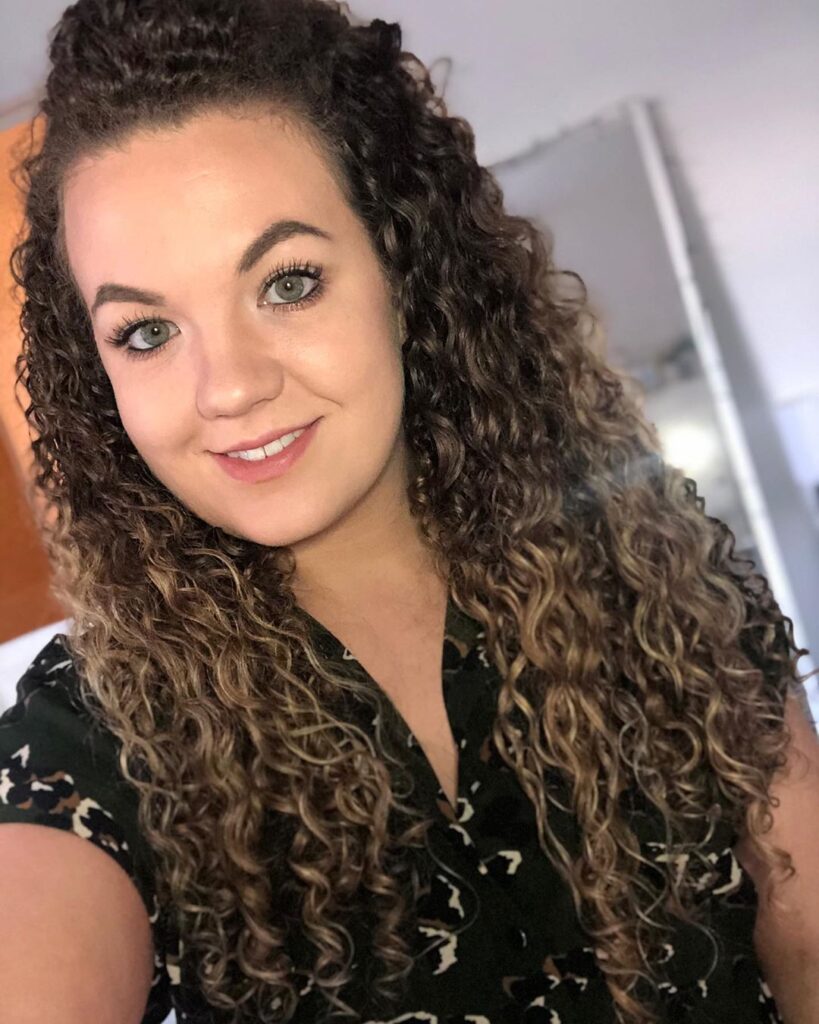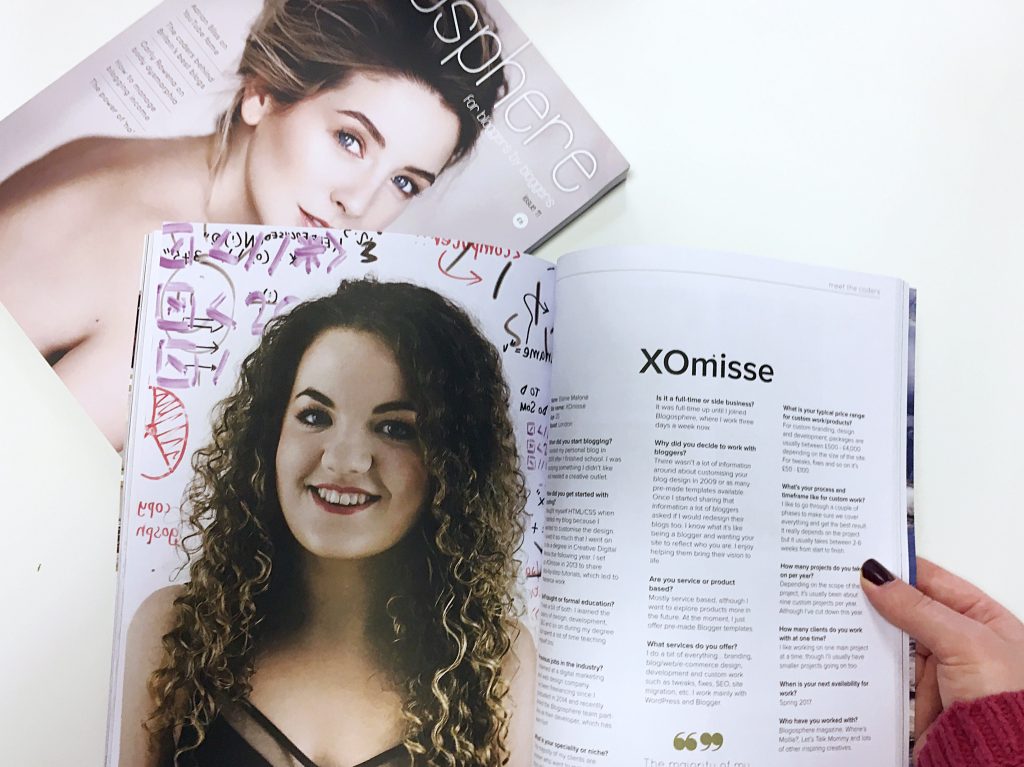 How do we get started?
01. Review
Reviewed my portfolio and think we're a good fit? Awesome! Fill out this form letting me know the details.
02. Discuss
I'll be in touch to discuss your project further, provide you with an estimate and answer any questions you may have.
03. Schedule
Deposit paid and contract signed? Yay, you're booked! Complete the workbook while we wait for your start date.