The start of a new year means new SEO predictions, so today's post will give you a little insight into what you should be focusing on this year to gain some extra traffic to your blog.
In case you've never heard of SEO before, it stands for Search Engine Optimisation. It is the activity of using different strategies/techniques to improve your ranking on search engine result pages like Google, Yahoo and Bing. A higher ranking should increase the amount of visitors to your blog or website. Some previous posts that you may be interested in are
Busting some SEO myths that could be hurting your site
One of the things that can be confusing is that the ranking factors are constantly changing and evolving. There is no guarantee, no set list, you have to watch for trends to determine the important factors.
To save you from doing this, I've complied a list of things you need to know about SEO for the upcoming year along with some action steps to help you get started!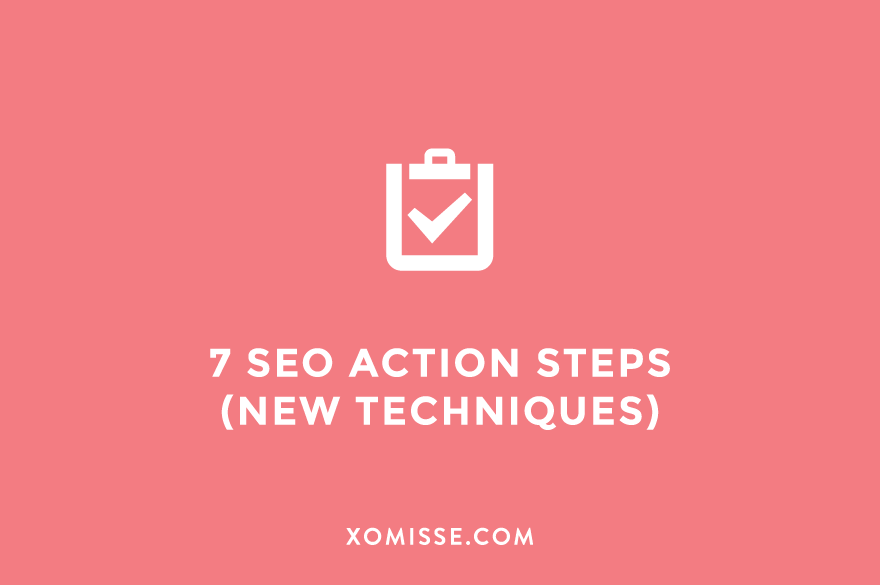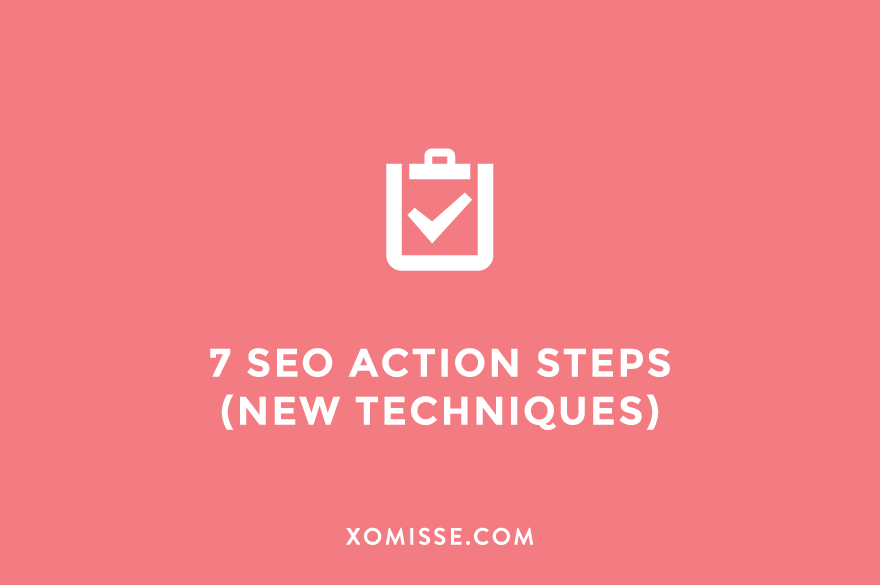 7 SEO Action Steps – Modern Trends Explained
1. Content Density + Keywords
We know "content is king" and that producing original, consistent, high-quality content is really important. It's the foundation for building good SEO. A few years ago, short blog posts were best. Then search engines favoured medium to long content. In 2017, content density looks to be a huge factor and is being described as content's "per word value". People are busy, have lower attention spans and the internet is an overwhelming source of information. You'll need to offer the same valuable information in fewer words and present it in a more focused way.
Keywords are still needed for on-page SEO, but stuffing keywords into content will not give the best results. Google Hummingbird introduced Latent Semantic Indexing, a method used to determine the relationship between terms in a piece of content. Google Rankbrain uses machine learning to analyse and automatically recognise patterns in search queries and results. Simply put, both of these updates mean that similar keywords are picked up and understood. You now need to think about topics and intent over single keywords.
This is also linked to the growth in voice search, using tools like Siri and Alexa. There's a difference between voice searchers and people typing their query into a search box, because of this we should focus on long-tail keywords that answer the who, what, where, when and why.
ACTION: Work on your blog writing process – plan your posts and write outlines with a focus in mind. Research keywords, fill out the content and make sure you're editing that content!
2. User Experience Design + Optimisation
The main focus with UX optimisation seems to be on reducing your site's bounce rate and improving the average time people spend on your site. You'll want to make sure that your site is performing well, follows a familiar pattern and is easy for your readers to use.
What do I mean by a familiar pattern? Visitors scan a webpage in an "F" shape – the further down the page they look the less they scan across to the right. This is often why the logo and main content are on the left while the sidebar is on the right.
Don't choose design over functionality. Your site needs to work well, be useable to visitors and readable to search engines. A beautiful non-functional site won't benefit you, but a functioning beautiful site will as it's a better experience for your visitors. Don't forget that Google recently changed their rules on mobile pop-ups because they weren't user-friendly.
ACTION: Improve your site loading speed making it faster to move around and work on your site's navigation. Take a look at using a CDN to help speed up your site and work on lowering your bounce rate as much as possible.
3. Mobile-First + Mobile Responsive
More people are browsing the internet from their mobiles. Search engines like Google are showing favoritism towards sites that are mobile friendly, especially those with fast loading times. This links to the point above about making the site more usable and if you take a look at some of Google's latest updates you'll see just how important this is.
Mobile-first design has grown in popularity over the past few years. This is designing the mobile layout first and then expanding on that for the desktop version. In November 2016, Google announced that they were testing mobile-first indexing, using content on the mobile version of a site to decide how to rank it on the results page. If you have a separate mobile version that displays less content this may be a concern.
Knowing how your site performs on a mobile device is another big factor, in particular the loading speed. You may pass the Google's mobile friendly test but don't have a "mobile friendly" label next to your link in search results due to the speed of your mobile site.
This is only backed up by the push towards Accelerated Mobile Page (AMP). Although Google launched this last year it's set to be huge in 2017. It's basically a new subset of HTML with the aim to dramatically improve the performance of mobile site's.You'll see a lightning icon next to AMP pages in mobile search results, which can influence clicks.
ACTION: Take a really good look at your site on a mobile and tablet device. How does it look? Is it easy to use? How fast does it take to load? If your site isn't responsive and doesn't have a mobile version, you should make it responsive ASAP.
---
---
4. Rich Cards + Schema Markup
Structured data (such as schema.org) makes it easier for search engines to understand your site and it's content. Schema Markup tells search engines what the data in your content means, such as opening hours, contact details or the date a blog post was published. This is done by adding schema.org vocabulary to the HTML.
This helps make sure that it is displayed correctly in search results. It also helps with enhanced listings in the search results like rich answers, rich snippets, rich lists as well as the recently launched rich cards. These enhanced listings appear at the top of search results in a separate section and can improve the click-through rate to your site.
ACTION: Ensure your theme includes Schema Markup, especially for blog posts. You can check the structured data here.
5. Social Media + Social Markup
As mentioned in previous SEO posts, social media shares have an impact on your search engine ranking. A site that is shared a lot on social platforms and gets a lot of engagement, is likely to be producing quality content. People found it helpful, valuable or liked it enough to share it and search engines take notice of this.
When sharing to social media the title, description and image encourage people to click-through. These can be specified by site owner by adding social meta tags that tells platforms like Facebook, Twitter and Pinterest what content to display There is an increase in search queries happening on social media. By making sure your content is being displayed correctly, you are increasing exposure, traffic and click-through rates from those platforms.
ACTION: Ensure your theme has Open Graph protocol meta tags and Schema Markup for all major social platforms. Install Pinterest Rich Pins and Twitter Cards to help content on those platforms stand out.
6. SSL Certs + HTTPS
HTTPS (Secure HTTP) is an encryption method that secures the connection between your browser and the website you are on. It makes it harder for hackers to spy on the connection and steal sensitive information. In order to set up HTTPS on your site you'll need to purchase, activate and install a SSL Cert and then redirect to the HTTPS version.
You can tell if a site is secure by checking the web address in your browser. It will start with HTTPS instead of HTTP and will typically have a padlock icon beside it. This was a requirement on site's that exchanged secretive information such an online stores accepting payments.
Google are now pushing for all sites to be secure. They've confirmed that sites with HTTPS will receive a slight ranking boost. They will also be letting users know which sites aren't secure., which may discourage some users from continuing to use your site.
How to install the SSL Cert and move to HTTPS will depend on the platform you're using, so I'll probably cover this in a future post. In the meantime if you're on Blogger you can follow the steps here or on Squarespace the guide here. If you have a self-hosted WordPress site, your web host should have instructions. I'd advise following those instead of using a plugin.
ACTION: Consider the cost of adding a SSL Cert and decide if you need it. Some providers offer it free or at a discount but it will add to your yearly expenses.

7. Blogging + Updating Old Content
Having a blog helps search engines understand what your site is about, therefore they like sites that are actively publishing content regularly. If you're a small business just starting out, blogging is one of the best ways to increase traffic and helps build your domain authority.
If you already have a blog then you may consider updating old posts and images, especially those that you rank highly for. This could give it an extra boost, increase your click-through rate and lower your bounce rate. Think about implementing the last updated schema markup in your blog posts next to the original publish date too, letting readers know how relevant the content is.
ACTION: Set aside time to publish valuable content on a regular basis to build your domain authority and spend some time refreshing old content too.
TL;DR – 7 Modern SEO Action Steps
The basics of search engine optimisation has remained the same, above all you'll need to offer great content that people want to share online and be patient. It can be difficult to wrap your head around initially, but once you understand how search engines work as a service you can start to naturally include SEO in your content creation process.
1. Produce shorter blog posts that still provide value
2. Lower bounce rate and improve usability, especially on mobile
3. Ensure your site is fast-loading and responsive
4. Implement structured data and social markup
5. Encourage social media shares and backlinks
6. Make site secure by adding HTTPS
7. Keep old content updated and build domain authority