Welcome back to the September 2022 edition of ICYMI, covering the latest digital marketing news, trends and updates.
Whether you're busy creating content or running your small business, I'm here to recap what's happening with social media, SEO, WordPress and more so you can concentrate on what you do best.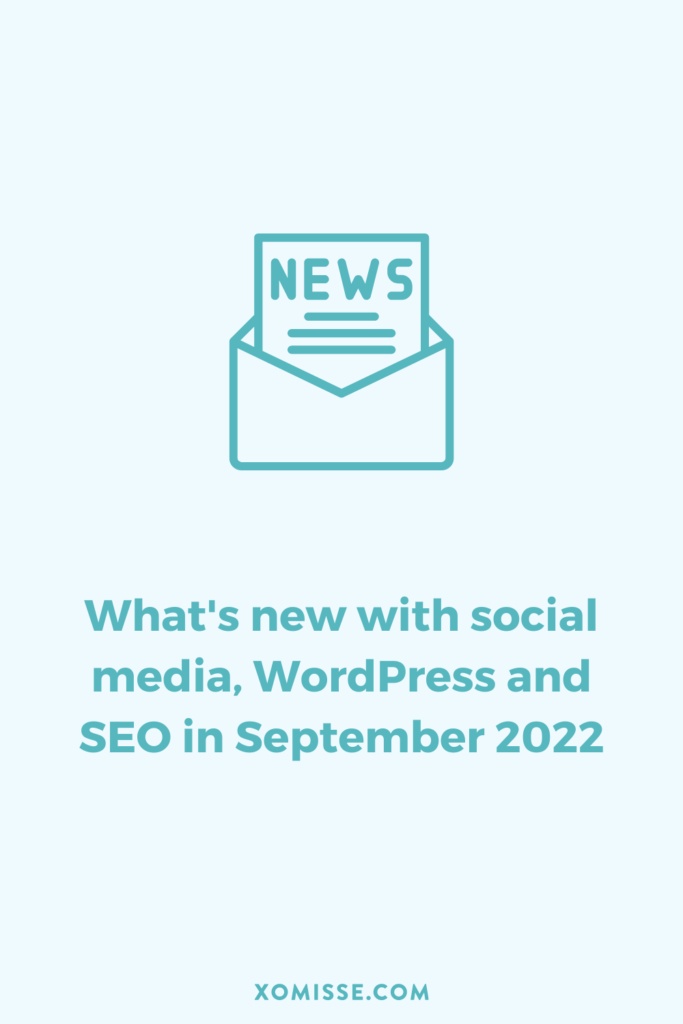 YouTube expands Creator Music
The news we've all been waiting for! YouTube is making it easier for creators to use music in their videos.
Within YouTube Studio, creators will now be able to access a catalog of tracks that they can use in long-form videos. These tracks will be available by either paying a license fee or choosing to share earned revenue with the artist.
YouTube launches monetisation for Shorts
YouTube are really leaning into Shorts, their short-form video content format. They've recently announced that creators can now earn money from Shorts through the YouTube Partner Program.
Creators will need to reach the threshold of 1,000 subscribers and 10 million Shorts views over 90 days to participate, but can then earn 45% of the revenue generated from ads.
YouTube also added a new option of being able to reply to comments with a Short.
Instagram tests Reel topics
Instagram is testing topic tags with Reels, allowing you to categorise your content which should help you "reach people who share your interests."
Head of Instagram Adam Mosseri has said that hashtags help Instagram understand what a post is about but don't necessarily improve reach. Is this where hashtags are heading?
Instagram are removing Shop tab
According to an internal memo, Instagram are phasing out the shopping tab to refocus on generating ad revenue.
Social commerce was on the rise in 2020-2021, but is this an indication that it's already crashed? Facebook are also said to be shutting down the live-streaming feature for eCommerce brands in October.
Instagram testing re-post feature
As mentioned in my ICYMI May 2022 post, Instagram have been testing a new repost feature that will allow you to share others' content with your followers.
Instagram have now confirmed that they are exploring the ability to re-share posts in Feed where original creators can be properly credited. Reposts will also have their own tab on Instagram profiles.
Instagram tests 'Nudity Protection' shielding users from unwanted images in DMs
Instagram is testing out a way to protect users from unwanted content in DMs. The new 'nudity protection' option would allow Instagram to activate nudity detection in iOS.
This would scan incoming and outgoing messages on your device to detect potential nudes in attached images. Where detected, the system can then blur the image.
Instagram testing media kit feature and launches the Creator Marketplace
Instagram is reportedly working on the ability to create a media kit within the platform. This would help creators showcase what they offer to brands for potential partnerships.
It looks like creators would be able to write a short introduction, include published brand campaigns, display brands they've previously worked with and add key analytics.
This comes after the launch of the Creator Marketplace, which can be used by brands to find creators to work with.
Twitter allowing Tweet editing
Twitter have begun rolling out their most requested feature: the ability to edit Tweets.
Users will be able to make up to 5 edits to a Tweet within 30 minutes of posting. Edited Tweets will include a label indicting that the original Tweet has been changed, and this will allow users to see all previous versions.
While the feature will be exclusive to Twitter Blue subscribers initially, it will be rolled out to all users in the future.
Twitter have stressed that this feature is still in the testing phase and may be adjusted based on user feedback.
TikTok launches TikTok Now
TikTok launch TikTok Now, a time-based dual camera feature.
This will send users a daily prompt to post an update using their front and back cameras. This photo or 10-second video will have to be posted within 3 minutes of getting the notification.
If you're thinking that seems similar to BeReal, you'd be right!
TikTok will let users tag books in clips
TikTok partners with Penguin Random House allowing users to tag books within their TikTok clips. Once a book has been added, viewers can visit a dedicated page with details about the book including title, summary and related TikTok clips. TikTok will also give users the option to save books to their Favourites.
TikTok expands video descriptions
TikTok expand the maximum length of video descriptions from 300 to 2,200 characters.
TikTok says that this additional space can be used to "express more details about your creations, describing what your videos show, giving you the opportunity to get closer to your audience, generating more engagement while becoming more searchable and better recommended by TikTok to viewers."
This is a big move towards becoming more of a search engine, so make sure you're incorporating SEO in your TikTok strategy going forward.
The new downvote on TikTok
TikTok users can now downvote comments to flag them as irrelevant or inappropriate. They said the main priority with this feature is to create a better experience for TikTok users.
The total number of dislikes a comment has won't be shown, and people can undo their downvote by tapping again on the comment.
Facebook launch creator features
Facebook announced another range of creator-focused features.
These include Creator Endorsements allowing Creator Pages send their followers a direct notification recommending another creator, and Rising Creator alerts to help people discover new voices.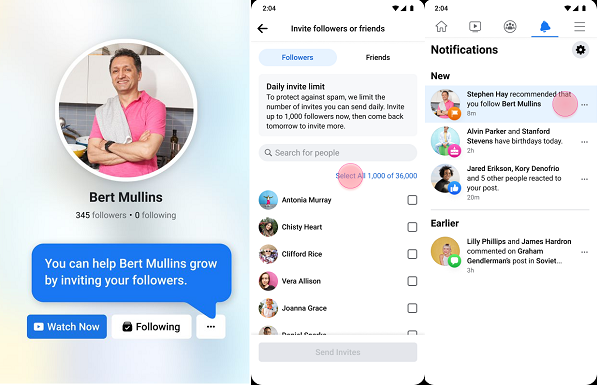 Facebook is also adding new Post and Story templates, and testing new options to share exclusive posts with top fans and subscribers.
Facebook launches Community Chats
Facebook has started testing a new Community Chats feature for Messenger and Groups.
This will give admins the ability to start real-time text, voice and video channels that can be categorised by topic.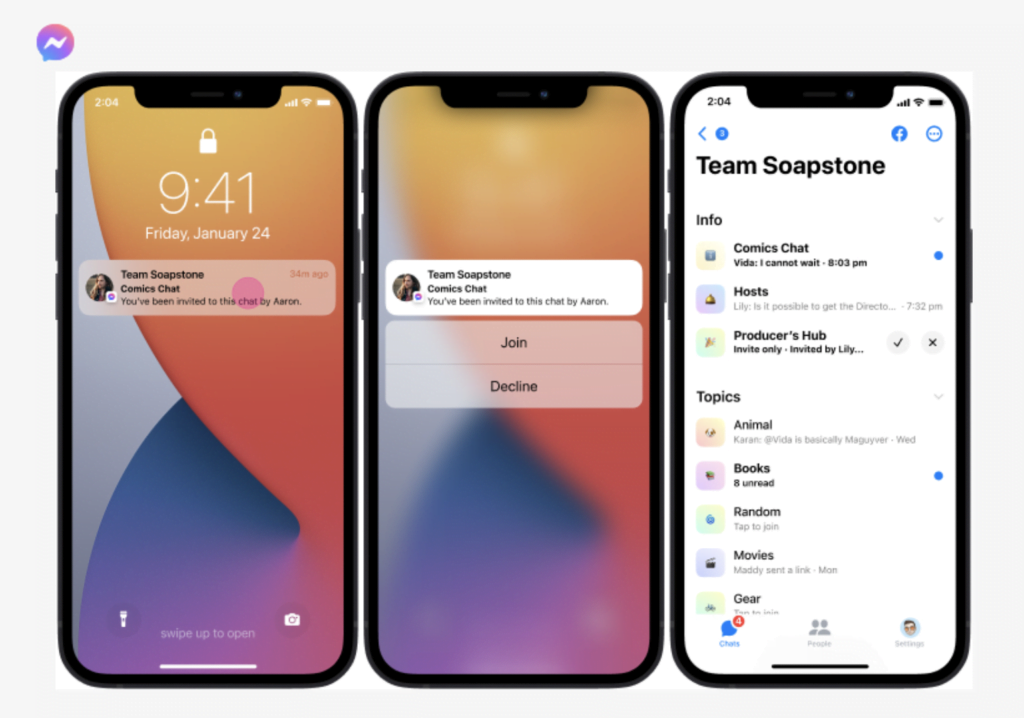 Meta describe Community Chats as a way to "seamlessly blends Facebook Groups and Messenger".
This new addition is best compared to apps like Slack and Discord.
Facebook Reels API allows Reel sharing via Third Party Apps
Following in Instagrams footsteps, Meta launch the Facebook Reels API.
This enables the posting of Reels via third-party social media management tools. Meta partnered with Sprout Social and Wix on the launch but other tools will follow shortly.
Meta release brand guide in response to Apple's ATT update
Apple's App Tracking Transparency (ATT) update allows iOS users to opt out of data tracking across 3rd-party applications. This directly impacts Meta's ability to use user data to serve targeted ads on Facebook, Instagram and WhatsApp.
In response to this, Meta have released the 2022 Signal Resiliency Guide to help brands and digital marketers adjust their advertising strategies.
Meta lists Cross-Site Tracking, Targeting & Retargeting and Website & Email Personalization among the tactics most at risk. And suggests shifting focus to organic search and enriching 1st-party data going forward.
Google rolls out the September 2022 product review algorithm update
Yes, we have just had the Helpful Content update from Google but they're back with the September 2022 product review update.
Affiliates take note!
This is designed for long-form product review content, not customer reviews. It aims to reward those who publish high-quality in-depth reviews where the writer has personally tested and experimented with the product they're reviewing.
Conclusion
That's it! You're all caught up on the changes this month. What are you most looking forward to?