Welcome to ICYMI, covering the latest digital marketing news, trends and updates from the previous month.
Things within this space move fast these days – take social media for example, we're now bombarded with regular updates, algorithm changes and new features.
I know you're busy creating content and building your business, I'm here to recap everything that's happening for you so that you can concentrate on what you do best.
WordPress' market share dropped
The WordPress market share has steadily increased over the years, growing to the highest of 43.3% in February 2022. But as we know, when things go up, they must come down. It's since fallen to 42.9% in May 2022.
While not a huge lost, it does mean that other platforms are gaining users. There's a whole host of reasons why this could be – with lack of backend updates and FSE still being a work in progress being two complaints I see a lot within the developer space. David Bisset, WP Tavern and Joost De Valk share their thoughts.
Google's Core Search Update
Google confirmed that it's rolling out a new Core update for Search, which is meant to improve how their system assess content overall and designed to make search results more helpful.
This will likely change the way some sites are listed on search results pages so you may notice a change in your rankings over the coming weeks.
WordPress 6.0 is now available
Along with celebrating 19 years of WordPress this week, we've also seen the release of the latest version. WordPress 6.0 has over 1,000 updates and bug fixes that improve the writing and building experience. Take a look at the post below for full details on the latest features.
Instagram prioritise original content
That's right, Instagram have announced that original content will get preference in the ranking. The algorithm will predict how likely a piece of content is to be original.
For example, with video they'll look at who is in the video and if they've seen it before. They'll likely also check if it has another platforms watermark, which they've previously discouraged.
Posting history will also be a factor, this could be an issue for accounts that started as feature or meme pages that share a lot of user generated content.
Instagram go full-screen
They've also given us another Feed update, as they test a "fully immersive" experience showing fullscreen images and videos similar to TikTok. Some users noticed the update during May, while others said they only had it for a day or two before it reverted to the normal Feed.
Instagram shorten Stories
Instagram seem to be testing a feature that shows you the first 3 clips of a Story, unless you choose to watch the full thing. We've seen a number of creators abandon the main Feed due to lack of reach and instead focus on connecting one-to-one with their audience in Stories. However, this latest feature, would likely restrict this.
Instagram reposting and pinned posts
Instagram continue to work on a repost feature that will show shared content in a separate tab on your profile. They've also launched the first live test of pinned posts, which would let you stick specific posts to the top of your grid giving you the opportunity to showcase your best content or latest offer.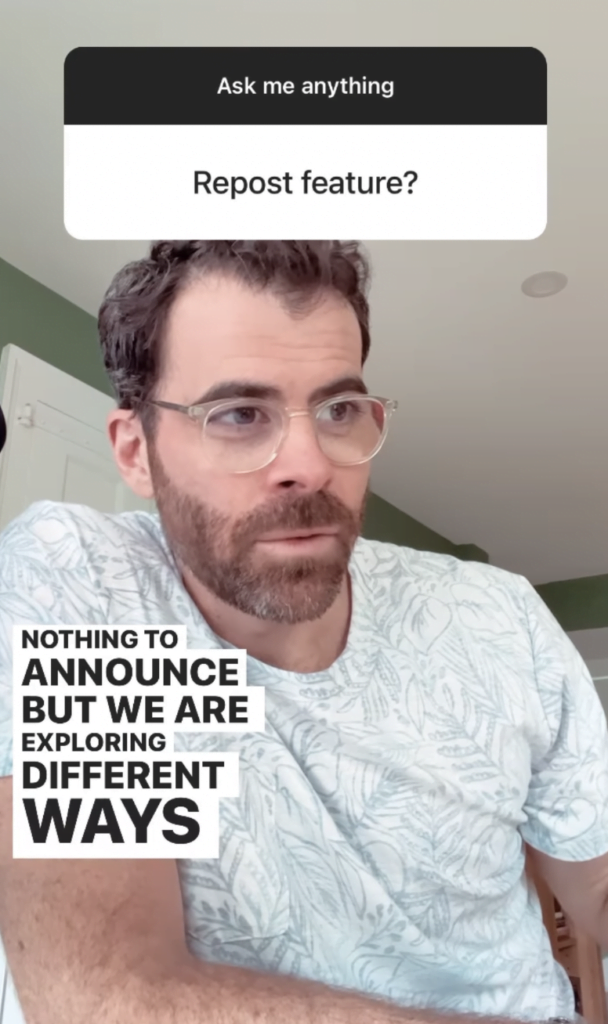 TikTok replace Discover with Friends
TikTok is testing replacing the Discover tab with a Friends tab, which would be the first thing you see when you open the app. This has caused a lot of questions around the future of the platform, as the Discover tab has helped a lot of creators grow an audience.
TikTok Market Insights
TikTok launched a new tool called Market Insights to help you understand your audience better. It allowed you to filter results by industry, country, events and so on, and give you some insights into what content works best.
TikTok partner with WooCommerce
TikTok announced integration with WooCommerce, which will enable WooCommerce sellers to sync their products with their TikTok profile.
TikTok enables credits
Good news for trendsetters, TikTok have added new tools to allow users to properly credit the original creator. You'll now be promoted throughout the posting process to tag and credit a specific video.
TikTok live subscriptions
Subscriptions are definitely a trend at the moment, with Instagram and Twitter both offering this feature to creators on their platform, which allows them to produce exclusive content for paying subscribers. And now it seems that TikTok is rolling it out too for live streamers, though it's current invite-only.
Twitter Super Follower Spaces
Speaking of subscriptions, Twitter introduce Super Follower Spaces. This means that creators who offer Super Follows subscriptions can host Spaces (live audio conversations) exclusively for paying subscribers.
Twitter introduce Twitter Circles
Twitter are testing Circles (think "close friends" on Instagram) allowing you to add up to 150 people that you can send dedicated tweets to.
Twitter tackle duplicate content
Twitter are cracking down on duplicate content, limiting the reach of tweets in search results, user's feeds and replies to try put a stop to spam. It's likely this will affect click-to-tweets also!
Twitter have also started tweaking the explore page to make it more engaging, they begin testing mixed-media tweets allowing images and videos together, and seem to be adding author tags to indicate the Tweet author in replies.
Facebook pull podcasts and location services
Less than a year since its launch, Facebook are now removing podcasts and audio reactions. They also pull location services such as nearby friends, weather alerts and location history.
And they've introduce automated 'fake news' checker to groups, as well as 'mute' and 'suspend' features to keep group communities safe
LinkedIn adds links
LinkedIn adds new profile links for your website and newsletter that will be shown in the header.
LinkedIn change the algorithm
Noticed a drop in engagement on LinkedIn lately? Well, they tweaked the algorithm to show more from the people you follow in Feeds and devalue or down-rank engagement-baiting posts and polls. To go along with that, LinkedIn have also shared insight into how their algorithm works.
LinkedIn have also updated their Professional Community Policies to outline what's not allowed on the platform, which includes harassment, spamming, fake news and sexual innuendos.
Conclusion
Now you're up to date! Let me know what you're most excited about or if you have anything to add.
I'll likely experiment with the format of this post, so please let me know if you have a preference.