Welcome back to the June 2022 edition of ICYMI, covering the latest digital marketing news, trends and updates.
Whether you're busy creating content or building your business, I'm here to recap what's happening with social media, SEO, WordPress and more so you can concentrate on what you do best.
TikTok introduce a trends discovery tool
If you've spent any significant time on TikTok, you'll know how dominant trends are and the importance of being quick to join in.
Well, TikTok have made that easier with their new trends discovery tool, located within the Creative Centre.
It's designed to help users keep up with what's trending on the platform, find inspiration for their next video or help us understand what type of content is performing well. And as a bonus, it's a great tool for marketers to find creators to work with.
With this new tool, we can explore hashtags, sounds, creators and videos that are currently trending on TikTok. And filter the results based on industry, region and metrics.
See who has watched your TikTok video
TikTok users will have an option to switch on Post View History, which will give them the ability to view a list of people who have seen your posts and will allow others to see that you have viewed theirs.
Instagram officially launch Pinned Posts
It feels like it's been in the works for months now, but Instagram finally launched pinned posts. This allows users to customise their profile by pinning up to 3 published posts of their choice to the top of their profile grid.
To pin a post, click on the three dots next to any feed post or Reel you've already posted and select the Pin to your profile option.
I shared some recommendations on Instagram of what to pin as a content creator or small business owner.
And speaking of customising your profile, Adam Mosseri has noted that Instagram's looking for more ways to give creators control over their profile display.
One way they might do this is by allowing users to rearrange feed posts in any order.
Instagram continues testing full-screen feeds (with 9:16 posts)
As reported last month, Instagram continue to test different designs of the fullscreen TikTok-inspired vertical feed. The initial design didn't get much love from users online, the continued testing leads us to believe that we'll soon be able to upload photos in a 9:16 format, similar to Reels.
Schedule Instagram Reels
Good news for creators and social media managers, you'll soon be able to schedule Instagram Reels using third-party apps as Instagram opens Reels API to developers.
We'll have to wait for social management apps to implement the changes but once they do we will be able to schedule Reels and access metrics. And more good news – Flick and Planoly have already started working on it!
Instagram working on combining video
Instagram are working on consolidating all video formats into just Reels. With the removal of IGTV and confusion with the numerous ways to upload video, it was only a matter of time!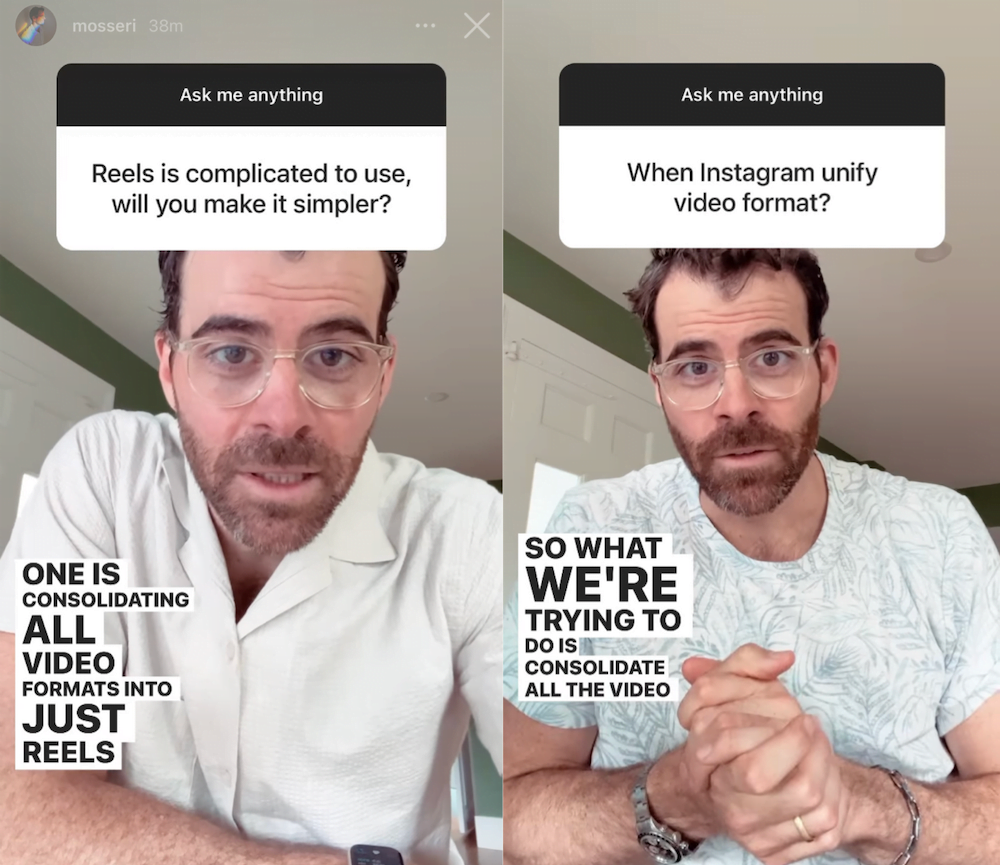 Instagram Creator Marketplace connects brands and creators
Adam Mosseri has made it clear that he believes the future of Instagram (and social media in general) is creator-focused.
With that in mind, Instagram have launched the Creator Marketplace, a new feature within the app that allows brands and creators to connect and find opportunities for partnerships.
"Branded content is a multi-billion dollar industry on Instagram. It's how a lot of creators make money around the world. The creator marketplace is a new space within the app where creators can find brands and brands can find creators, and look for opportunities to work together."

– Adam Mosseri
This is just one of the many monetisation features Instagram have planned in the hopes to keep creators on the platform, including NFTs which is currently in testing with a small number of accounts.
YouTube's new correction feature
Realise you made a mistake in your published YouTube video? Well instead of re-uploading and losing comments or views, YouTube have added a new feature that allows you to add a correction.
This will display as an info-card in the top right-hand corner of the video at the specific timestamp, in which viewers can then click on the card to expand the correction notes in the video's description.
YouTube also added a new critical alert process, which will tell creators if their Channel performance significantly drops.
YouTube tests disappearing Community posts
YouTube is testing disappearing posts within its Community Posts, allowing creators to set a time limit of 24 or 72 hours on text-based posts published under the Community tab.
Twitter Shopping with Shopify
Shopify store owners will soon be able to sync their product catalogue to Twitter.
This feature will allow merchants to showcase their products directly on their Twitter profile and will automatically update product information.
Twitter debuts Product Drop reminders
With e-commerce still on the rise, it's clear that social shopping is a trend which is here to stay!
Twitter is introducing a new shopping feature, Product Drops, which allows merchants keep their audience up to date with new and upcoming launches through reminder buttons.
With Product Drops, you can tap in to view details of the upcoming launch and set up a reminder to be notified on launch day where you can then click to purchase the item on the merchants website.
Twitter launches Notes for long-form content
Twitter have announced Notes, a new feature allowing users to publish longer content on the platform.
Users will be able to publish up 2,500 words under a new Notes tab, which can be edited after its published.
You'll be able to give your Note a title and header image as well as add images, videos, GIFs, links and tweets to the body. And each note will have its own unique URL so it can be read on and off Twitter.
Twitter Location and Shop Spotlights
You can now convert your Twitter account to a Professional one, giving you access to additional features like the option to add a Location or Shop Spotlight.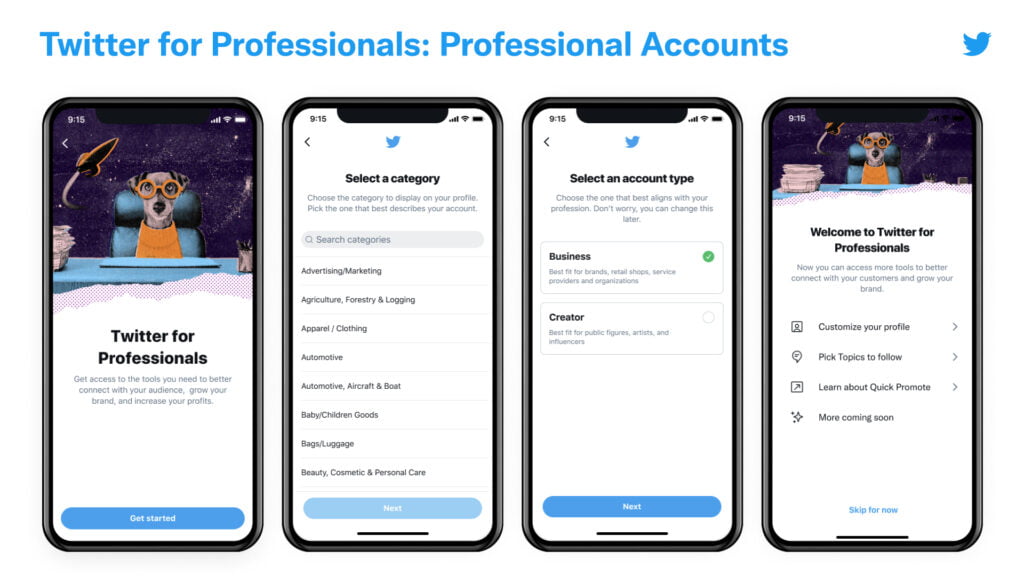 The Location Spotlight allows you to display your business location, hours of operation and contact methods. While the Shop Spotlight gives you a dedicated space to showcase products.
Twitter adds new feed sorting options to Communities
Twitter Communities allows users to create private interest-based networking spaces – a similar concept to Facebook Groups.
And now Twitter is giving us a new way to sort Communities timeline.
The For You feed will be a algorithmic-based timeline showing most relevant tweets. While the Latest feed will be a chronological timeline showing most recent tweets.
Meta add more monetisation features for Facebook and Instagram users
As mentioned above, Meta are really focused on keeping creators on their platforms by offering more ways to earn money. And Mark Zuckerberg announced that more monetisation features are coming soon. 
These include:
Opening Facebook Stars to all eligible creators so more people can start earning from their Reels, live, or VOD (video on demand) videos
Allowing creators to give paying subscribers on other platforms access to subscriber-only Facebook Groups
Opening the Reels Play Bonus program to more creators on Facebook and letting creators cross-post their Instagram Reels to Facebook and monetise them there too
Allowing more creators worldwide to show their NFTs on the platform
Meta also announced that they will be holding off on any revenue sharing on Facebook and Instagram until 2024.
Facebook introduce Collaborations
Facebook are launching Creator Collaboration, which will enable creators to collaborate on content. This new feature will work in a similar way to Instagram Collaborations, listing multiple creators as the author on a single Facebook post.
Facebook also adds a new option to assign a Community Managers to moderate Live Broadcasts.
More upgrades coming to Facebook Groups
Facebook are really focusing on Groups at the moment, with a lot of new features in the works.
First up, Facebook are adding a group sidebar so you can pin your favourite groups to see the latest activity.
There's also going to be a new group menu so you can jump straight to the content you want to see.
As well as an option to create smaller channels within a group for more niche conversations, the ability to start and participate in group messages chants and join community audio channels too.
Facebook users can now create Reels from existing videos
Instagram gave us several updates to Reels lately, such as more sound effects, the ability to import sound, interactive stickers, 90-second Reels and templates.
And that is continuing over on Facebook where users can now create Reels from existing videos on Facebook using Creator Studio.
LinkedIn adds products to profiles
LinkedIn have added a product showcase feature, allowing you to highlight specific products and projects that you've worked on as a sub-element in your experience listings. These can link back to the corresponding Product Page on your company profile.
LinkedIn are also testing new options to tag users and hashtags in Newsletters and Articles to help with reach and engagement.
New tools for LinkedIn Creators
LinkedIn has announced some new additions to its Creator Mode including audio events (much like Clubhouse or Twitter Spaces), a highlighted URL in your profile header and new ways to embed a quick follow button on other platforms.
Pinterest improve product discovery
Pinterest are stepping into e-commerce in an even bigger way, as news broke this month that they have acquired the AI-powered shopping platform THE YES, which learns user preferences in order to provide more personalised recommendations.
We believe their vast leadership, innovative technology and talented team, combining shopping expertise with fashion industry credibility, will help accelerate our vision for Pinterest to be the home of taste-driven shopping.

Pinterest
There's a new WordPress Dashboard coming
It looks like the WordPress Dashboard is getting a long-awaited design update. Though it's in very early stages at the moment!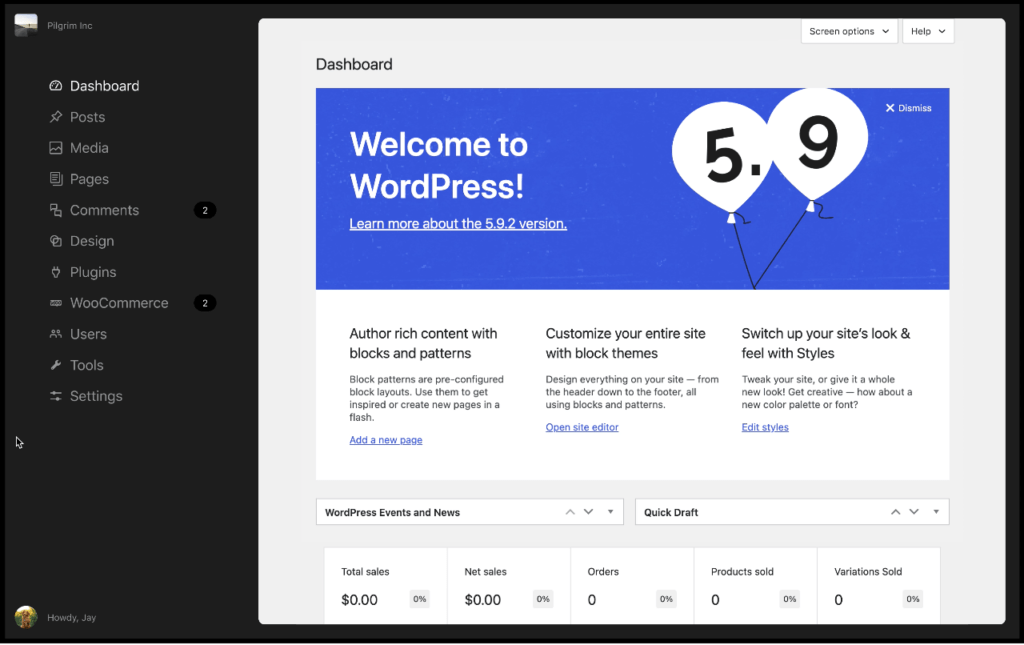 WP Engine acquires Delicious Brains WordPress Plugins 
This month, WP Engine announced that it has acquired five of the most popular WordPress plugins among developers from Delicious Brains.
This includes includes Advanced Custom Fields (ACF), WP Migrate, WP Offload Media, WP Offload SES and Better Search Replace.
WP Engine made clear that these products will continue to work as they always have, for everyone. And pricing will remain unchanged with lifetime licenses will be honoured.
This follows a long list of acquisitions by WP Engine in recent years, including StudioPress and Flywheel.
Gutenberg tests a Table of Contents Block 
Gutenberg 13.3 was released this week with support for an experimental new Table of Contents block. It will automatically detect Heading blocks within the content and will display them with anchor links that jump to each section. There were several other updates made to Gutenberg that we'll likely see moved into the next WordPress Core update due in October 2022.
Bionic Reading for WordPress
Have you seen the hype around Bionic reading lately? It's a new method of reading text where your eyes are guided through the sentence by highlighting the most concise parts of words.
Well, there's now a free plugin to implement Bionic Reading on your WordPress site.
Want to dig into WordPress Block Themes?
The WordPress Themes team have released a new plugin for creating Block Themes. It will allow you to create standalone block themes and child themes inside the WordPress admin.
Jetpack breaks down the 'all in one' solution
Jetpack has gotten some slack over the years about the resources it needs to run on your site. But a big change is coming, they're moving away from the 'all in one' solution and going modular.
It's taken the main features and made them into individual plugins – Backup, Protect,, Boost, Social, Search and CRM. Meaning you can install want you need, without the bloat of everything else. A great move in my opinion!
Photoshop is free on the web
Adobe are currently testing a freemium version of Photoshop on the web in Canada, with plans to open this up to everyone. They hope that this will give more people access to try the service.
Lightroom can now edit video
Continuing with Adobe news, you can now trim the beginning and end of footage and colour grade videos in Lightroom.
Conclusion
Now you're up to date on everything that has been happening within social media, SEO and WordPress this last month!