One of the most frequent questions I get from readers and clients is how to increase traffic to their blog or website and get it seen by more people. My answer is usually always SEO!
In this post I'm going to explain what search engine optimisation is, how it can benefit you and your website, and I'll share some beginner tips too. An increase in traffic doesn't and won't happen overnight, it will take time and effort but utilising good SEO does pay of in the long run.
What is SEO?
SEO stands for search engine optimisation. It is the process of making your site better for search engines in order to get more organic natural traffic.
The goal is to make your site appear closer to the top positions in the search engine result pages. A higher ranking should increase the amount of visitors to your blog or website as it makes it easier for your target audience to find your content.
Search Engine Optimisation is the practice of increasing the quantity and quality of traffic to your website through organic search engine results

moz.com
In fact, according to a 2014 study from Advanced Web Rankings, more than 67% of all clicks on result pages go to the top five listings.
And other research shows that websites on the first page receive almost 95% of web traffic. So if you're not appearing on page 1 of Google you're losing out on a lot of traffic.
SEO Glossary
Search Engine – A web/internet search engine is a software system that is designed to carry out web search, examples include Google, Yahoo and Bing.
Index – is the search engines database. Search engines crawl the web to fetch pages, reading the content and storing the information in their index.
Crawl – The process where search engines look for new or updated web pages by following links, reading sitemaps and so on.
Crawler/Bot/Spider – Automated software that crawls or fetches pages to add to the index (Google's crawler is known as a Googlebot).
Ranking factors – The criteria applied by search engines when evaluating web pages in order to order their search results
How do search engines work?
When teaching SEO, I always find it helpful to explain how search engines work. I think it gives you a better understanding about how your site is shown on results pages and how to optimise your content for search engine users.
There are a lot of different search engines available like Bing, Yahoo! And Duckduckgo. But I'm going to focus on Google, because they claim the top spot with around 90% of global market share.
Search engines have three main parts: crawler (also known as a spider or bot), the index (or database) and the algorithm (or ranking formula).
The crawler (also known as a spider or bot) searches around the web following links. It reads each pages code and gathers information.
It stores this information in the index (or database)
The algorithm (or ranking formula) determines the relevancy of sites that the search engine finds. When a user searches for something, the algorithm sifts through the index and decides what content is most useful for the user's search query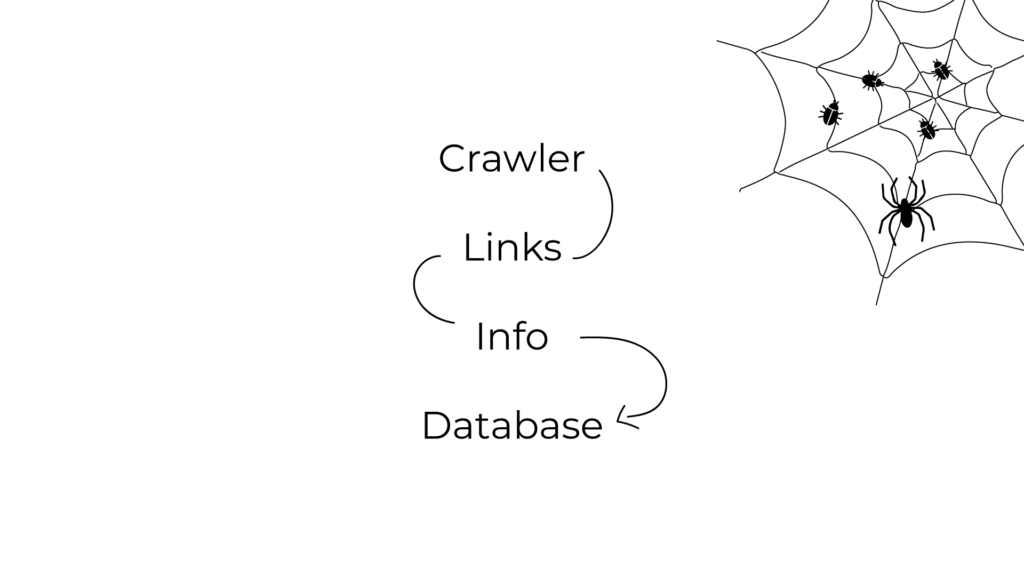 Basically crawlers finds posts and pages, reads the content and indexes it appropriately. This is important to keep in mind when it comes to your blog setup and theme. If not done right, some technical issues can stop the crawlers.
The algorithm decides what pages on the web to show. There is no way to know exactly what determines this as there are hundreds of factors that are forever changing. When someone performs a search on Google, the search query is run against the database to look for similar content and the best results get shown on the SERPs.
Think about it like a spider – a spider moves around his web and catches insects to eat. This is just like a crawler who moves around web, following links, gathering information for the database.
SEO is really all about writing and sharing great original content and optimising that content using relevant keywords. The goal is that you're writing specifically for humans, but in a way that search engines will have an easier time indexing it. And the reason you want search engines to index it is so that people can find it!
SEO Ranking Factors
One of the things that can be confusing when getting started with SEO is that the ranking factors (used within the algorithm) are constantly changing and evolving.
Apparently, Google uses over 200 ranking factors! Though nobody EXACTLY what they are, you have to watch for trends and listen to the industry experts to determine what's important.
We know the following factors have an impact
Secure and Accessible Website
Page Speed
Mobile Friendliness
Age of Domain
Domain URL
Domain Authority
Optimised Content
Technical SEO
User Experience
Links
Social Signals
Local SEO and Business Information
We also know to avoid black-hat or short-term SEO strategies – like keyword stuffing, link buying/trading, page swapping, cloaking and using private link networks.
Instead, you should create a sustainable SEO strategy by focusing on your content, your site and your user. This will have better long-term results.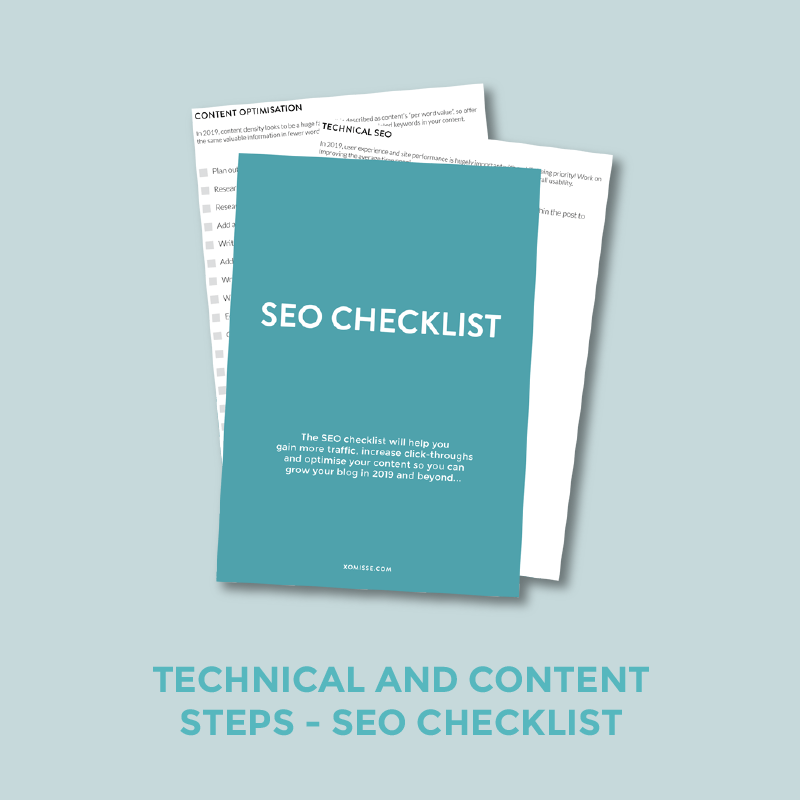 Learn more about SEO and get your free SEO checklist
Signup to the newsletter below and get access to The Hub full of free checklists, ebooks, and more. You'll also receive monthly updates with the latest news and tips, AND be first to hear about my SEO courses!
What is on-page and off-page SEO?
As you now know how search engines work, let's discuss the two types of techniques. It's typically divided into on-page SEO and off-page SEO.

On-page is what most people know, it's optimising the content on your website, your theme structure and code, and the technical aspects of your site (like mobile friendliness and page speed).
Off-page focuses on link building, guest blogging, social media signals, influencer marketing your reputation and becoming an expert, authoritative and trustworthy.
What is keyword research?
Keyword research is the search for keywords related to your site and the analysis of which keywords will bring highest traffic. This is the first step in optimising your blog for certain keywords.
Essentially you're looking for the terms and phrases people use when they Google something. Because when you know the words they use, you can use them too.
Knowing the keywords and search intent (which is the reason behind their search) can also help you find topics to blog about that people are actively looking for.
How do I know what keywords to use?
Think about your target audience. Who are they? What age are they? What are they looking for? What question does your target audience have? Do they have a problem or a need? How would they type this into Google? Keep these terms in mind when writing content.
Where to start
The main thing I advice is to focus on your user and their experience of your site.
Blogging is amazing for SEO for many reasons. It keeps your website fresh and current, which Google loves. It makes it easier to build links because no matter what the topic you are providing value to your readers, it helps you connect with your audience and helps make you an authority in your niche
Choose a relevant blog title, domain name and description that relates to your content
Set up a good navigation system. Name links appropriately using keywords and keep it as simple as possible. Spiders can crawl text better than images so think about that when linking.
Produce original, consistent and high-quality content. Include a mix of internal links (related posts on your site) and external links (relevant content on other authoritative sites). Crawlers will follow links, make your site easy to navigate.
Use appropriate post titles, search engines read your post titles to identify what the post might be about. Keep title short and simple with 1-2 keywords.
Use Headings (h1, h2, h3) in your blog posts to separate points, use keywords that relate to the content.
Correctly name your images before uploading and add descriptive alt text. Search engines can't 'read' images like they read text so it's important to describe the image/picture to them.
Research search intent and keywords that have a low competition and high volume of searches. Use those keywords within your content and ensure your content is nicely structured
Use nofollow links for paid and affiliate links, sponsored content, product reviews and gifted items (and get to know Google's new link attributes)
Build genuine relationships with other bloggers and take part in activities such as interviews and guest posting to help build backlinks
Improve the user's experience of your site and your site structure
Social media and SEO go hand in hand. Google take activity into account when ranking
The structure of your theme is very important. It should be cleanly written and free of errors. It shouldn't be stuffed with keywords or try to trick spiders in any way.
Find some quick SEO tips on Instagram