Welcome back to ICYMI October 2022. Every month, I summarise the latest news, trends and updates in digital marketing, specifically looking at social media, SEO and WordPress.
Because you have enough to do without seeking out the latest algorithm changes. Let's dive into what's happened in October.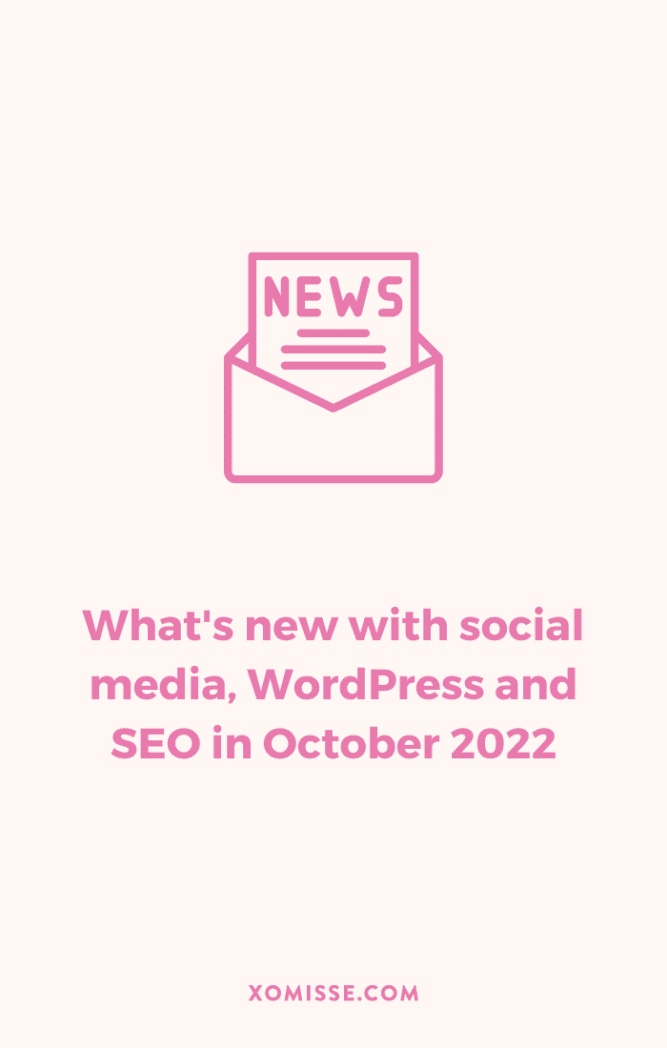 Instagram testing profile songs
Calling all MySpace babies, Instagram is reportedly bringing back the ability to add songs to your profile.
Instagram adds multiple links in bio
Instagram continues testing the ability to add multiple links in your bio. This allows users to click the visible link to see an expanded list of links to different platforms.
Instagram rolls out native scheduling
Instagram have rolled out a live test of native scheduling within the app to a limited group of users worldwide. This allows users to schedule content within advanced settings of the post composer. It will likely be expanded to all users in the coming months.
Will this take people away from third-party apps? I doubt it, but it will give users a way to schedule content on the go with other native features that aren't yet available through third-party apps.
Instagram announced the Creator Portfolio
Instagram have announced its coming Creator Portfolio option, enabling creators to build a media kit showcasing audience reach and previous brand work. This will be available in the Professional Dashboard to help creators get brand deals.
Instagram have also added updates to the Creator Marketplace, which allows brands to discover creators they can collaborate with.
TikTok partner with Linktree on Profile Kit
TikTok have partnered with Linktree to announce the Profile Kit feature. Creators can choose to display up to six of their latest, most popular or favourite TikTok videos on their Linktree landing page. These can be watched directly within the Linktree app.
TikTok add carousel images
In a surprising turn of events, TikTok have introduced Photo Mode, a carousel-style format made for sharing multiple still images in a single post. You can add music to the images and viewers can swipe through ad their own pace.
TikTok launch TikTok Pulse
After announcing TikTok Pulse back in May, TikTok has finally launched their program to share ad revenue with top creators.
Creators can earn 50% of the revenue from Pulse ads placed next to their videos. To qualify, creators must follow Community Guidelines, have at least 100K followers, post at least 5 videos in the last 30 days and be at least 18 years old.
TikTok becoming a news source
TikTok describes itself as an entertainment platform, not a social media app while the New York Times discussed how Gen Z were using TikTok as a search engine. Now it seems that it's also the place to get news.
According to a survey conducted by Pew Research Center, the percentage of people getting news from TikTok has tripled since 2020, with around 10% of US adults getting news from the app regularly. That jumps to 26% for adults under 30.
On the flip side, Facebook has dropped by 10% and YouTube has stayed steadily the same over recent years.
Musk plans to change Twitter – first up is charging $20 per month for verification
It's official, Elon Musk owns Twitter. And according to a report from The Verge, he's already making changes to Twitter Blue (the platform's paid plan) and the verification process.
Currently Twitter Blue costs $4.99/month for access to additional features. However, Musk is keen to introduce a new $19.99/month version of Twitter Blue, which will give users a verified badge.
Musk told employees on October 30th that they will be fired if they fail to meet his November 7th deadline.
Twitter users who do not sign up to the new $19.99/month tier will have their verification badges removed within 90 days.
ETA, November 1st – Musk now says that they're planning to offer verification ticks to all users for $8 per month, with the "price adjusted by country proportionate to purchasing power parity".
Twitter introduce Multimedia Tweets
Twitter finally adds the ability to add videos, images and GIFs all in same Tweet. This means you can mix and match media formats, without having to choose between having a GIF or static image.
Twitter Communities shown on Profile
Twitter users with a Professional Account will be able to highlight one of their Communities on the profile under the Spotlight section.
YouTube introduce @handles
YouTube is rolling out user handles to all channels, which will also provide new personalised URLs that make it easier for creators to share their channels. You can read more about this and find out how to claim your new YouTube handle in my previous post.
YouTube open live-stream commerce tools to more creators
YouTube hope to provide more creators in the US, UK, Brazil and India with access to shoppable links through their videos, Shorts and live-streams by the end of the year.
LinkedIn adds new 'Person' and 'Page' link stickers
LinkedIn introduced the Link Sticker back in August, letting you place links within the frame of an image in your post. They've now added 'Person' and 'Page' variations letting you link to a profile too. This gives you more ways drive traffic with your LinkedIn posts.
New Facebook Group engagement features
Another month, another update for Facebook Groups. Facebook revealed a number of upcoming features at the Facebook Communities Submit in October, including Reels for Groups, expanded admin features, group profiles, community contributions and additional Instagram integrations.
Meta lets brands search for stolen content
Stolen content is becoming a huge issues for businesses and creators on social media.
To combat this, Meta is expanding search functionality on their Brand Rights Protection tool to help brands discover whether other accounts use their intellectual property on Facebook and Instagram. Brands can then report this stolen content prompting Meta to conduct an investigation and remove infringing content.
Meta have also launched its new Performance 5 framework, to help brands improve advertising performance on Meta platforms.
Meta forced to divest Giphy
After a ling-running court battle in the UK, Meta lost its bid to take over the GIF platform Giphy after acquiring it in 2020.
The UK Competition and Markets Authority (CMA) told Meta they must sell Giphy to a suitable buyer due to the risk of substantial lessening of competition in the social media and display advertising market. Giphy argued that nobody other than Meta would be interested in buying it as GIFs aren't as popular as they once were with younger users describing GIFs are cringe.
Pinterest provides new music for Idea Pins
Pinterest users can now add tracks from popular artists to their Idea Pins. Through new partnerships with the likes of Warner Music Group and Merlin, artists like Ed Sheeran, Silk Sonic, Paramore and Bruno Mars are now available on the platform. Pinterest also expanded its royalty-free music library and have the music library easier to use.
---
Google weighs in on the use of stock photography and image SEO
Google's John Mueller and Lizzi Sassman discuss the impact of using stock photography on your website. The conclusion was that although stock photography does not have a negative impact on web search, it may not perform well on image search and probably won't get ranked.
John Muller also shared that descriptive filenames on images do help Google understand what the image is about, but the Alt text and surrounding image text is a stronger signal. If you're thinking about changing the filenames of previously uploaded and already indexed images, Google confirmed that they would have minimal effect and may not be reindexed for months.
Google on balancing SEO and accessibility when it comes to Alt text
John Mueller reminded us that when it comes to writing alt text, we need to describe the image. He recommended that we imagine we are reading the web page out to someone over the phone who needs to understand the page.
According to W3C, the purpose of image alt text is to make images understandable to site visitors using screen readers. They followed up acknowledging that alt text has an SEO purpose also, stating that alt text should be used to ensure search bots don't miss important sections of your page.
When it comes to accessibility, what information or function does the image have. Or are they decorative, in which case the alt text can be left blank. That will help you decide on alt text. You don't need to declare that it is an image or screenshot.
From an SEO perspective, you should provide context for the image. When it comes to image search, people don't want the image, they want the information attached to the image.
Google launches simplified Webmaster guidelines
Google has launched Google Search Essentials, which is a simplified version of their Webmaster Guidelines. This now includes three categories focused on technical requirements, key best practices and spam policies.
Google Spam Algorithm Update
Google confirmed the rollout of a spam-related algorithm update in October 2022. This update aims to target low-quality sites, phishing scams and other sites guilty of being spammy.
If you noticed a sudden significant drop in rankings in October, but know you follow Google's guidelines then it's likely linked to the Helpful Content update and not this spam update.
---
Yoast SEO support for Google's Site Name change
Google introduced a new update on mobile results by showing the website's name instead of the page title. While Yoast already had support for this, the latest release for WordPress and Shopify gives site owners more control by allowing you to customise the site name as well as adding an alternative name.
What we can expect from WordPress 6.1
Work on WordPress 6.1 is almost complete, with the release scheduled for Tuesday, November 1st. This will be the third major release of 2022. This will introduce more templates and patterns to Full Site Editing, along with a new Table of Contents block.
There will also be improvements made to several others blocks as we'll as performance and accessibility improvements. And as always, a new default block theme, Twenty Twenty-Three. JPEG to WebP image conversion has been pulled due to resource usage issues but hopefully this is something we'll see in a future update.
Sign up to my email list to be the first to hear about all things WordPress, and receive tips for optimising and securing your site.
---
Conclusion
That's all the updates you need to know about this month.
If you're struggling to figure out what to post in November, check out my content ideas for the upcoming month.