Following on from my post explaining domains, this post is all about web hosting. Hosting is one of the most important things when launching a site. It can be incredibly intimidating and overwhelming trying to figure out, especially when you're just getting started.
This will a long post, as I want to carefully explain each aspect. Hopefully this will help you make that important decision of where and what to purchase when it comes to your site hosting.
---
What is web hosting? When do I need it?
The simplest way to explain hosting is as storage space for your site.
When you purchase hosting, you are renting space on a server for your site to live. The server holds the files which make up your site and delivers them to those visiting your site.
The first step when setting up a site using the self-hosted version of WordPress is choosing your domain and hosting. You only need hosting if you decide to go self-hosted. If you're using Blogger, Squarespace or WordPress.com, then your site is hosted by those platforms and you do not need hosting.
Why is a good web host is important?
Bad hosting can negatively affect your site in many ways. If your site is constantly unavailable, slow or getting hacked, that's really going to impact your site's SEO and your visitor's user experience.
A great hosting company will provide secure servers that are running the latest software, keep your site online as much as possible and offer you technical/customer support.
All hosting companies at some point will have an outage, which could range from a few minutes to a few hours downtime. A good host will keep you informed and be active in helping resolve these issues.
What are the different web hosting types?
As well as trying to decide between hosting providers, you'll also need to choose a type of hosting. There are various kinds of hosting available, each with different amounts of storage, control, speed, reliability, scalability and setup.
The main options which many hosts offer include:
Shared Hosting
Shared hosting is one of the most popular choices, especially for bloggers and freelancers, due to the easy setup and affordable costs.
With shared hosting you'll be given limited access to a server which is shared between multiple people. This means that you are sharing resources such as storage space, memory and bandwidth with hundreds of other customers.
Performance and reliability are not guaranteed. If the server experiences problems (like an outage or hacking) then all sites on that server will experience downtime and it can take time to get each site up and running again. You do not know who you are sharing the server with. If they are not looking after the security of their site and get hacked, it could compromise the entire server. If they get a traffic spike and overload the resources, your site may also become unavailable to visitors.
The maintenance, security and technical side is all looked after by the host provider. If you have any issues with the hosting service, the support team will look after it for you. You will have limited access to some files and advanced settings (such as PHP memory).
Managed/Unmanaged VPS Hosting
A VPS (Virtual Private Server) is the option between shared and dedicated hosting, dividing a physical server into several smaller virtual servers.
With a VPS, you are still sharing a server with other people so performance can still be affected by other sites but there aren't as many users allocated to it. This means you get a larger percentage of resources and space and each person is isolated from one another. Your site won't be affected by sudden spikes from other users on the server.
Managed VPS means that they hosting company will look after the security of maintenance on the server as well as tools and services needed to run the server. Unmanaged VPS means that you are responsible for these areas and you won't be given much technical support.
Managed/Unmanaged Dedicated Hosting
Dedicated hosting probably isn't an option many of you will ever go with due to the maintenance and price, but I wanted to mention it anyway. When you purchase dedicated hosting, you are assigned an entire server for yourself. You do not share it with anyone else and have full access to the files, settings and resources. You are solely responsible for your server, so if you aren't very techy you may need to hire someone to manage it.
Cloud Hosting
Cloud hosting is a variation of VPS hosting that is more scalable and reliable. It has flexible pricing, allowing users to only pay for what they use. It works by drawing resources from multiple different servers. If one server goes down, it automatically switches to a different server. If your site needs more resources it will migrate to a different server that will offer the resources needed. This means that your site is less likely to experience downtime. It is slightly more difficult to set up though, can be expensive and you are still sharing resources with other people.
Shared/Managed WordPress Hosting
WordPress hosting is specifically designed for WordPress, though you don't need WordPress specific hosting to run WordPress. It is optimized to better meet the performance and security needs of WordPress sites. It often includes other features like one-click WordPress install and automatic updates. WordPress hosting is relatively new but is quickly becoming very popular due to the premium support.
Shared WordPress hosting is just like normal shared hosting, you'll be given limited access to a server which is shared between multiple people but the server will be performance optimised for WordPress.
Managed WordPress hosting is aimed at WordPress users who don't want to deal with the technical side of running a self-hosted WordPress site. The host will look after all technical aspects such as maintenance, security, updates and malware. They'll offer features like automatic backups, one-click restores, daily monitoring, staging sites, built-in caching for speed and support from WordPress experts.
It can be expensive as you are getting premium support and features.
Where do I purchase web hosting from?
You'll want to purchase from a trustworthy provider with a good reputation and some noteworthy clients who recommend them. Take a look online at reviews, ask other people and contact host providers with any questions you have. Do some research and figure out what the best option is within your budget.
You do not need to purchase your domain and hosting together, nor do you need to purchase them from the same company.
Web Hosting Geeks have an awesome resource on their site showing reviews on the best hosting providers, but hare some of my recommendations based on my personal experience and feedback from clients.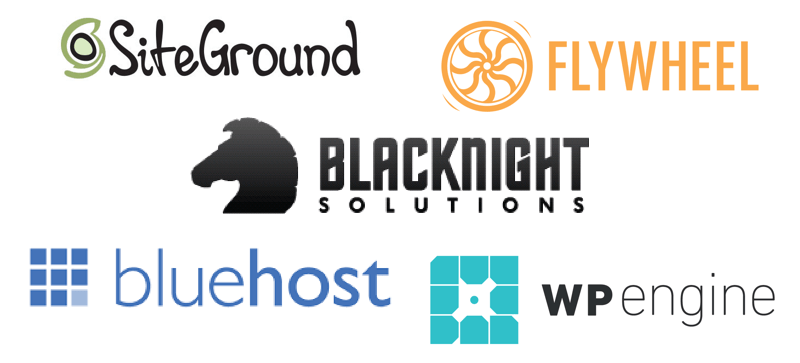 SiteGround
Managed WordPress, Shared, Cloud, Reseller and Dedicated Hosting
SiteGround [Affiliate Link] offer a dependable service with excellent support and great reviews. I recommend the Startup or GrowBig packages on Shared or Managed WordPress. They can be expensive but in this case I think it's worth it. They have great features, keep the servers updated, offer 24/7 support and offer lots of useful extras.
Lyrical Host
Lyrical Host [affilaite link] specialise in web hosting for bloggers. They pride themselves on transparent pricing, offering premium managed hosting without price tag. Hosting plans include SSL certificates, email addresses, automatic daily backups and one-to-one support and are designed for WordPress. I've heard a lot of great reviews! Use discount code XOMISSE for 10% off your first hosting plan payment.
Blacknight
Shared, Cloud VPS and Dedicated Hosting
Blacknight are an Irish company that I've used and loved for many years. They provide an excellent service and customer support. They are really quick to respond to downtime and great with keeping you updated. The Minimus Plan is great for small bloggers starting out and is very affordable.
Bluehost
Shared, Cloud, WordPress, WooCommerce, VPS and Dedicated Hosting
Bluehost [Affiliate Link] is largely popular due to it's affordability and how easy it is to set up. They offer one-click WordPress installs, 24/7 support and free add-ons. I often recommend Bluehost to bloggers who are just starting out, are on a tight budget, aren't ready to invest or those who are blogging purely as a hobby.
Being one of the most popular means that Bluehost get a lot of mixed reviews. Some customers complain about the slow speed and bad customer service/support. Bluehost is owned by Endurance International Group (EIG) – one of the world's largest web hosting companies who, over the years, have bought a number of smaller web hosting businesses (including HostGator, HostMonster and A Small Orange). If you search "EIG Hosting Companies" you'll come across a lot of articles about why you should avoid them. I've heard both good and bad things but personally, I've never had issues working with Bluehost.
Flywheel
Managed WordPress Hosting
Flywheel [Affiliate Link] provide an excellent service with a great user interface and a very helpful team. The services are targeted more towards WordPress designers but they do have some smaller plans available. They are on the pricier side since they offer premium features and take care of everything like backups, updates and migrations.
WP Engine
Managed WordPress Hosting
WP Engine [Affiliate Link] pride themselves on super-fast servers which improve your site speed and they claim to be the most secure service available. They get great reviews online but as it is a managed service you will be paying premium prices.
Clook Internet
Clook Internet is a UK managed web hosting. They offer free migrations, 24/7 support and boast that their servers have 99.99% uptime with excellent reviews.
What does web hosting cost?
Web hosting costs vary dramatically depending on what company you choose, what type of hosting you go for and what plan/package you start on. It can range from £10 a month to millions.
You are not stuck with one type forever, you can change your hosting company if you need. You should also be able to switch or upgrade to a different plan when your site grows.
Generally speaking, when it comes to web hosting, you typically get what you pay for. If you care about the reliability and performance of your site, it's a worthwhile investment.
How to choose the best hosting for your site?
I told you, it's overwhelming right? You'll need to consider speed, security, support, reliability, reputation and control.
Here are some helpful questions to ask:
What volume of traffic do you get right now? How will that change in a year? Do you need multiple separate sites? The less bandwidth you have the less traffic your site is capable of handling.
What kind of content will you have? Will you have a lot of images and videos? Your site files, themes, plugins, images and videos will all take up space so you'll need something to accommodate that.
What happens if your site does go down? Do you lose visitors or potential clients and income? How reliable do you need it to be?
Does it meet the WordPress minimal requirements? They recommend that your host supports PHP version 7 or greater, MySQL version 5.6 or greater and HTTPS support.
What is your technical background? Will you need a lot of help and support? Can you look after a lot of the maintenance and security yourself?
How responsive and helpful are the support team? Are they available via support tickets, online chat or over the phone?
What are your must-haves? What is your budget and how much are you willing to invest?
Is it easy to upgrade from one plan to another if needed in the future?
If you have a personal blog or small website, with a couple of pages and plugins and you're not expecting a large amount of traffic for long periods of time then shared hosting should be fine.
If your blog or website gets a lot of traffic daily, is a larger more complex site with more plugins or images, you may want to consider a VPS, cloud or dedicated server.
If you don't want to deal with the technical side of the server and maintenance, then managed WordPress hosting may be a good option for you.
Related: 8 factors to consider when choosing your web host provider
---
I hope that has given you a better understanding about web hosting and what to consider when choosing the best host for your site.