Continuing on from last weeks post today I'm going to talk about domains – what they are, when/why you need one and where to purchase from.
What is a domain name?
A domain name is the web address or part of the URL that you see in the search bar of your web browser. They are used to easily identify pages on the web.
Registering a domain connects that unique easy-to-remember address you've chosen (like mydomain.com) with the specific numerical IP addresses (like 012.345.678.910) on the server where your site is hosted. When you visit a website, the DNS server is reading the domain you typed in and processing what IP address is associated with it.
Domains are made up of several levels, usually determined by the number of dots before it. The top-level is the extension/suffix, the second level is the name you've registered and third level refers to the subdomain.
Once you've purchased a domain, you can set up subdomains to use as well as the main domain. Subdomains are prefixes of regular domains (like blog.mydomain.com) and are commonly used to build additional elements of a site on the same domain such as a blog or online shop.
What is a Top-Level Domain?
A Top-Level Domain (TLD) or domain extension/suffix is the part of the domain that appears at the end after your chosen domain name. The most common being .com, .org, .net, .edu and .gov.
Occasionally new options become available. You can use generic top-level domains (gTLD) such as .store, .host and .blog and country specific domains (ccTLDs) like .ie, .co.uk and .au.
You can also choose something more fun like .dad, .ninja, .recipes, .style, .design and .fit. These can help visitors identity what your site is about instantly, add to your brand experience and allow you to be more creative with your domain when so many options are taken.
It's a good idea to keep your domain simple and use something that is easy to pronounce, spell and remember.
When/Why do I need a domain?
Having your own domain can make your site look more professional and branded. It's also a great way to start building your domain authority, which is only available to those who have their own domain.
One of the major benefits is that YOU own it. You can easily move to another platform or a self-hosted site without losing your domain authority, backlinks and any SEO work. This is why it's recommend to purchase your domain as soon as possible if you want to grow a blog or business.
When you sign up to a free blogging platform, like WordPress.com or Blogger, you will initially use a subdomain on their domain (like www.yourblog.wordpress.com and www.yourblog.blogspot.com). With Blogger, depending on the country you are in you may be redirected to a country-specific domain (like www.yourblog.blogspot.co.uk or www.yourblog.blogspot.com.au). You'll have the option to install your own domain (like www.yourblogname.com or www.yourblogname.co.uk for example) on these platforms.
If you want to set up a self-hosted site using WordPress.org, you'll need to purchase a domain and hosting straight away.
Where do you purchase a domain name?
You can purchase a domain through a domain registrar online. They are relatively cheap and you can usually get a domain name for less than €20/$20/£15 a year. Some domains, like those in popular demand, can be much more expensive.
When you register a domain, you are paying for the right to use it for the time period you have paid for. You never really "own" the domain, but you will get priority when it comes to renewing it. If you don't renew it within the expiry period you may lose it.
There are loads of options available so it's important to research the companies and read reviews. You'll find a list of my recommendations on the resource page, which includes NameCheap for reliable and affordable domains.
To purchase a domain you search for your preferred domain name on the registrar's website. The results will show you what options are available and you can pick one to register. Having trouble finding the perfect domain? Check out my post on choosing your domain name here.
What is Domain Propagation/DNS propagation?
If you've ever noticed a blank page when you first register your domain, then Domain Propagation was likely taking place. It is the process of updating every server across the web with new information. It's the period of time between you making a change to your domain and when those changes have been registered fully. This is usually done within 48 hours, though all servers receive and update the information differently.
Do I need any add-ons? What about domain privacy?
It is recommended that when you find your domain name, you purchase multiple TLDs and redirect them to your main domain. This is to prevent someone else using the same domain name with a different extension. This is up to you!
Along with the domain, you'll probably want to purchase WHOIS privacy protection. This hides your personal details from the WHOIS database, so people can't look up your contact details online.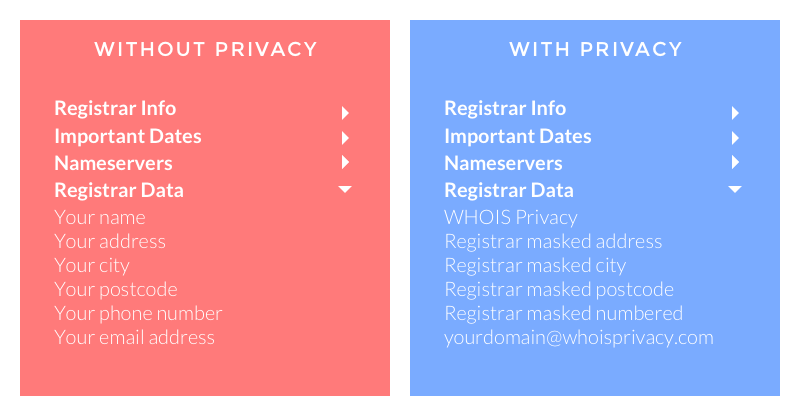 You may also want to purchase an SSL Cert and redirect to the HTTPS version of your domain, as Google are now pushing for all sites to be secure. You can read more about this in my recent post: 7 SEO action steps for 2017.

So that's an overview of domains, I'll be covering web hosting next. If you have any questions about domains or hosting please let me know below. I'll make sure to answer them!