One of the things I want to do this year is spend more time on platforms that will bring me results. For me, that's bringing my attention back to my blog, my newsletter and yes, Pinterest! Pinterest used to drive so much traffic to this site back when I first started and I know the return is worth the time you put into the platform.
I sat down with Reena Rai, the Influencer Marketing Manager at Pinterest – who also runs a fashion/travel/lifestyle blog. We discussed all things Pinterest – from getting the basics right to new features and best practices. And I'm here to share all of those tips with you…
What is Pinterest?
Pinterest is like an online pinboard. It allows users to post (known as 'pin' or 'pinning') images or videos (known as 'pins') to their own or others' boards (a folder or collection of pins). It also lets you browse what other users have pinned and add them to your boards too.
Think of Pinterest is a visual discovery tool, so think of it like a search engine for your content similar to Google and it will drive traffic straight back to your blog or website.
Why Pinterest should be part of your blogging strategy
As mentioned in my how to revive your blog after a break post, I think this is the year that people focus more on their platforms. Unlike some of the other social platforms around right now, Pinterest are very transparent on their guidelines and best practises.
And there's no arguing with the stats:
Pinterest have over 300 million monthly active users
Pinterest have 10 million unique visitors within the UK
4 million ideas are saved on Pinterest in the UK every single day
Pinterest's US user base reached 82.4 million by the end of 2019
77% of weekly Pinners have discovered a new brand or product on the platform
85% of all Pinners use Pinterest on mobile
98% of Pinners have tried something new after discovering it on Pinterest
According to a report from eMarket, Pinterest have surpassed Snapchat to become the third-largest social media network in the US. That report caused Pinterest's stock to jump 12% the morning after it was released.
It allows you to reach beyond your followers and best of all, the average lifespan of a post on Pinterest is 105 days. Compare that to 5-6 hours on Facebook, 48 hours on Instagram and 20 minutes on Twitter.
---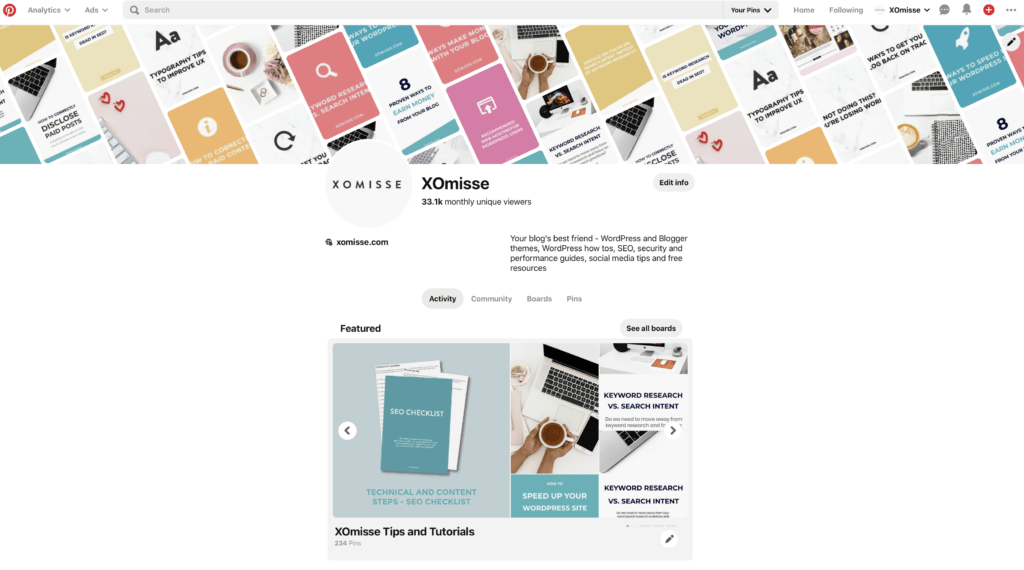 How to get started with Pinterest
Get your account ready
1. Business account
Reena recommends starting with a business account right from the beginning. With a business account your profile looks a little different, you can select featured Pins and have a banner at the top. You'll also get access to analytics, be the first to try new features and be able to claim your website.
If you already have a personal account you can easily switch that to a business account. Log in to your account, go to pinterest.com/business/convert/ and fill in your details.
2. Claim your website
Claiming your website, blog, Etsy or other social media platforms on Pinterest helps to improve your branding. It will add your name and profile photo on every Pin with your content, whether you added it to Pinterest yourself or somebody else shared it from your site. You can claim your website by following the instructions available here.
3. Install Rich Pins and the Save button
These Pinterest widgets will make it easier for people to engage with your content. I recommend installing Rich Pins and the save button as I think you'll see the most results from those.
Rich Pins add some extra information about the source of the pin. You can learn how to implement them by following this tutorial.
The Save button allows people to save Pins directly from your blog. Having the save button appear on images on your blog increases saves by 5! Find out how to install it by following this tutorial.
You can also add a follow button or embed boards on your blog to showcase your Pinterest content.
Start making content
4. Add other boards and get pinning
Start creating boards that are related to the topics you cover on your blog. Along with those also setup a brand board. This is specifically for your content! Feature that board in your banner to help brand your profile.
Optimise your boards for search. Give the board a descriptive relative name and add a board description using keywords. Add a category to the board to help Pinterest understand what the board is. Don't add spaces between characters.
Reena recommends adding 40 Pins to each board. You can add sections to your board for organisational reasons and include the names of your board sections in your main board description so users can find them easily.
5. Add original content
Create original content for Pinterest. Just like you would create content specifically for your blog, newsletter, Instagram feed or TikTok.
Pins can be standard graphics, videos or carousel stories. Here is some information about Pin requirements
Standard Pins – the graphic should be 2:3 ratio (1000 by 1500 pixels)
Video Pins should be vertical, again at 2:3 ratio (1000 by 1500 pixels)
Video Pins can be between 4 seconds and 15 minutes, but Pinterest recommend 6-20 seconds as the sweet spot
Video Pins autoplays in the feed, without sound
Story Pins can build an immersive story using images or videos
Story Pins can be 2-20 pages but Pinterest recommend 5 pages
Shop the Look Pins are coming soon, which will add dots to shoppable items in the photos. This can also be affiliate links.
You'll want to make sure you're optimising each and every Pin, which will help increase your reach and engagement. Here are some best practice guidelines for creating Pins
The title can be 100 characters, include your keywords for SEO
The description can be 500 characters, include keywords and hashtags for SEO. Pinterest take care of word variations for you.
Link to your website, product or the specific blog post
Add a text overlay which makes your Pins stand out, adds context and enhances your message.
You can edit Pins on Pinterest, cropping the image and add text overlays.
Pin little and often, spreading out your activity allows people a chance to see your content. You can add your Pin to as many boards as you like, but make sure it is relevant to the board. Pinterest home feed is algorithm driven, so pinning to multiple boards is not seen as spammy.
There is a scheduling tool on Pinterest itself, which allows you to schedule Pins for up to two weeks. But you can also use Planoly and Tailwind [referral link], both are partners so you won't be penalised for using them.
Pinterest prefers "Fresh Pins" (new images or videos) that have never appeared on Pinterest before. So they recommend uploading new Pins instead of updating old ones. This is because the algorithm favours content that's relevant and timely, so creating fresh Pins means more exposure. Try creating many versions of a Pin for your content by experimenting with new images, titles, descriptions and formats.
Another great tip is that you can archive seasonal content and then unarchive it when it becomes relevant again to add new fresh content to it.
You can also setup secret boards that only you and anyone else you add to the board can see. You can also setup or join group boards for sharing ideas.
---
Understanding Pinterest analytics and metrics
There are a number of metrics available on Pinterest, you can split these by paid or organic.
Monthly views is the amount of views in the last 30 days. this is the metric you'll see on your profile, Pinterest see this as an important metric and Reena recommends adding this to your media kit.
Impressions is the total number of times your Pins were shown.
Closeups is the total number of times people viewed a close-up version of your Pin.
Clicks is the total number of times people have clicked on your Pin to a destination on or off Pinterest.
Saves is total number of times people saved your Pins to a board. This shows how high your engagement is.
Audience insights dives into the mindset of your followers, you can export this data. Extra tip: use it to find ideas for content!
You can also see specific stats on each Pin, as well as how many people have tried your tutorial, recipe or Pin content.
Do followers matter on Pinterest?
Yes and no. Like I mentioned above, you are able to reach beyond your followers on Pinterest. People are able to discover you and your content via the home feed, search bar and related pins.
Having followers is helpful because these are the people that are likely to first see your Pins and the more engagement you can get on a Pin, the more place it will show up. Unlike other social platforms, engagement rate with followers on Pinterest is very high!
Conclusion
Hopefully by now you've seen the power of Pinterest. Interested in getting started? Here's a summary
Setup a business account. If you already have a personal account, switch it to a business account for more features
Claim your website and install Pinterest functionality like Rich Pins and the Save button to encourage more engagement
Setup boards based on the topics you blog about, create a board specifically for your content
Get pinning! Pin content from other creators on the platform
Create your own Pins that link back to your content, use the free Pin templates below to get you started
Download your free Pinterest templates