Looking for a tool to edit your blog photos or create graphics for your blog? This post details a list of online editors, incase you don't want to download a program or need to quickly edit an image. These alternatives are free for basic edits, while some offer premium services with more features.
1. Adobe Spark
This recent discovery is my new favourite way to create Pinterest graphics, but you can use it for just about anything. Adobe Spark is an easy-to-use online tool allowing you to create graphics, web stories or video content. On mobile or tablet devices, these apps are split into three: Spark Post, Spark Page and Spark Video.
Spark Post [affiliate link] is a gem for content creators, giving you a quick way to create social media or blog graphics. They have hundreds of templates available to get you started if design isn't really your thing, which you can customise. You can also upload your brand's colours, fonts and logos, as well as create templates for your brand too so that everything stays cohesive. Take a look at the video below to see how I created 7 Pinterest graphics in under 7 minutes using Adobe Spark Post.
2. Canva

Canva is another online editing tool that is aimed at graphic work for bloggers. It's really simple to use with a lot of presets to customise. Canva have templates for Facebook, Twitter, Instagram, blog graphics, photo collages and more, as well as the option to use custom dimensions. Once you select the size of the graphic you want, you can choose from a number of premade layouts, text and backgrounds that you can customise or design your graphic from scratch. You can save your design, share it directly or download it to your computer.
Canva is the modern version of PicMonkey, which is a long time blogger favourite. So if you like PicMonkey I bet you'll love Canva! You can try Canva for free using my affiliate link here.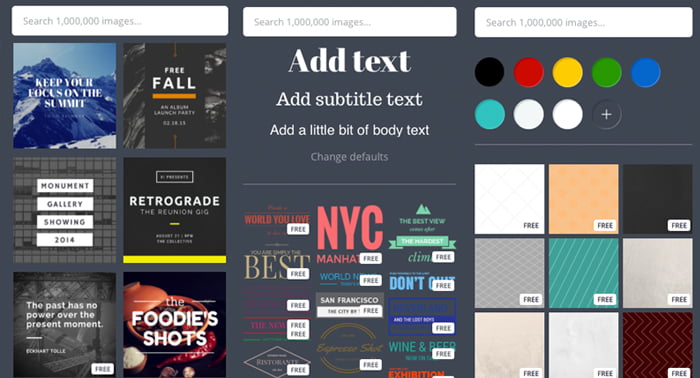 3. GRAVIT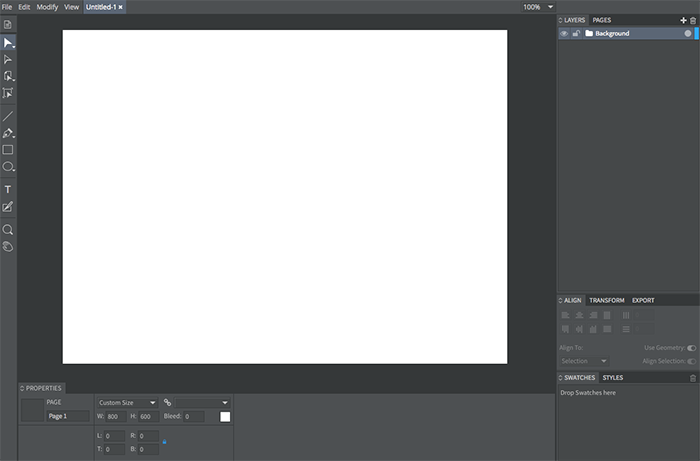 Gavit is a really simple image editing tool, it has just the necessities which means you won't be able to edit photos too much but you will be able to create graphics. Gavit has a beta version available here for Mac, Windows, Linux and Chrome here as well as being available online in your browser. The full version was supposed to be released in December 2014, but has now been moved to March 2015 as the team further develop the program and focus on the browser app.
4. PIXLR EDITOR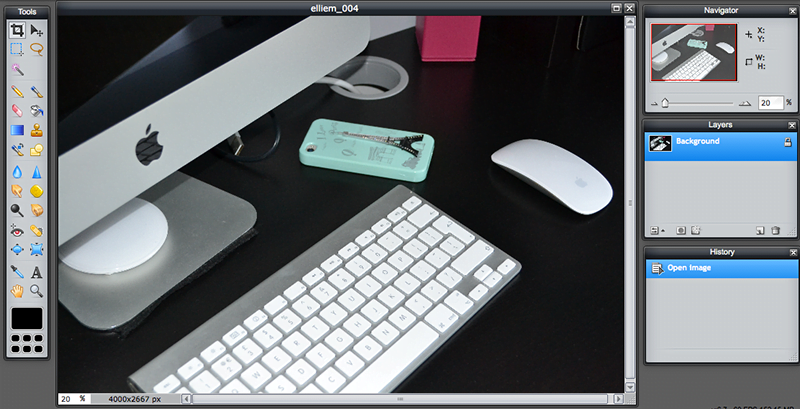 Allows you to open a new image with layers and gives the same crop,rotate, selection and gradient tools as Photoshop but lacks the creative effects of photoshop that would be involved in creating graphics and design elements. Has a good list of filters & adjustments however so I think it's nice for bloggers to quickly adjust photos. Pixlr Editor is available here.
5. PIXLR EXPRESS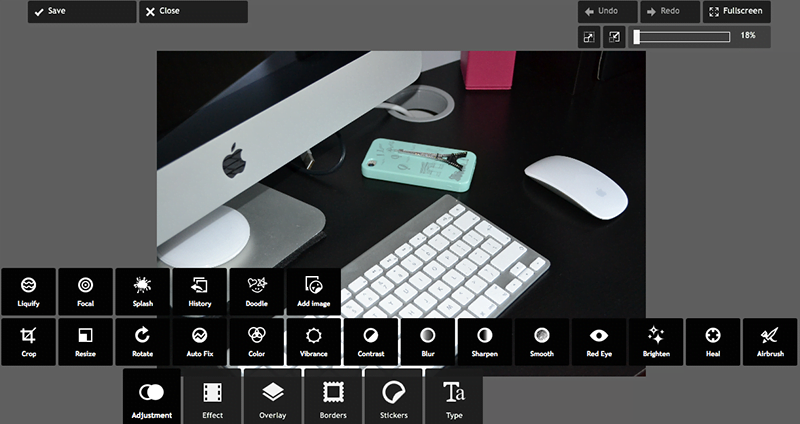 Pixlr Express allows you crop, rotate and resize. It has a couple of effects, overlays, borders and allows you to add text. Would be good for quick touchups for blogging.
6. PIXLR-O-MATIC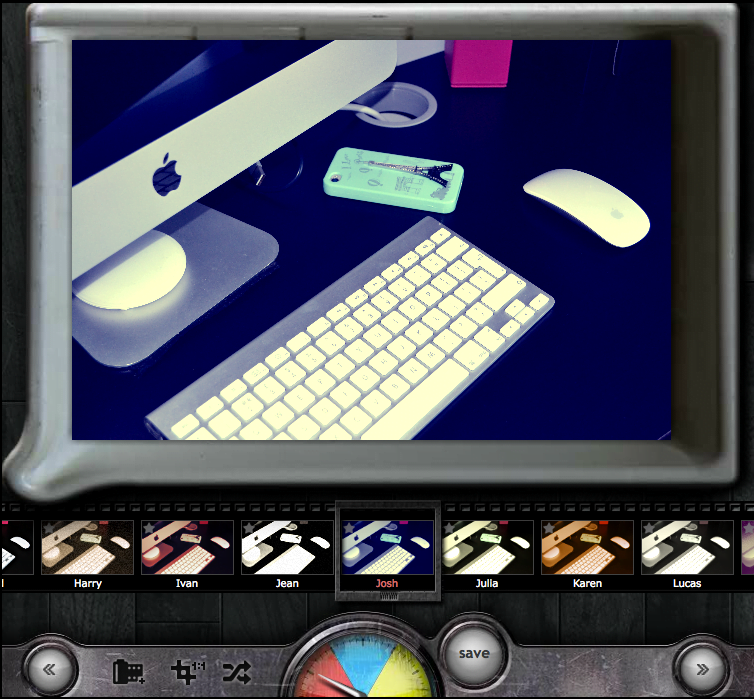 Pixlr-o-matic is an instagram inspired editor. Giving you effects, overlays, borders and such to give a vintage type feel to your photos.
7. FOTOR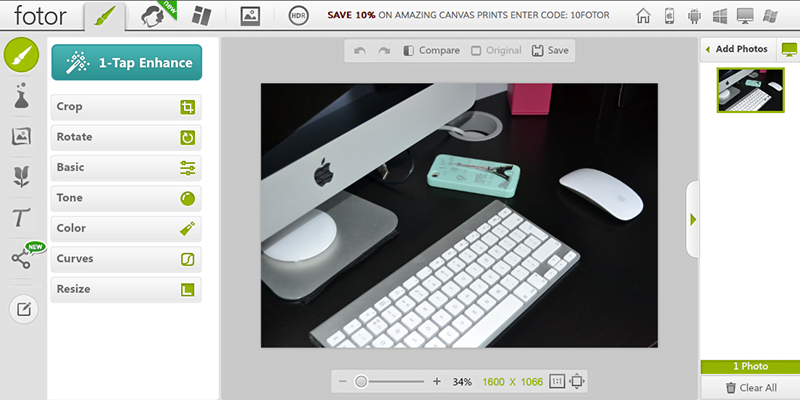 Foter allows you to edit photos, apply adjustments, add effects, frames, clip art, retouching and create collages. Can also be downloaded on iPhone, Android, Windows and Mac.
8. PICMONKEY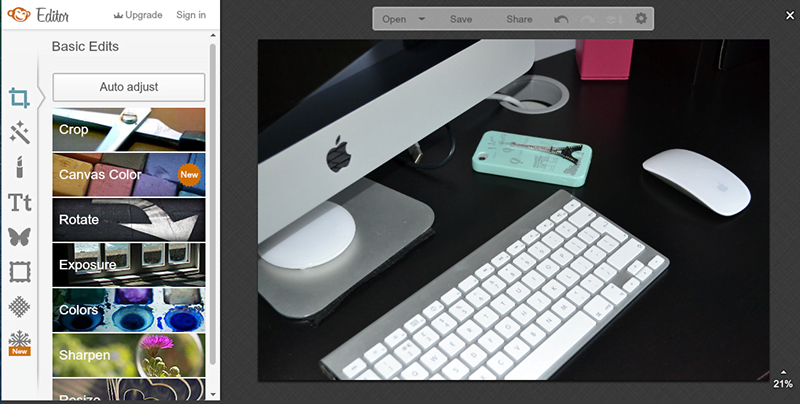 PicMonkey is quite a popular choice, allowing you to apply adjustments, add effects, clip art, retouching, create collages and upgrade for more features.
Update: As of September 2017, PicMonkey now have premium plans with a free trial available. These allow you access to premium features along with being able to save and export your images. Read more
about the pricing changes here
.
9. BEFUNKY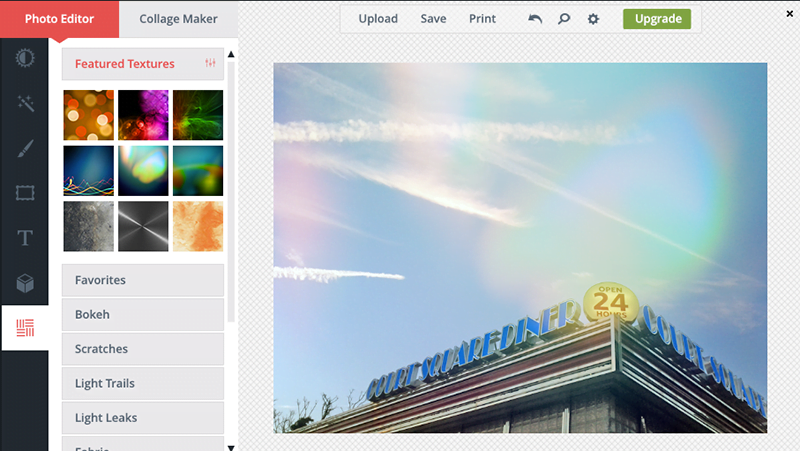 BeFunky allows adjustments, effects, filters, clip art, collages, etc and is very similar to PicMonkey.
10. RIBBET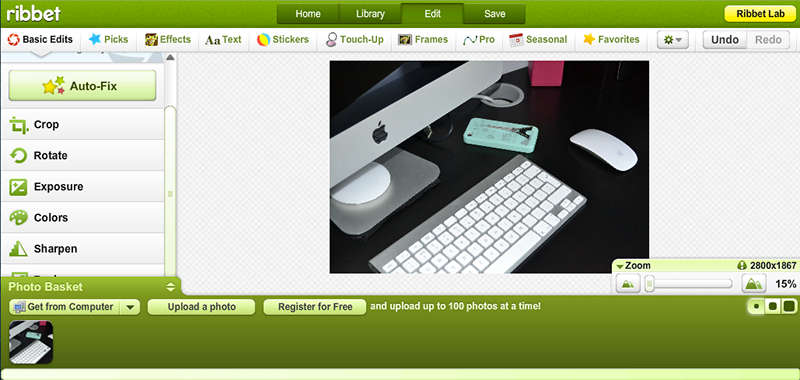 Ribbet lets you add effects, perform touch ups and do some basic editing. Visually the interface isn't the best but if working on a larger screen it shouldn't be too bad.
11. FOTOFLEXER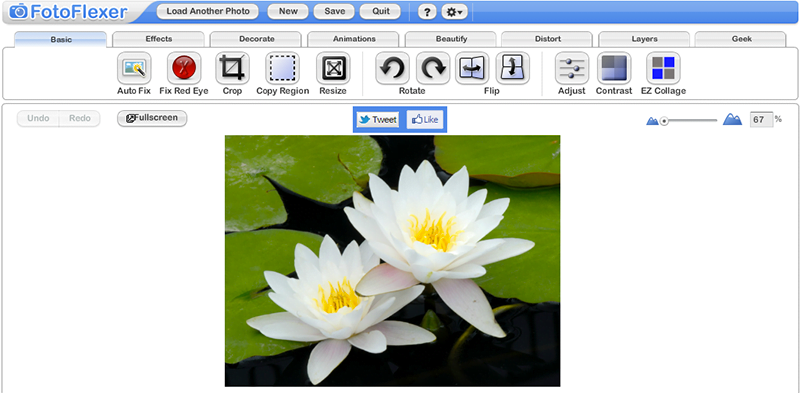 FotoFlexer lets you edit, adjust hue and saturation, apply effects and text, fix blemishes, smoothen the skin and add multiple images.
12. LUNAPIC
LunaPic lets you edit and apply adjustments to your image. It also let you apply frames, borders, buttons, clip art, etc and create gif like animations with effects.
13. SUMO PAINT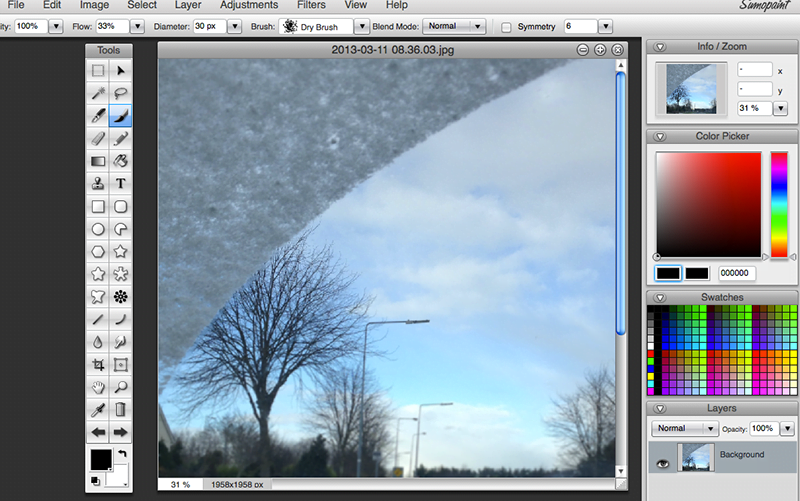 SumoPaint is pretty similar to photoshop but with only a couple of adjustments, effects & filters. Can upgrade to a pro account.
14. PHOTOSHOP EXPRESS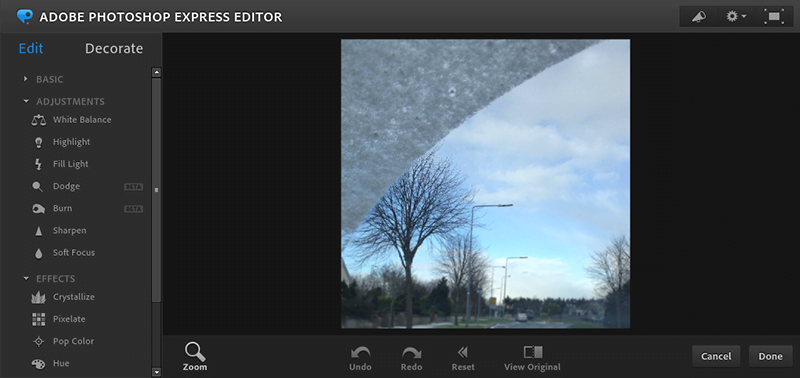 Photoshop Express is a free basic version of Photoshop available online from Adobe allowing you to resize, crop, rotate as well as offering white balance alterations, exposure, saturation, touchups and effects. My favorite effect here is the pop color. You select an area, everywhere else turns grayscale leaving just a "pop of colour" which you can then alter. It's the quickest way I've ever come across doing this (while giving proper results). It has an easy interface and it's nice to navigate around. Photoshop Express allows you to save on computer, photoshop.com account, flickr, photobucket, Facebook. I think this is a great option for bloggers who need to quickly touch up photos.
15. ROLLIP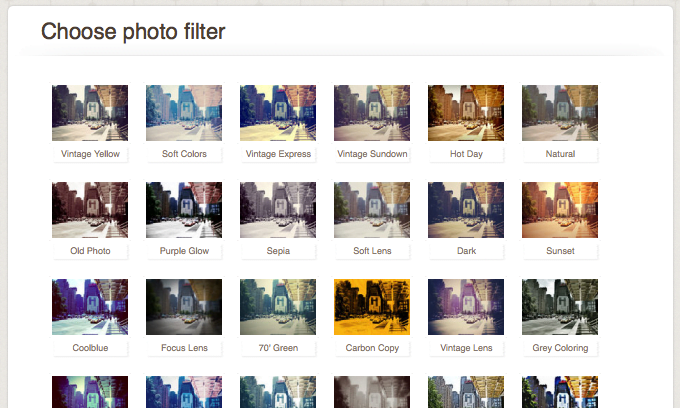 Rollip is quite similar to Pixlr-o-matic and not really a Photoshop alternative but it's an online editor and is just like Instagram without the sharing feature. It offers 40 filters/effects similar to those that you'd see on Instagram. Doesn't offer customise adjustments however, but creates nice vintage effects and it's so simply to use.
16. DESIGN WIZARD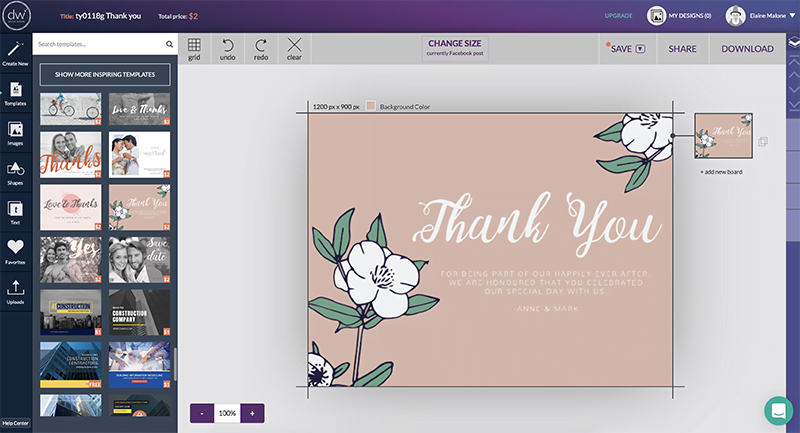 Design Wizard is quite similar to some other popular online tools that are out there at the moment. They have over 1.2 million images and 15,000 templates to choose from. You only license an image once, so there is no need to buy multiple licenses for multiple uses. They have three different plans – free, pro ($9.99 P/M) and expert ($16.95 P/M) giving you extra storage space, access to premium images/templates and added support.
17. XARA PHOTO & GRAPHIC DESIGNER 10
A windows only editing software for retouching photos and creating graphics. Features include colour correction, photo filters, graphic shapes, etc. Available for $90 / £70 / €70 here with the option of a trial.
18. PICADILO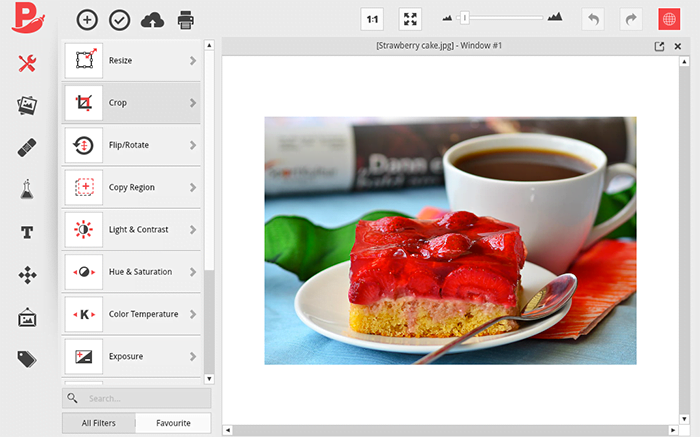 Picadilo is an online editor with basic editing, photo effects, retouching, textures and stickers / shapes. Perfect if you need to quickly adjust images. Available here.
Summary
Images play a vital role when it comes to blog and social media but that doesn't mean you need to invest in professional graphic tools right away, especially when there are so many free tools available online. Adobe Spark and Canva are great alternatives to Photoshop, allowing you to quickly create graphics to share across your blog, social media and YouTube videos. Got another recommendation? Let me know about it below!