I have a lot of files on my MacBook and I try make a real effort to keep it clean, organised and free of junk. Especially since this mishap at the beginning of this year where I almost lost everything!
Over the past eight years I've been…
A full-time Creative Digital Media student
A full-time Creative Digital Media student with two blogs
An intern with a blog
A full-time freelance designer, developer, blogger, digital shop owner and content creator
A part-time web developer/editorial assistant at a media company AND freelance designer, developer, blogger, digital shop owner and content creator
Creative Director at a media company AND freelance developer/content creator
It's safe to say that I've learned a few things about organising documents, media, invoices and so on while trying to keep my laptop running as smoothly as possible. So today, I'm going to share my tips with you.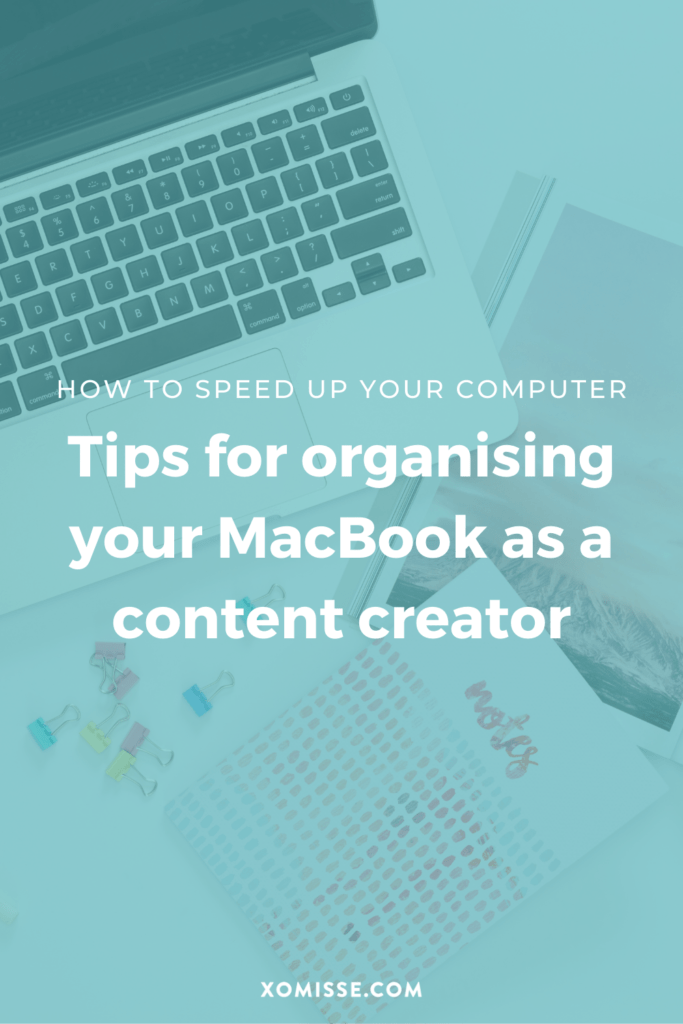 This post contains affiliate links, which will be clearly marked. If you click on these links and choose to purchase something, I may receive a commission at no extra cost to you. I only recommend products and services that I trust to be useful and of high quality, whether an affiliate relationship is in place or not.
Using Google Drive to organise files
Starting with how I organise my files, I've recently decided to move everything onto the cloud and sync it to my laptop. To do this, I have three Google Drive accounts:
XOmisse is broken into smaller folders that keep all of my client and project files, blog and newsletter content, digital products, resources such as graphics, stock images and ebooks, my logos and branding files, templates, documents and so on. I also keep a "To Organise" folder which is usually screenshots and random bits and pieces that I'll go through every couple of weeks.
Personal is a backup of my photos and videos (that are also stored on iCloud), recipes and all the other miscellaneous things you keep on your laptop.
Blogosphere holds everything related to my work at Blogosphere, so that it's always backed up online and available to access from anywhere.
I keep the necessary files and folders synced to my MacBook using the Backup And Sync Google app. This means I can work on files and they automatically get added to the cloud so if anything ever happens I know that they are available from any laptop.
This means that I rarely have any files on my laptop itself. I create shortcuts (or aliases) to folders which get placed on my Desktop or Dock so I can quickly access what I need. I also regularly clear out my Downloads folder and what is on my Desktop.
Speaking of clearing out files, let's move on to how I do that using CleanMyMac…
Keeping your MacBook free of junk with CleanMyMac X [gifted]
CleanMyMac X is an app used to clean, protect and speed up your Mac computer. I was gifted a licence for CleanMyMac a few years ago and have been a big fan since, but I was recently upgraded to the latest version – CleanMyMac X.
CleanMyMac X [affiliate link] is all-in-one package to make your computer run faster.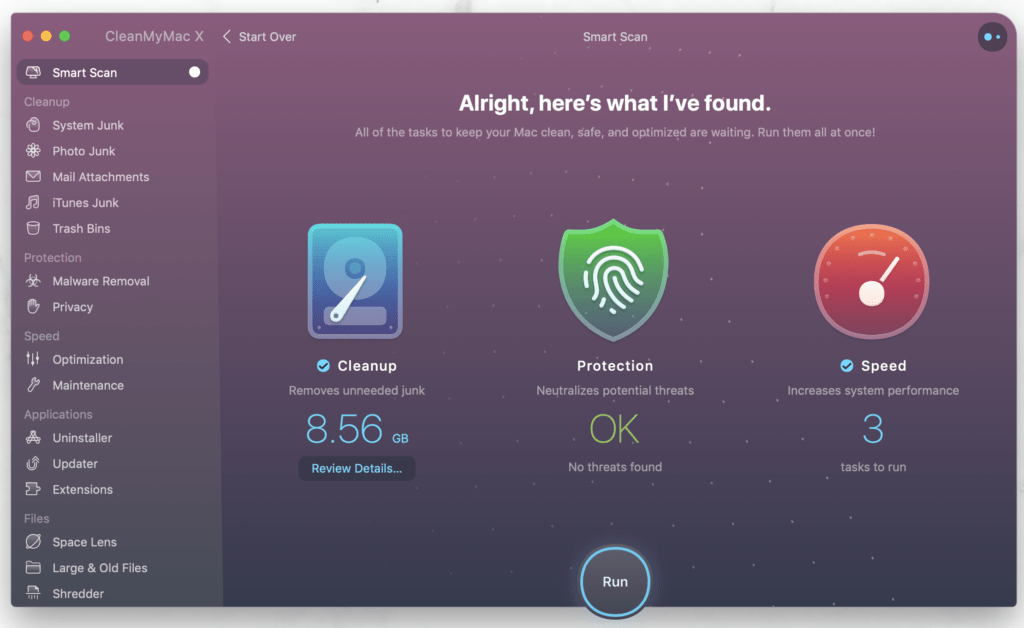 You can use it to regularly scan your whole system and follow the recommendations to remove larger files, junk and malware. If you haven't run it in a while or it's your first scan, you may notice a lot of system junk. The system junk consists of things like browser cache and history, messaging cache, app specific temp files and caches, partially completed downloads, configuration files, logs and so on.
I really like using the new Space Lens feature to dig a little deeper into my larger files. It helps you see what is taking up the most space on your system so you can remove any old large files that are no longer needed.
When you delete an app on a MacBook, some files related to that app are leftover on your system and continue to take up unnecessary space. But with CleanMyMac X, when you delete an app it will ask if you want to fully remove and clean it from your system.
I used to use Disk Inventory X for locating large files and AppZapper to properly remove apps, but CleanMyMac X has both of these features built in, which saves me needing separate dedicated apps that take up space.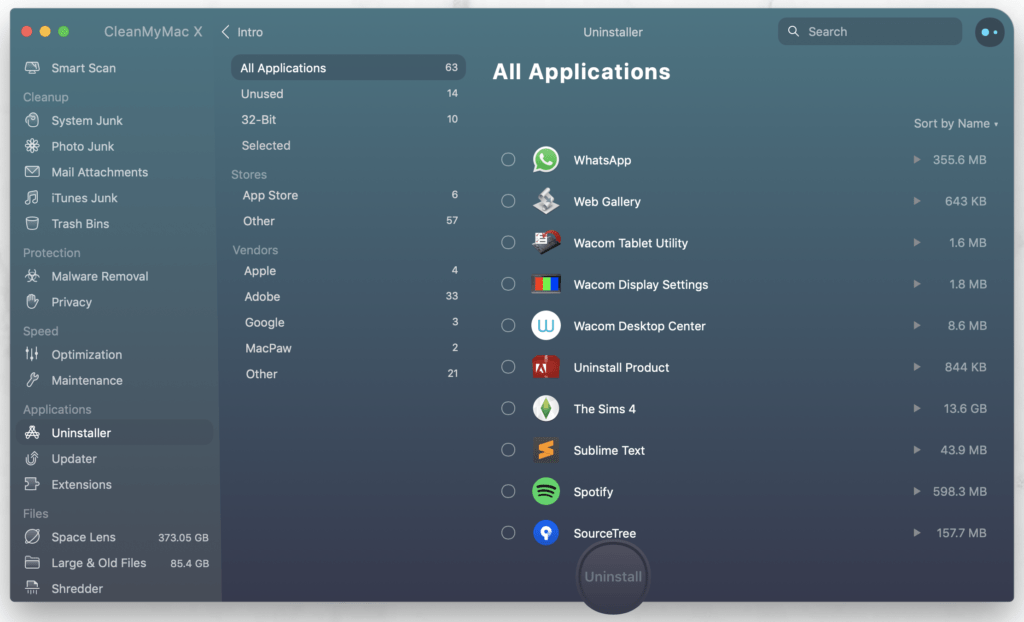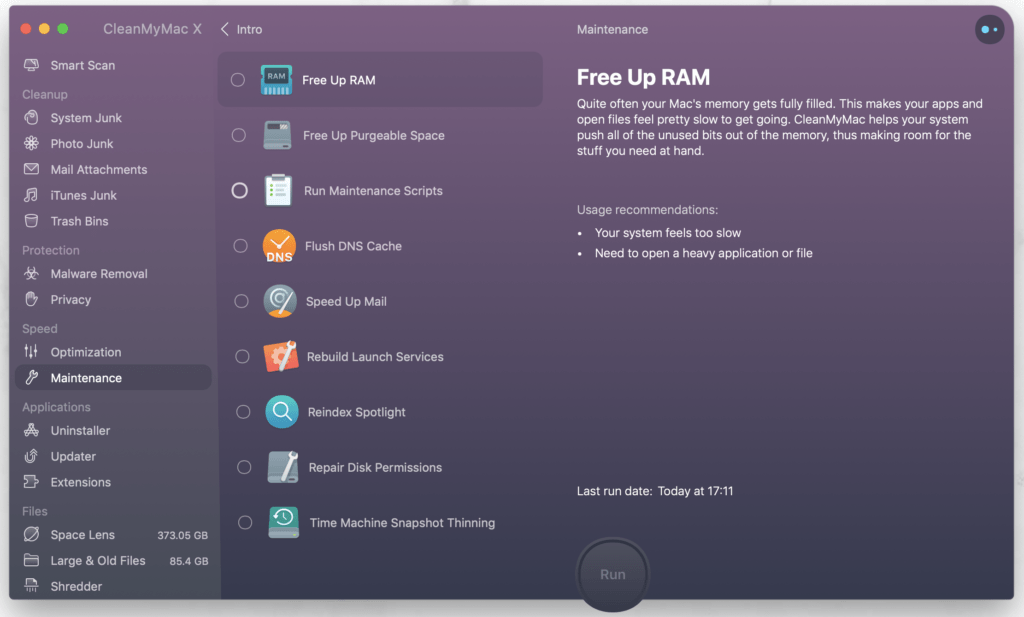 There are times when I'm using multiple programs at one – like Photoshop, Illustrator, InDesign, Adobe XD or Sketch and Spotify – and my laptop comes to a complete stop… that rainbow wheel drives me crazy at times! This is usually because I've spiked my RAM usage. CleanMyMac X has a one-click solution to free up memory, which allows me to continue working without having to close a number of programs.
Conclusion
That's how I keep my laptop running smoothly, I do find CleanMyMac X a very useful tool so if you're interested, it is available from the MacPaw website [affiliate link] for £29.95/year.
Have you got any tips to add? Let me know below.