November is fast approaching and while we're excited about a new month, sitting in front of a blank content calendar with zero ideas of what to write can be daunting.
But don't worry!
Below you'll find a list of content ideas including key dates for awareness days, events and holidays to use as inspiration for your blog, newsletter or social media content in November 2022.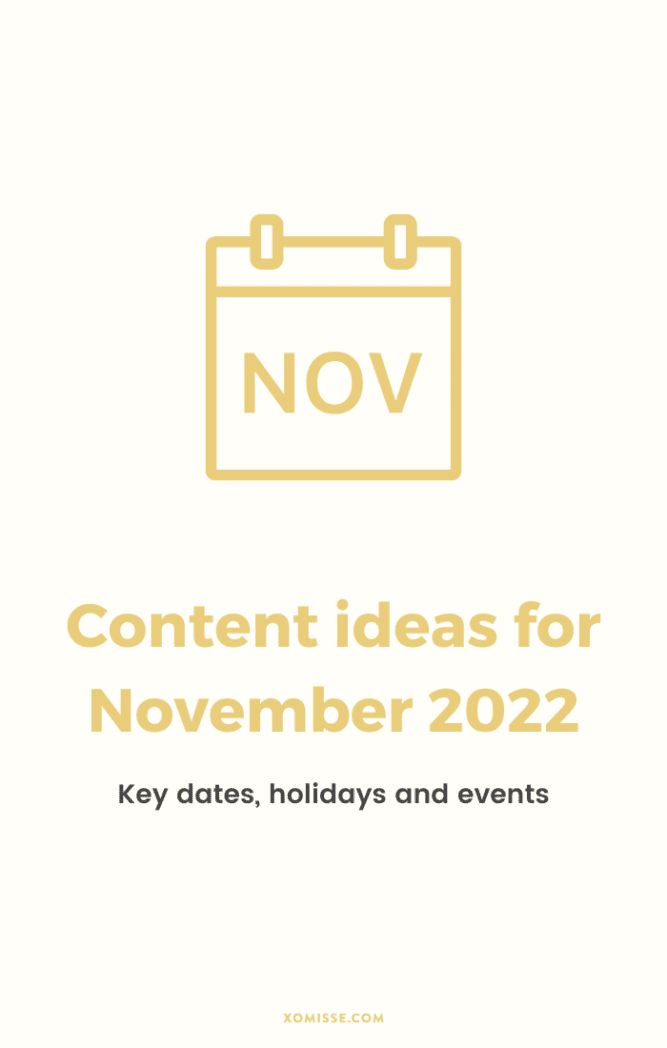 Content ideas for November 2022
The days are getting shorter, nights are getting colder and we're coming into holiday season.
When it comes to themes for the month, focus on gift guides, Christmas/New Year countdown, things to do/make in the colder months and showing seasonal trends within your niche.
Check out my previous post for tips on running a successful BFCM campaign.
Key dates in November
Month long
National Healthy Skin (US)
National Diabetes (US)
National Career Development (US)
Veg Pledge (UK)
Pancreatic Cancer Awareness (UK)
Mouth Cancer Action (UK)
Lung Cancer Awareness (UK) – #HeadHigh
Movember Men's Health Awareness
NaNoWriMo aka National Novel Writing (UK)
1st November
National Author's Day (US)
Purple Tuesday (UK)
World Vegan Day
Scented Candle Day
National Spa Week (UK)
2nd November
4th November
National Candy Day (US)
Roast Dinner Day (UK)
5th November
Bonfire Night/Guy Fawkes' Night (UK)
6th November
National Ladies Learning Code Day (Canada)
National Nacho Day (US)
7th November
Take Money Week (UK)
Children's Book Week (US)
8th November
National Cappuccino Day (US)
12th November
National Happy Hour Day (US)
13th November
World Kindness Day
Science Week (Ireland)
14th Novmber
Anti-Bullying Week (UK)
Children's Day (India)
International Girls Day
World Diabetes Day
Road Safety Week (UK)
15th November
National Entrepreneurs Day
Geography Awareness Week
16th November
National Fast Food Day (US)
Book Week (Scotland)
17th November
18th November
B.B.C. Children in Need Appeal (UK)
International Stand Up to Bullying Day
19th November
International Women's Entrepreneurship Day
Survivors of Suicide Loss Day (UK)
International Men's Day
20th November
21st November
World Television Day
National Gingerbread Day (UK)
22nd November
24th November
Thanksgiving (US)
Celebrate Your Unique Talent Day (US)
Carers Rights Day (UK)
25th November
Black Friday
White Ribbon Day (UK)
16 Days of Action Against Domestic Violance
26th November
Small business Saturday – #SupportSmallBusinesses
International Cake Day
28th November
29th November
30th November
National Computer Security Day (US)
Choose Women Wednesday (US)
Get the most out of these content ideas
Have a look through the above list and make a note of what could be relevant to your niche and what will resonate with your audience the most. Create the visuals for your content, write the captions and schedule ahead of time. This works wonders for staying active and consistent.
Keep in mind that this isn't a complete list, use it as a starting point. There are a ton of other holidays, celebrations and awareness days, and these will all vary depending on your country. While I've double-checked dates, I'd suggest you check yourself for your location just to make sure it's correct.
Stuck for Instagram Reel sounds? Check out my posts for the latest trending audio to use!