As we know from previous SEO posts, Googles algorithm takes a lot of things into account when it comes to ranking a site. They look at keywords, Pagerank, Domain Authority, social media sharing, backlinks and several other areas in order to display the most relevant and recommended results on their search page.
They announced a new change coming into effect on April 21st 2015. They will now also look at how your site is displayed on mobile devices when deciding how highly you will rank in search results.
This means that websites and blog that are optimized for all devices will rank higher on searches made on mobile devices than sites that aren't.
A quick look on Google Analytics will show you that more and more people are viewing your website and blog on a mobile device so it's really important to ensure your site is optimized for viewing on all devices. This was an obvious move for Google moving forward.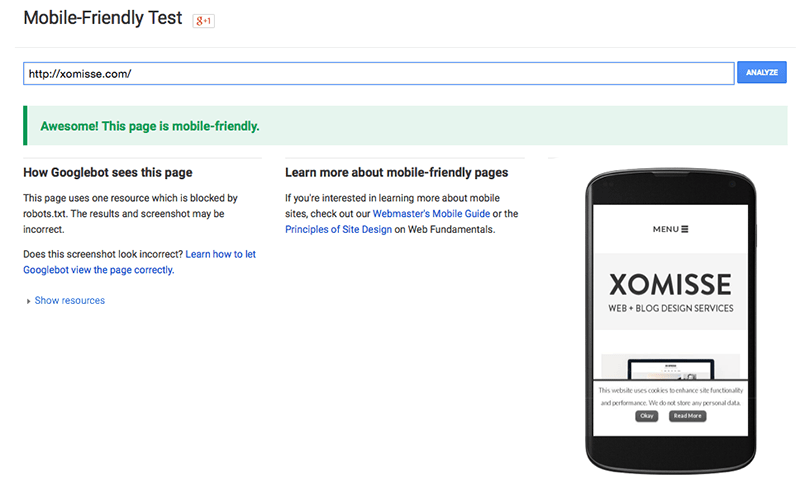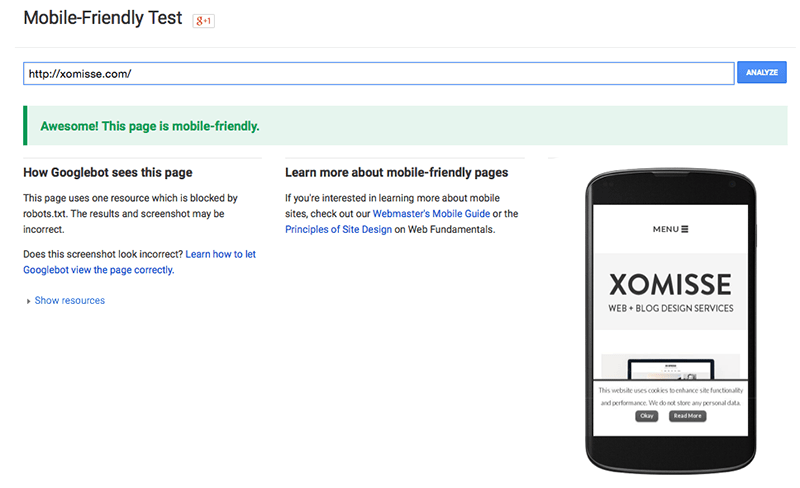 How do I know if my site is mobile friendly?
The quickest and easiest way is using this free Mobile Friendly testing tool by Google. Just enter your URL and it will show you the results as well as a screenshot of how your site appears on a mobile device.
Open Google on your mobile device and search for your website or blog. If your site is mobile friendly there will now be a gray "mobile-friendly" notice underneath each URL in the description snippet. To see all the indexed pages of your site then search for site:yourdomain.com instead and check if all pages on your website / blog are mobile friendly.
Check the site yourself on a mobile and tablet device, testing the different features and pages. My advise is to write down a list of anything that isn't working correctly or looking right so then it's easier to go through the list and correct it.
Check the Mobile Usability section of Google Webmaster Tools. It will tell you a list of things that can be improved on your site to help optimise it for smaller devices. Even if your site passed the mobile friendly test, there may still be errors and it's best to fix them.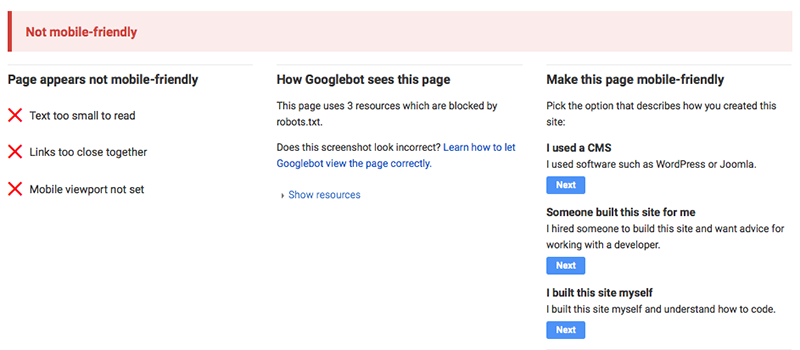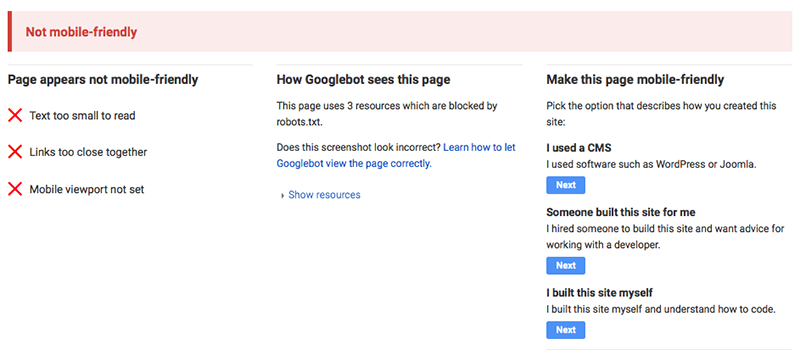 Oh no!! It's not mobile friendly! What do I do?
You have a couple of options depending on the platform you are using and how much you have to invest in a design that is mobile friendly. Remember that the quality of code has a part to play in how well you rank so look for an experienced developer.
Look for a custom or pre-made theme / template that is either responsive, has a mobile template included or offers a mobile version of the template.
Hire a developer to recode sections of your site for it to be mobile friendly.
If you are on Blogger, you can activate Bloggers Mobile Template by going to Template > clicking on the cog / gear icon under Mobile > select the option to show the mobile template on mobile devices > select the template you want to display > save. It's pretty basic but it is a good temporary option if you can't invest in a mobile friendly template right now.
If you are using WordPress, the Jetpack Plugin have a mobile template option that you can activate or you can install WP Touch that will make your site mobile friendly. Good options if you don't fancy switching themes, hiring someone or know how to alter your theme to make it mobile friendly.
If you're using one of my pre-made templates and want to activate the mobile version of the template go to Template > click on the cog / gear icon under Mobile > select the option to show the mobile template on mobile devices > select Custom > save.
How I can help you get a mobile friendly site
I've updated the custom design packages to include options for custom responsive design and custom mobile versions of your custom template. Our blog packages now come with extra SEO benefits to help your blog reach a larger audience. See blog packages here and website packages here.
We also have some Blogger Templates in the shop that come with matching mobile template and a brand new responsive customisable template too – it's on sale until April 21st! Shop pre-made Templates here.
If Bloggers Mobile Template is too basic for you but you want to keep your current blog design, we can create a custom mobile version of your existing template. It will match your current design and can include some of the gadgets that are on your blog. See the details and pricing of that here under "Other Coding Extras".