There has always been a lot of confusion around the advertising rules for bloggers and social media influencers.
To help clear that up the ASA (Advertising Standards Authority) collaborated with the CAP (Committee of Advertising Practice) and CMA (Competition and Markets Authority) to release an Influencer Guide.
The aim of the new resource released this week was to make the guidelines easier to understand. Despite being for UK influencers, these rules are pretty similar to the likes of the FTC guidelines in the US.
How do the ASA, CAP and CMA differ?
The Advertising Standards Authority (ASA) is the UK's advertising regulator. The ASA makes sure ads across UK media stick to the advertising rules (the Ad Codes). They apply the rules in the CAP code to advertisements and other marketing communications that fall within its scope such as 'Paid-for' ad space online, 'Advertorial' and 'Directly connected'.
The Committee of Advertising Practice (CAP) is responsible for writing the Ad Codes, members represent advertisers, media owners and agencies. They take action against misleading, harmful or offensive advertising to make ads responsible. They also provide advice and training to help businesses get their ads right.
The Competition and Markets Authority (CMA) is the UK's primary competition and consumer authority. They are an independent non-ministerial government department. They cover all commercial practices and enforce competition and consumer law.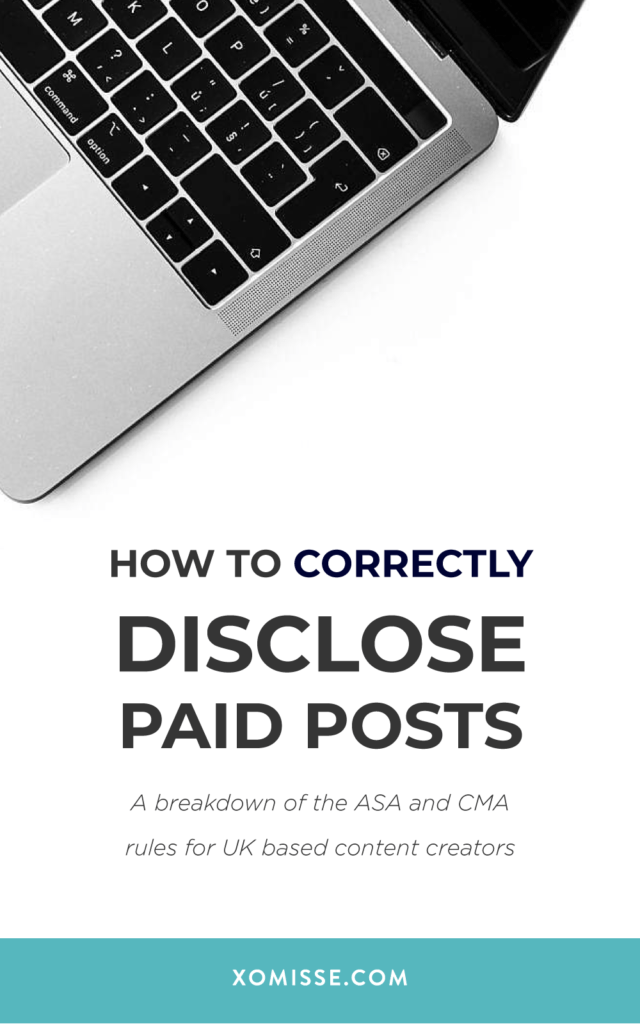 ASA Influencer Guideline
Consumers must always be aware that they are being advertised to. Brands, bloggers and social media influencers have a responsibility to ensure that their content is clearly labelled and consumers should know when content is an ad before interacting with it.
Payment – when a brand compensates an influencer (either with a payment, free gift, service, trip or another perk), any resulting posts become subject to consumer protection law and the CMA could take action on it.
Payment and control – when a brand compensates an influencer AND has control over the content, posts then become subject to the UK Advertising Code as well as consumer protection law. The ASA and CMA could take action on it.
Summary (as of 06 Feb 2020)
ASA and CAP have today announced that they have updated the Influencers' guide to making clear that ads are ads. The rules and the advice haven't changed, but they have simplified the message to provide greater clarity. Here is what they say:
At a minimum, the ASA expect posts to include a prominent label upfront to highlight that a post is a marketing communication. This usually means at the beginning of the ad – wherever that might be.
Consumers should know they will be viewing an ad before they watch, read, click or otherwise interact with the advertising content.
The CAP Code specifically refers to "Advertisement Feature" as an appropriate label for 'advertorial' content
"Ad", "Advert", "Advertising", "Ad Feature" and similar are likely to be considered acceptable by the ASA (with or without a '#', brackets, etc.).
They do not recommend using labels like "sponsored", "Supported by", "Funded by", "Gifted", "Thanks to X for making this possible", "affiliate", "aff", "sp" and "spon" because it's open to varied interpretation and consumers are unlikely to be familiar with these meanings and/or abbreviations.
When directly targeting under-12s, you'll need to make it even clearer when something is an ad. Disclosure must be prominent, meaning large and colourful enough to stand out. It should also appear as the ad is activated – or before where possible. The identity of the marketer should be clear in the disclosure.
What is ad? What is sponsored?
According to the ASA, for it to be an ad there needs to be payment and control from the brand.
If there is payment but no control from the brand (meaning the influencer has complete control over what they create, when they create it and whether they create it at all), then it is sponsorship and not advertising.
Sponsorship isn't covered by the CAP code and the ASA won't pursue complaints about it. However, the CMA will and they expect you to disclose any monetary payment, incentive, gift or commission.
What is payment?
Payment can be money, goods, services, gifted items, trips, hotel stays, discounts, to be an ambassador or another beneficial agreement.
What is control?
If you are given specific direction, asked to include something in particular and/or are required something as a condition of payment. This includes being asked to publish on or before a specified date, use a certain hashtag, use key messaging or a promotional code, post on a particular platform, etc.
When do we need to disclose?
When a brand gives an influencer a payment, any posts then promoting or endorsing the brand or its products/services become subject to consumer protection law. Payment means any form of monetary payment; commission; a free loan of a product or service; a free product or service (whether requested or received out of the blue); or any other incentive.
This means that whenever you receive a payment from a brand, you need to disclose this in any relevant posts
The same goes for when you're posting 'affiliate marketing'
You will also need to make sure it's clear when you're posting about your own products/ services; e.g. products you've created or events you're running etc., or any prize draws or giveaways you do
How to declare gifted items?
If something is gifted to you with the agreement that you'll give a review or include it in your content then that's an ad. If you've been sent something for free with a hope and not a requirement that you'll feature it then it's sponsored. The ASA don't look at this type of content but the CMA would, so it's worth disclosing the relationship. Ask yourself is there payment? Is there control?
How to declare ambassador programs?
Ambassador programs sit somewhere in the middle, as some content will be an ad and some will be sponsored. Ensure you make the relationship clear.
How to declare affiliate links?
When your content promotes particular products or services and contains a hyperlink or discount code that means you get paid for every 'click- through' or sale that can be tracked back to your content, this counts as advertising. In this case, you act as a secondary advertiser and are responsible for the wording as well as correctly labelling.
If a piece of content is completely about the affiliate linked product(s) you need to make it clear that the whole post is an ad. If there is a mixture of regular and affiliate links then you should add a disclaimer at the beginning explaining that you'll receive commission and mark each affiliate link. The ASA don't have rules on labelling this yet, but they recommend marking these as ads as, depending on your niche, some consumers may not understand the term affiliate.
What about promoting my own products or services? Do I need to disclose those?
If you're using your personal account as a secondary brand account and promoting your products, services, events or giveaways, the ASA will consider you an advertiser. You should make it clear that you're promoting your own brand.
How do I clearly label?
Consumers should be able to recognise that something is an ad, without having to click or otherwise interact with it.
It must be obvious and upfront (before people click/engage with content), prominent (so it's noticeable), appropriate for the channel (what can you see and when?) and suitable for all potential devices (like on a Smart TV or mobile device).
What labels should I use?
Technically you can use any labels you like, as long as it's upfront and very obvious to the consumer.
Right now the ASA and CMA like the following terms: Ad, #AD, Advert, Advertising Advertisement or Advertisement Feature.
They recommend staying away from labels such as sponsored, in association with, thanks to X brand for Y and so on. This is because they believe that most consumers don't understand these terms fully.
I recommend reading the official guide below for more information. If you have more specific questions, you can get in touch with the copy advice team.
Advertising guidelines for other countries
The Netherlands: Stichting Reclame Code
Portugal: Auto Regulação Publicitária
France: Autorité de Régulation Professionnelle de la Publicité
Italy: Istituto dell'Autodisciplina Pubblicitaria
Turkey: Reklam Özdenetim Kurulu
Belgium: Jury voor Ethische Praktijken inzake Reclame / Jury d'Ethique Publicitaire
Sweden: Reklamombudsmannen