Instagram launched its newest feature this week: Instagram Stories. Heavily "inspired" by Snapchat, Instagram now allows you to upload a stream of photos and videos to your Story.
As you share multiple photos or videos, they appear together in a slideshow format (known as your Story). Content in your story will disappear after 24 hours and won't appear in the main news feed or on your grid (unless you choose to send it there, details below!).
In this post I'll be giving a run down of how to use the new Instagram Story feature.
Getting started with Instagram Stories
Stories live at the top of your news feed, where you'll find content from people you follow. You can swipe back and forth along this section to see who has uploaded to their Story.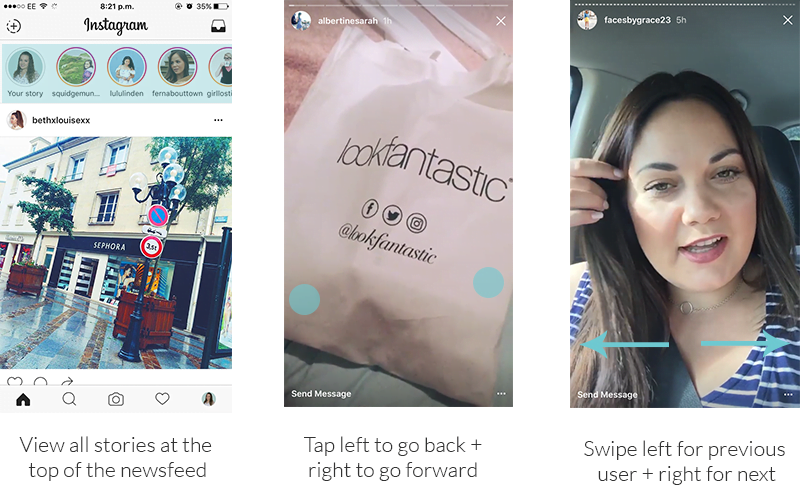 While viewing a story you can hold the screen to pause, tap on the left or right hand side of the screen to go through the Story and also swipe left or right to either go back to the previous person or jump to the next person. Interact by tapping Send Message to send them a private message via Instagram Direct.
You can view a person's story directly on their profile by tapping their profile picture. If their profile is public you can view their story without having to follow them (something that isn't available on Snapchat).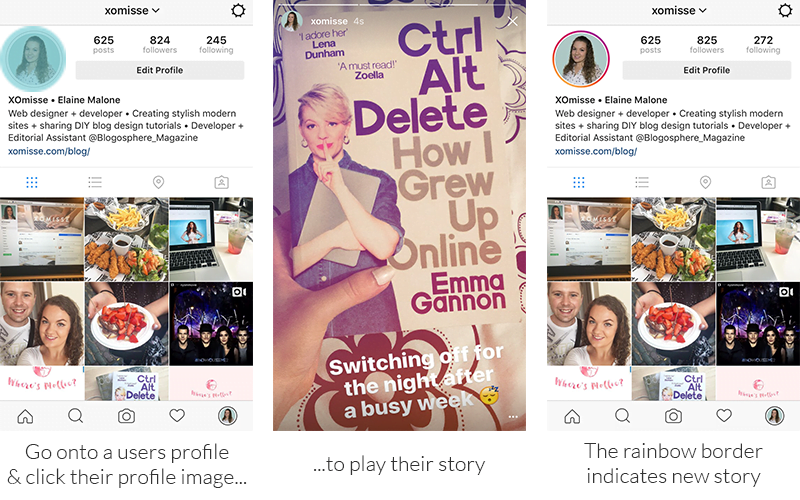 Your story: add text, emojis and coloured drawings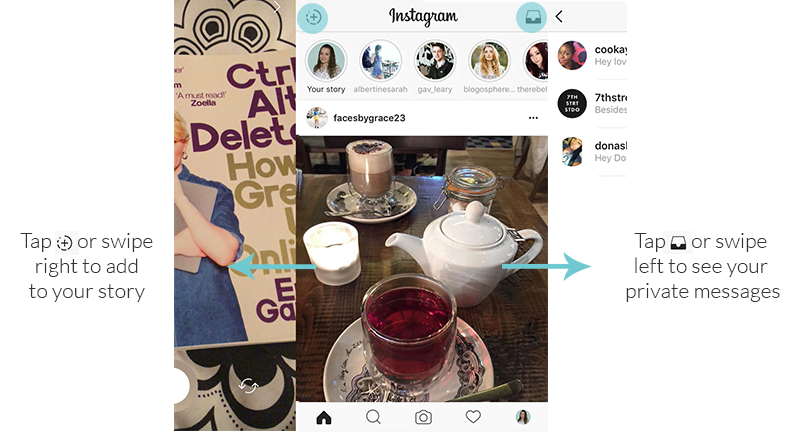 The process of uploading content to your Story is pretty much identical to Snapchat.
Tap the new + icon in the upper left hand corner or swipe to the right
Tap the circle button to take a photo or hold to take a 10 second video
Add text and emojis by selecting Aa in the upper right hand corner
Add drawings by selecting the pen in the upper right hand corner and then choosing a colour. Swipe left and right to see more colour options and hold down a colour to see the advanced colour picker.
Add a filter by swiping right or left
Tap the check mark at the bottom to post your content to your Instagram story
Tap the + icon to add to your story, then pull down from the top of the screen. You'll see a collection of photos and videos that you've taken within the last 24hours that you can upload (and as of November 2017, you can now upload photos from your camera roll too). You can also upload Boomerangs and Hyperlapses to your Instagram Story.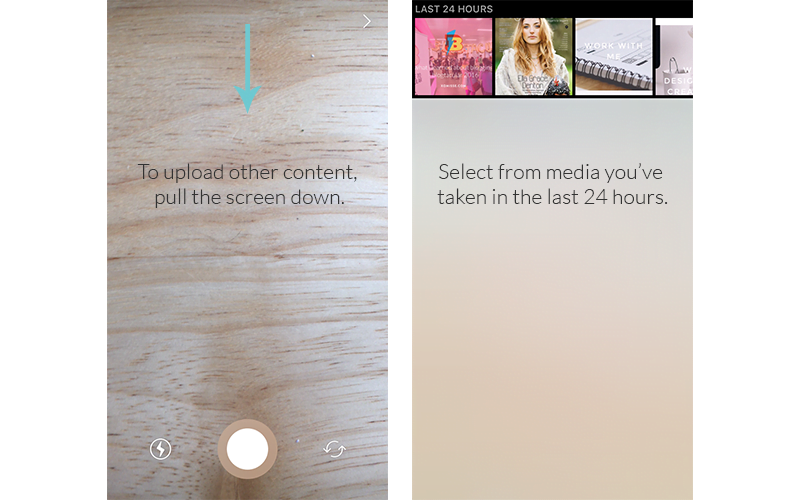 Story Details : who has viewed your story, how to download your content and send it to your feed
Swipe up from the bottom of the screen on your Story to see a list of people who have viewed it. You can tap X next to their usernames to block them from seeing anything you add to your Story.
Tap the Settings icon in the top left corner to select the viewing settings (also available in Settings > Story Settings) where you can choose who is allowed to watch your story and send you messages. You can hide your story from specific users.
You can also download or delete your content, as well as sending it to your Instagram Feed so it appears in your grid.
What you can share via Instagram Stories?
One of the things that attracted people to Snapchat was how real it was – it was live, unedited and authentic. With Instagram being heavily curated these days, Instagram Stories now let's you show that. You could share some behind-the-scenes of creating content for your blog or Instagram, a live chat to encourage interactivity and engagement or daily vlog-style updates to share more with your audience.
My Thoughts on Instagram Stories
I think this could be a really good thing for Instagram and it will only continue to grow! I can definitely see them adding more features to Instagram Stories (like more filter options and seeing who has screenshotted your Story).
The big advantage to using Instagram is that many users already have an audience there. It's also easier to find and follow someone on Instagram than it is on Snapchat. It makes sense to post where the majority of your audience is. I really am enjoying Instagram Stories and I've been much more active on Instagram since it launched.
The one thing I do dislike about Instagram Stories is that I follow a lot of people on Instagram because I like their visuals, but I'm not really interested in their daily life. Seeing Stories from everyone I follow is quite overwhelming, hopefully this will be something you can choose in a future update.
Update: How to hide someone's story on Instagram
You can now mute stories from specific people that you don't want to see. From the Stories bar at the top of the app, tap and hold on the profile photo and select "mute user's story" from the popup options. They'll be sent to the end of the Stories list and their profile image will be greyed out.
Let me know your thoughts on Instagram Stories in the comments. Will you be using it? Do you prefer Snapchat? I'd love to hear what you think!