Creating a website and blog for your content, brand or business may seem overwhelming. Between the time it takes, the expense and the knowledge, it can seem like an impossible task but I'm here to tell you it's not impossible. And actually, I think it's one of the best things you can do.
And if you do already have a website for your small business and you want to know if you should add a blog section, my answer will always be yes! Contrary to popular belief, blogging is not dead. It has so many benefits for businesses, especially if you're creating strategic content.
Here are 3 reasons I think you NEED a blog and not just a social media account.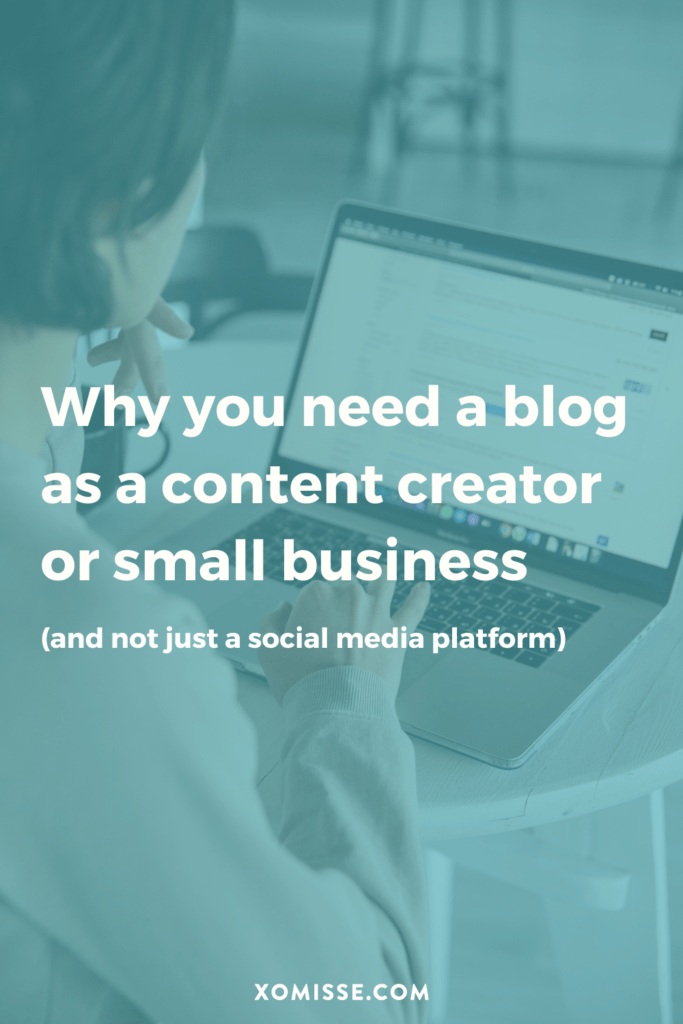 1. It builds credibility and trust with your audience
Research by YP and LSA found that 30% of consumers won't consider a business if they don't have a website.
First impressions count, having a website adds a level of professionalism and credibility that showcases your expertise. It is always working to promote you, providing valuable information to your ideal reader, client or customer.
Consistently creating content that is relevant to your audience helps you to establish authority and position yourself as an expert in your industry/niche.
It also helps build trust with your audience, create a community and increases engagement with your audience. In fact, research conducted at Stanford in 2002 found that 46% of consumers say a website is the biggest determinant of whether they trust a company.
2. It gets you on Google's good side (with a higher ROI)
Okay, technically social media platforms are shown on Google and increasingly so. However, blogging is excellent for SEO and link building.
And because a blog gets you on Google, it also increases your chance of being found by your ideal reader, client or customer and therefore brings more traffic to your site.
Your social media posts last a couple of hours or best case, days. Whereas the posts on your blog have the potential to last years. Some of my evergreen content from 2014 STILL gets views today.
In fact, according to data collected by ProfitWell in 2018, companies with blogs tend to get 67% more leads than those who don't have a blog.
While blogging and search engine optimisation may take more time up-front, the long-term benefits really can't compare to anything else. It can also help build relationships with your audience, build your email list and can make it easier to monetise through affiliate marketing.
3. It's more reliable than social media
Remember that day in October 2021 when Facebook, Instagram and WhatsApp went down. Lots of businesses and creators were suddenly stuck, without a way to engage with their audience.
Secondly, what if one day it's just gone? Poof! You've been hacked and the account you've spent so much time on has disappeared? It's unfortunately happened so many people and although there are steps you take to prevent it, it does happen.
As well as outages and hacking, you need to think about how much control these platforms have. They can make any changes they want and that can impact you and your business. The constant updates means changing your strategy almost weekly in order to try 'beat the algorithm'.
With your own website however, you have control and your content is the centre of the stage.
Instead of focusing too much on social media, which is obviously an important part of marketing, think of your ultimate goal. What is the end goal? Think of your social media accounts as a funnel to get people over to your site. Your site is your main hub.
Start your website or blog today
I promise you don't need to be tech-savvy to start a website or need a big budget. It is much easier and less expensive than you think, and you can get online within a couple of hours. And I can help you, see the below blog post for a step-by-step guide to launching your new WordPress website or blog.
Don't fancy the DYI route, get in touch with me to get it done-for-you. I offer WordPress setup and custom theme services.