Being a Creative Digital Media student, a freelancer and a blogger means that my computer fills up very quickly. Deleting things and clearing it out is great, but you won't notice any difference because the files are still recoverable from the hard drive. I'm going to show you how I went from having 73GB free memory to 380GB free memory & counting… that's more than half my memory back from these simple tips.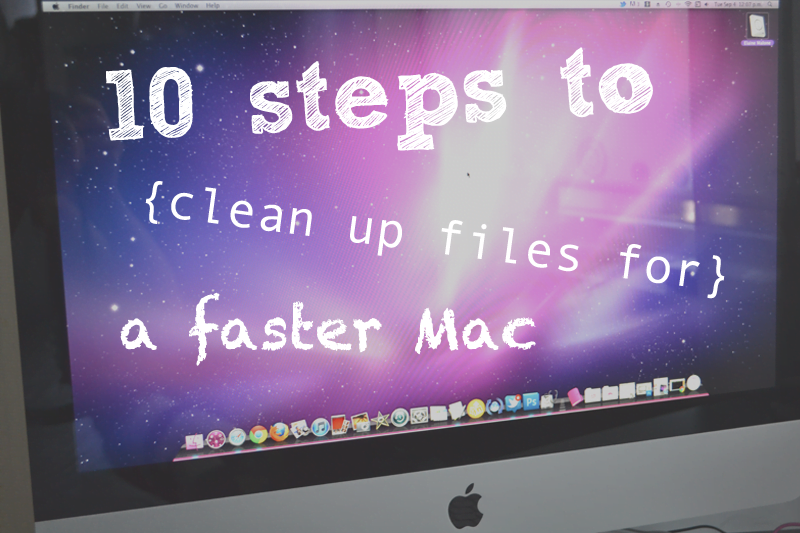 How does the mac trash can work?
If you have ever used a Windows computer, you'll know that when your delete something, it goes to the recycling bin and memory is freed up instantly. On a Mac however, when you delete something it goes to the trash can but still takes up full memory. When you empty the trash can, you get some memory back. What is really happening however, is the files are moved to a temporary folder waiting to be over-written by new files. So you never really get that space back. Tip nine and ten below will solve this!
Warning!
Be careful when cleaning your Mac, make sure you don't delete anything that your Mac needs. I'd suggest backing up your Mac using Time Machine, before preforming any of these tasks. This is what I do to free up space, after researching many different sites. I am not an expert in this area so please do your own research, especially for step 10.
How to Clean your iMac or Macbook & Free up Memory
Delete anything you don't need – Photos, Application, Documents. Clear web browser cache, website data, history. Delete unwanted items in downloads. iPhoto has its own trash can, so if you delete something there make sure to also empty the trash. Don't forget iMovie and Final Cut, if you imported clips then they are in the iMovie folder as well as the original folder. Delete unnecessary iChat icons (Pictures > iChat icons) & GarageBand demo songs.
Compress & Archive – Compress folders that you need but never open. Move items that aren't used regularly to an external backup drive. For example, I keep all my movies and photos on an external hard drive.
Login – Have a look at what loads when you login (System Preferences > Accounts > Login Items). If its is trying to open everything at once, it's going to be slow.
Maintenance – make sure your disks are working properly by verifying and repairing disk permissions & the disk itself ( Applications > Utilities > Disk Utility)
Language – you can use Monolingual to delete unwanted extra language packs.
Duplicates – iTunes > File > Display Duplicates, delete all duplicate music & files. Removing Album Art will also clear up space, Select All (CMD & A) > Get Info > Choose Yes when prompted if you want to edit multiples > Tick the unlabeled checkbox next to artwork.
Updates – it is important to install updates which will keep your Mac running properly.
Tools – CleanMyMac 3 is great for keeping your Mac clean and running as it's supposed to. It keeps an eye on the health of your Mac and gives you ways to optimise it for better performance. I also love Gemini for locating and removing duplicate files, more on that in a future post.Disk Inventory X is amazing too. It creates a "tree map" of your hard drive usage showing you where your memory is being used. I found things that I didn't even know I still had on my Mac, got rid of so many old photos and videos, duplicate college files such as huge flash, animation, movie & photoshop files.

Another great tool is EaseMac Mac Cleaner CleanGenius, which frees up disk space, deletes duplicate files, locates large files and displays them in order, removes unwanted apps & related files.

Trash – When emptying your trash can, click Finder in the menu bar > Secure Empty Trash. This will permanently delete them so they don't take up space. This will take some time but it will free up so much space. This is similar to Step 10 below.
Properly Delete – When you delete something and remove it from the trash, it goes to a part of your Mac where it waits to be written over with new data(files). This basically deletes everything you've ever trashed from the entire computer meaning it will no longer be recoverable (useful if selling your mac), in doing so it will free up space.
How to properly delete items on a Mac
Go to Applications > Utilities > Disk Utility > Hard Drive > Erase > Erase Free Space. Choose fastest which is the quickest option and provides good security (used to be Zero-Out Data). You could also select the middle (7-Pass Erase) or Most Secure (35-Pass Erase) which is a longer process with the highest security. CAUTION: You should backup your Mac before this, just incase anything happens but I've never had any problems. Sometimes it may say that you have run out of free space, ignore this. Once the utility is complete, space will return. If you cancel half way through, you may have to restart or empty the trash can to recover disk space.
There is nothing worse than a slow computer when you are trying to work, so I hope you fond this useful. Have you tried these steps? Let me know how they worked for you.