WordPress 5.0 is finally here! After two years of development and pushed deadlines – the latest version of WordPress is now available.
It is being referred to as "the new era of WordPress" as it brings a number of changes that I'll discuss below. I'm also sharing some information, tips and advice on how to update to the new version and more importantly, why I think you should wait until January!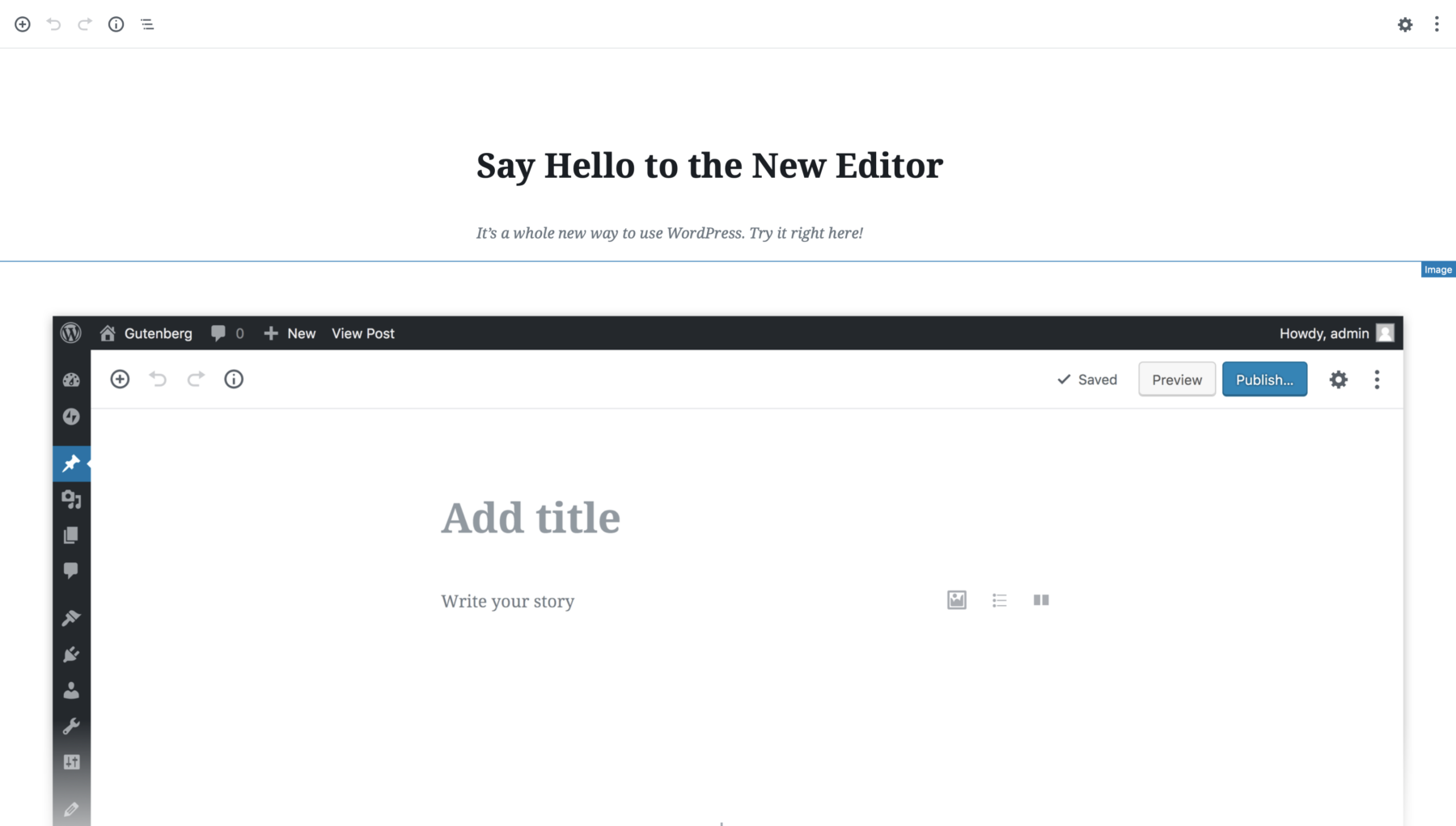 New Features and Updates in WordPress 5.0
Gutenberg
The primary feature is of course the new block-based post editor, aka Gutenberg. I discussed this new editor in a previous post if you want an overview of what it's like.
The drag-and-drop block-based editor will now be the default WordPress experience going forward. According to Gutenstats blog, the block editor has just passed one million installations this month. If you prefer not to use the new editor, you can install the Classic Editor plugin which will receive support until at least the end of 2021.
WordPress has been around for over 15 years and millions of sites have been created using the classic editor. There are over 60,000 unique plugins in the WordPress plugin directory – some are regularly updated, some are active on live sites but no longer supported and others are completely abandoned. It's not possible to test all of these plugins with the new block-based editor. So we have to prepare for conflicts, bugs and other problems.
Twenty Nineteen Theme
Twenty Nineteen is the latest default theme from WordPress, featuring custom styles for the editor blocks. It was designed to be flexible for all types of websites – photography and portfolio sites, small business sites, blogs and non-profits, etc.
WordPress Support
A new WordPress support platform, called HelpHub, is also available and will take the place of the WordPress Codex. Though a lot of content still needs to be migrated.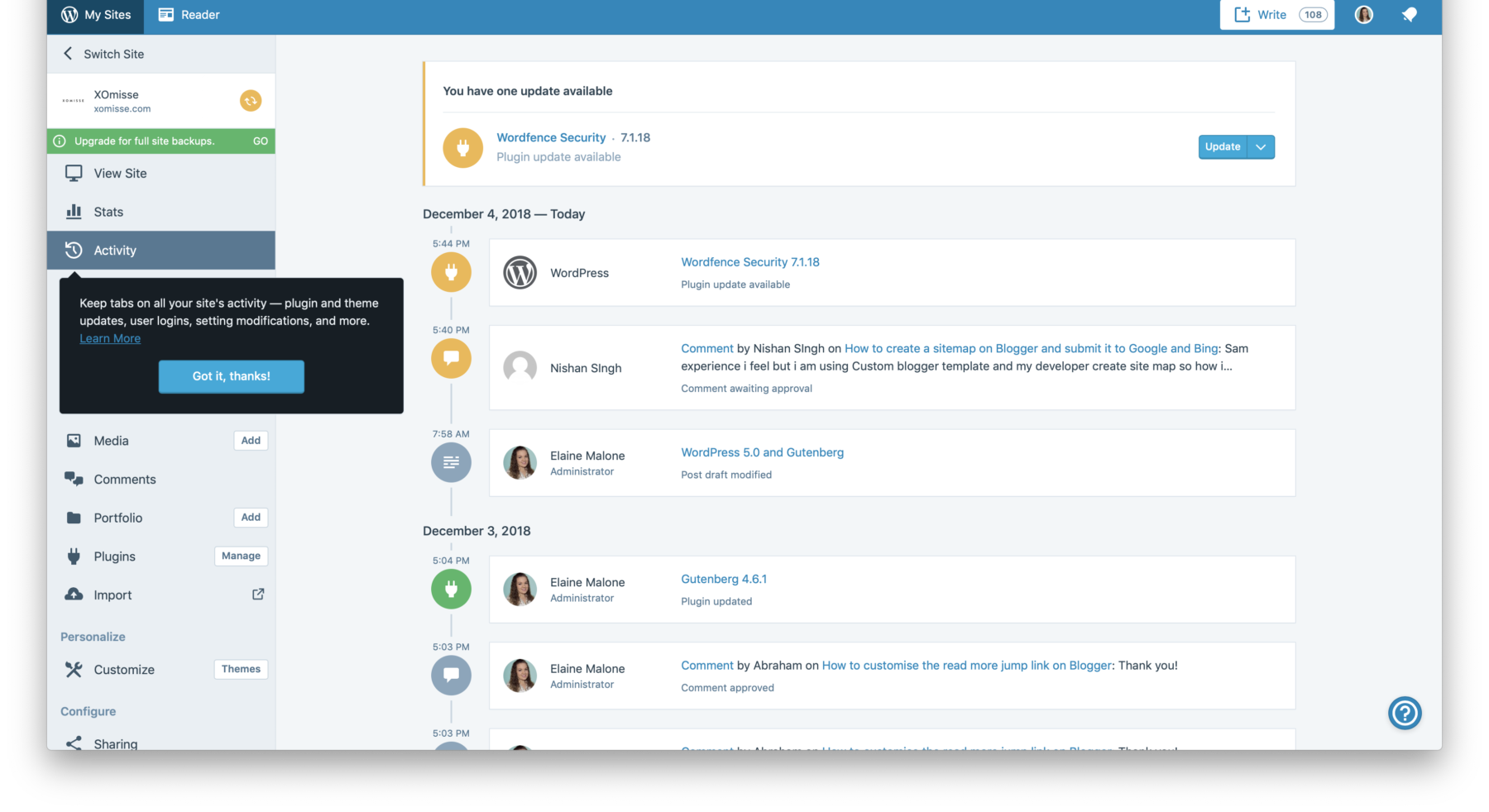 WordPress Activity
WordPress.com introduces Activity, a way of monitoring your users' actions in an organised and readable interface. This timeline shows details like who published a post, what comments need to be approved, who installed/removed a plugin, who updated a page and all other changes or updates to your site.
As with many WordPress.com features, you'll be able to use Activity with your self-hosted WordPress site if you use the Jetpack plugin. Free plans can only see the last 20 changes, while paid plans get to see all updates from the past 30 days.
WordPress App
We can also expect an update to the WordPress mobile app early next year.
Thinking of Updating to WordPress 5.0 today? Here's some tips!
I'm usually the one shouting "update ASAP" for security reasons. However, WordPress 5.0 is a major update, you need to make sure you're ready. If you don't have much time this coming week or month, consider waiting.
Do I update to WordPress 5.0 right away?
My advice – no! If the holidays are a busy time for your site or you don't have the time, resources or know-how to deal with conflicts or issues I would postpone updating until January. Version 5.0.1 is already being planned so it will likely be more stable in the New Year. Aside from conflicts, bugs and other potential problems, this is a huge update and it comes with a learning curve.
Is my site compatible?
WordPress 5.0 introduces Gutenberg, which I've discussed previously here. This changes the way the post editor works in WordPress.
Not all plugins and themes are ready for this! If you're using a plugin, theme or page builder (like Visual Composer, Divi or Beaver Builder) that alters the editing experience on WordPress or that uses shortcodes or custom fields, make sure to check with the plugin/theme developer for compatibility. You can do this by checking the documentation of the theme and/or plugin(s), by using a staging site to test and by ensuring you have a backup of your site available. If you don't have a major reason for updating, then my recommendation is that it would be best to wait.
How do I know if my site is compatible?
Have you tried the demo version of Gutenberg? Do you have a staging site version of your website that you can test things on? Are you using the latest version of PHP? Update your test environment first to look for problems, remember to review old posts and pages too. Back up your site files and your database before updating. Still hesitant? Install and activate the Classic Editor plugin.
The 5 Simple Steps to Updating to WordPress 5.0 (in order)
Back up your entire site

First things first, before you update anything (like, ever!) make sure to create a backup! Download a copy of your entire site before updating. If anything goes wrong, you'll be so glad you have it on hand. Be aware that there are some bugs around responsive images and long-form content timeouts that aren't expecting to be fixed version 5.0.1.

Test the update on a staging site

Compatibility with plugins depends on each individual plugin developer so there could be conflicts, check the plugin page for details. Use a staging site to test the update, taking the risk away from your live site and ensuring a smooth transition.

Update your plugins

Go to the Updates tab and read through the update changes for each plugin. If all looks okay, update available plugins. If you're running WooCommerce, note that you need to update to WooCommerce 3.5.1+ to avoid conflicts.

Update your theme

If there's an update for your theme, do that next. If there isn't, consult your theme developer to confirm support for the Gutenberg Editor.

Update WordPress to 5.0

Once that's all done and you have a backup of your site, you can update WordPress itself. Once the update is complete, do an audit of your site to ensure that everything is working properly.
What are your thoughts on WordPress 5.0 and the new block-based editor? Have you tried the demo, do you like it? If you have any issues or questions, feel free to send them my way!
There has been a lot of mixed reviews about Gutenberg. The majority of negative feedback coming from other developers. Personally I think it's a great addition to WordPress, but I'm not sure how I feel about making it the default. That's a personal opinion based purely on the fact that I use Text mode when writing blog posts (as opposed to Visual mode). I have been following along updates in the developer Slack chat and everyone has seemed pretty excited while testing today, so hopefully this will be a positive move for the WordPress community.