Overwhelmed by social media? Me too! With so many social networking sites to choose from, it can be difficult to decide what to focus on and come up with unique content for each platform.
Here are five tips for simplifying your social strategies…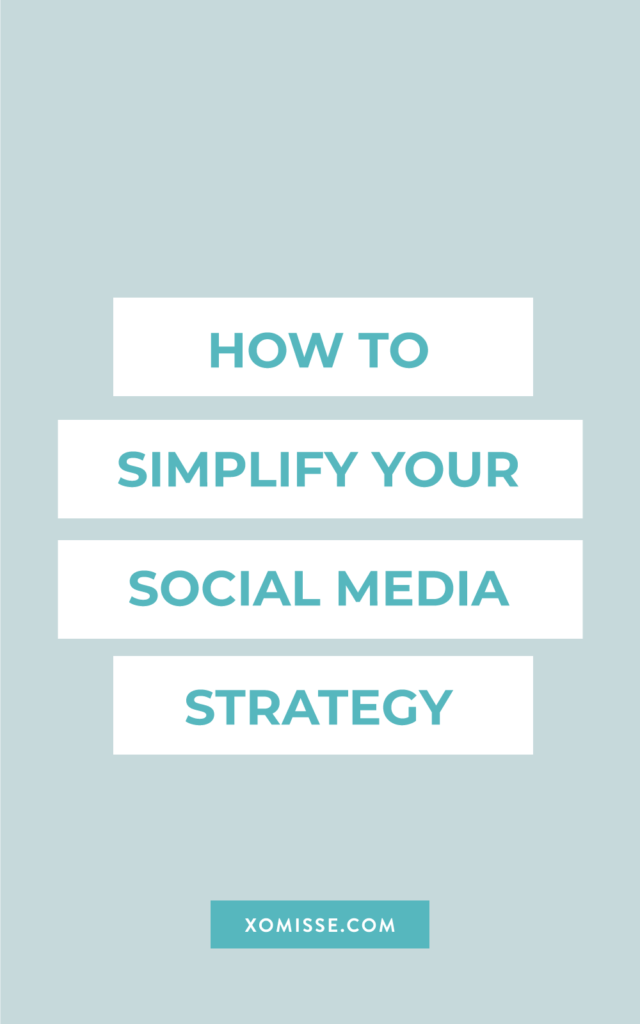 1. Where is your target audience hanging out?
Do you have to be on all social platforms? The answer is no! When developing your social media strategy, the first step is to find out where your clients, customers or target audience is. What platforms are they using and how? Then you know where you need to focus your attention.
BUT don't put all your eggs in one basket. It's risky, especially if you don't own that basket. Instagram seems to be the main focus for a lot of people right now, but even Instagram themselves don't know what the platform will look like in five years. Think of MySpace, Vine and even Facebook…
Ask yourself, what's the goal with your social platform? It's a good idea to use social media to help build your audience on social media, but make sure you're bringing them with you somewhere else, somewhere you control like your blog or email list!
2. Consistency
The main thing with social media is being consistent and providing quality content that your audience enjoys. You'll likely see more results from posting more frequently but remember – quality over quantity. You are more likely to lose followers on social media if you're rushing out posts that don't fit with your goal, purpose or quality.
3. Repurpose your content
Apparently less than 5% of your audience will see your posts on social media. Think of all the time you've spent creating it! Are you repurposing that content for other platforms? If not, take a look over your blog posts, newsletter or podcast and figure out how you could share it in different ways.
You could pull out a summary or useful tips from the post, create an infographic or social graphics using short quotes, facts and insights from your post or split the post up into mini bite-sized posts. Share those to your social media platforms, your podcast, your IGTV or YouTube, your newsletter and so on. You'll suddenly realise how much content you have!
4. Content Creation
Plan ahead and batch content creation. This usually saves you time and it can help lessen the pressure of needing to find something to post in the moment. There are loads of social scheduler tools now that have some awesome features for choosing best times to post, adding hashtags and so on.
I recommend tools like Buffer, Hootsuite, CoSchedule, Sprout Social, Meet Edgar, IFTTT and Zoho Social. Planoly, Tailwind [affiliate link] and Later are also great for planning Instagram and Pinterest.
5. Templates and swipe files
Setup templates for social media platforms so you can drop the content into it instead of spending time creating a graphic each time. This works really well for Instagram and Pinterest where branded graphics can help with getting noticed.
You could also save time by creating a swipe file to copy and paste commonly used phrases or call to actions. For example, creating 10 different descriptions for each blog post or 20 different promotions for your newsletter.