Bloggers might want to take note of Google's latest update. Google announced this week that they are introducing a new penalty to demote mobile pages that have pop-ups and intrusive above-the-fold content. These include email sign-ups, opt-ins, advertisements and other intrusive interstitials.
Pages that show intrusive interstitials provide a poorer experience to users than other pages where content is immediately accessible. This can be problematic on mobile devices where screens are often smaller. To improve the mobile search experience, after January 10, 2017, pages where content is not easily accessible to a user on the transition from the mobile search results may not rank as highly – via Google Webmaster Blog.
What does that mean? They are cracking down on the intrusive advertising by knocking down those pages in search results. So if your blog shows a pop-up newsletter sign-up form, advertisement or other content that covers the main site content (at any stage during a visit to your site) then your blog will be ranked lower in Google's mobile search results.
What isn't Google allowing?
Google have specifically mentioned the following examples
1. Pop-ups that cover the main content, either immediately after the user visits a page or on a time delay.
2. Any kind of interstitial that the user has to dismiss or click out off to view the main site content.
3. Layouts where the pop-up or advertisement appears as above the fold content, where a user has to scroll down to get access to the main content. An example of this is SumoMe's Welcome Mat.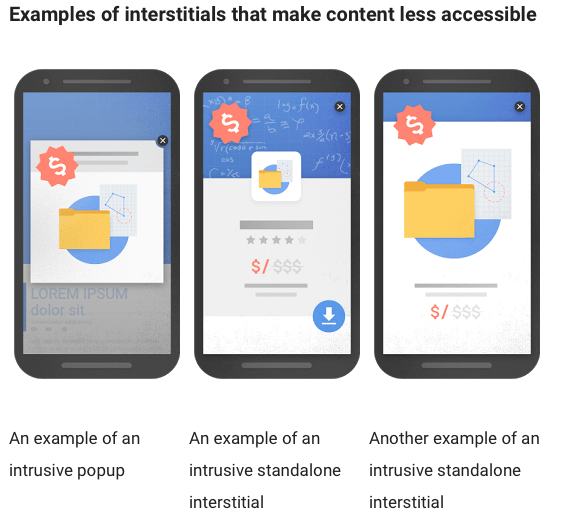 So basically any type of pop-up that users have to dismiss in order to continue viewing the main content (newsletter sign-ups, pop-up messages, promotions/coupons and membership offers) and any type of ad/banners that covers the majority of the page above the fold.
What is Google allowing?
As long as you're implementing these correctly, then they will not be considered intrusive and will be allowed.
1. Legal reasons such as for cookie usage or age verification.
2. Login screens where content is private or password-protected.
3. Banners that don't take up the whole screen above the fold of a website and can be easily dismissed, such as the banners inviting you to use a mobile app instead of the website or the popular HelloBar banner.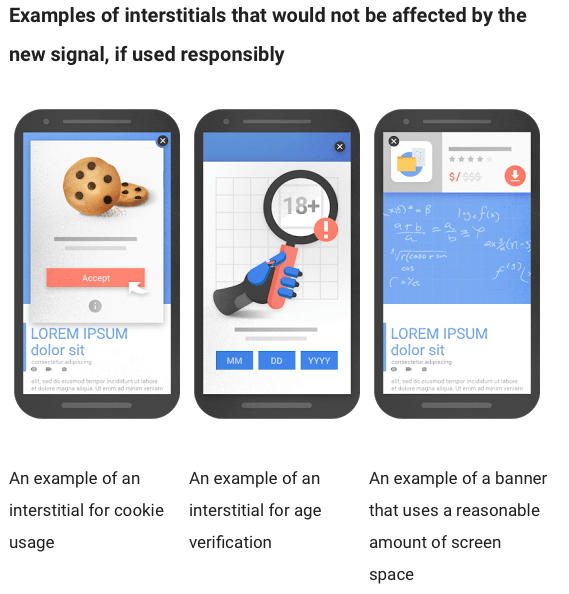 What this means for your blog?
As mentioned in previous SEO posts, Google use a variety of factors when deciding what to show in their search results. Occasionally they will give some details about specific factors, such as mobile friendly requirement. They want to improve the usability of mobile sites and give their users a better experience.
Most people hate pop-ups, it's been listed the number one most hated thing in surveys. Yet so many people continue to use them because "they work". Yes, they do but do you know why? Studies show that they work because the majority of people don't know that you can click outside of the pop-up to close it. They think they only way to get through it is to sign up. They are not the people you want on your email list!
If you don't care about the views you get from Google or about SEO then continue doing what you're doing. If you do care, then take a quick look at your site and review any advertisements and popups that you have installed.
Personally, I think this is a great update as I'm not a fan of automated popups on any device. Google previously announced that responsive sites will rank higher and now 85% of sites are mobile-friendly. I'm hoping that this update will have a similar effect and that people will stop including this feature on their site.
What do you think? Do you mind automated popups? Do you use them on your blog? If so, do you find them effective and will you continue to use them? Let me know your thoughts in the comments below.