Do you draft your blog posts in Word or Google Docs and then copy them over to your blog? If so, do your blog posts have a different text style? Have you had any coding/layout issues on your blog?
This post is just briefly to explain why you should avoid using programs like MS Word and Google Docs to draft your blog posts. Numerous times someone will come to me with a problem on their blog and this will be the cause whether it be odd text styles, weird HTML in posts, the sidebar appearing below posts or other strange things happening to the layout.
Why you shouldn't copy and paste from Word to your blog
When you write in Word (Google Docs or a similar program), a lot of formatting code is added to your text that you don't see. When you copy the text over to WordPress, Blogger or another platform this formatting gets copied over too and can cause a whole load of problems on your site from messing up the look of your blog, to moving around your layout and even causing your blog to not load!
This can also happen when you copy text from emails, another blog or website or other word processor applications. Even if you just write in Word without changing the font or formatting at all, it will still copy over code as shown in the examples below.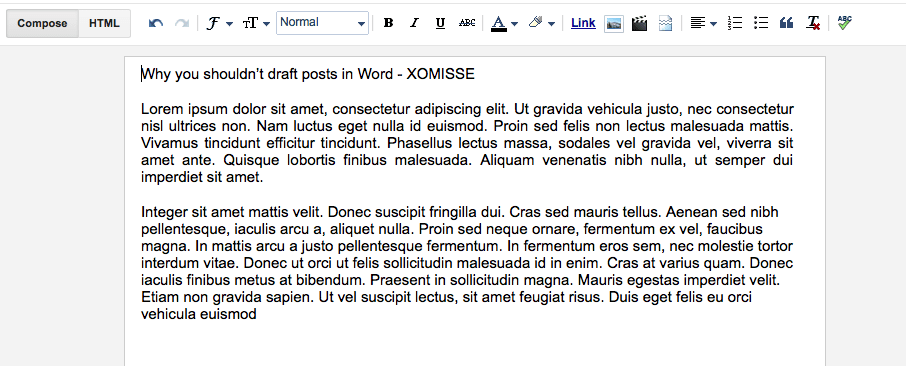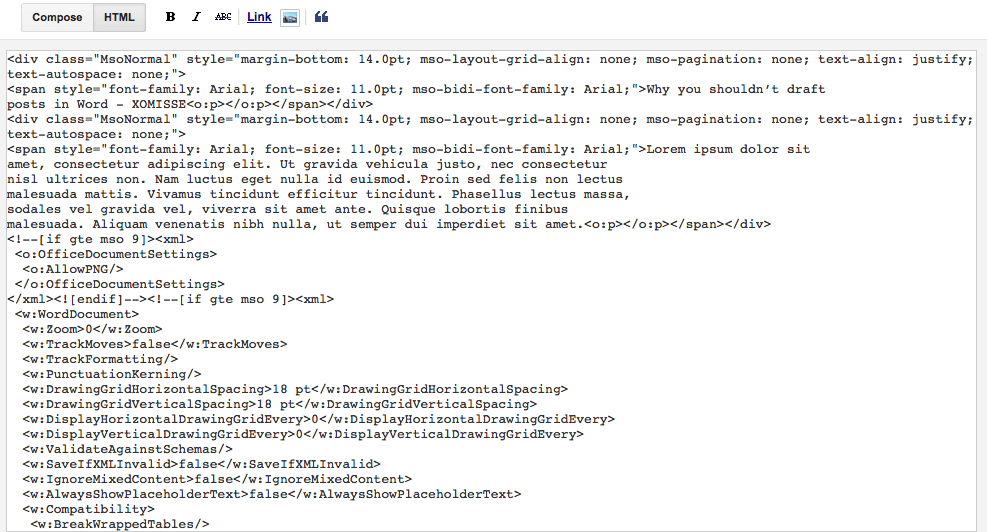 How to avoid excess formatting?
The safest way is to write your blog posts in a Text Editor (such as NotePad for windows and TextEdit for Mac). If you do use Word, you could paste it into the Text Editor first, which should remove the formatting, and copy it from there.
If you really need to use Word or Google Docs you can take advantage of the "remove formatting" button in your post editor toolbar. This doesn't always delete all formatting so you may have to manually remove what is remaining but it should remove the majority of it.
Another thing you can do is paste the text from Word into a new post on Blogger/WordPress in HTML/Text mode instead of Compose/Visual mode. This should copy just the text and no formatting. You can then switch back to Compose/Visual mode and continue your post.