It's no secret that the creator economy is on the rise. And as more creators are seeing success, more people are curious what they could achieve if they ventured into the world of content creation.
Getting started as a content creator can feel like an overwhelming and unachievable goal. It's easy to feel like a small fish in a big pond. But it is doable!
How doable I hear you ask?
Well, ConvertKit surveyed nearly 3,000 creators who earned $66 million combined in 2021. They put the results into their creator economy report, which is full of valuable insights. This post will take a look at the key highlights to show you how possible it is to make content creation your full-time job.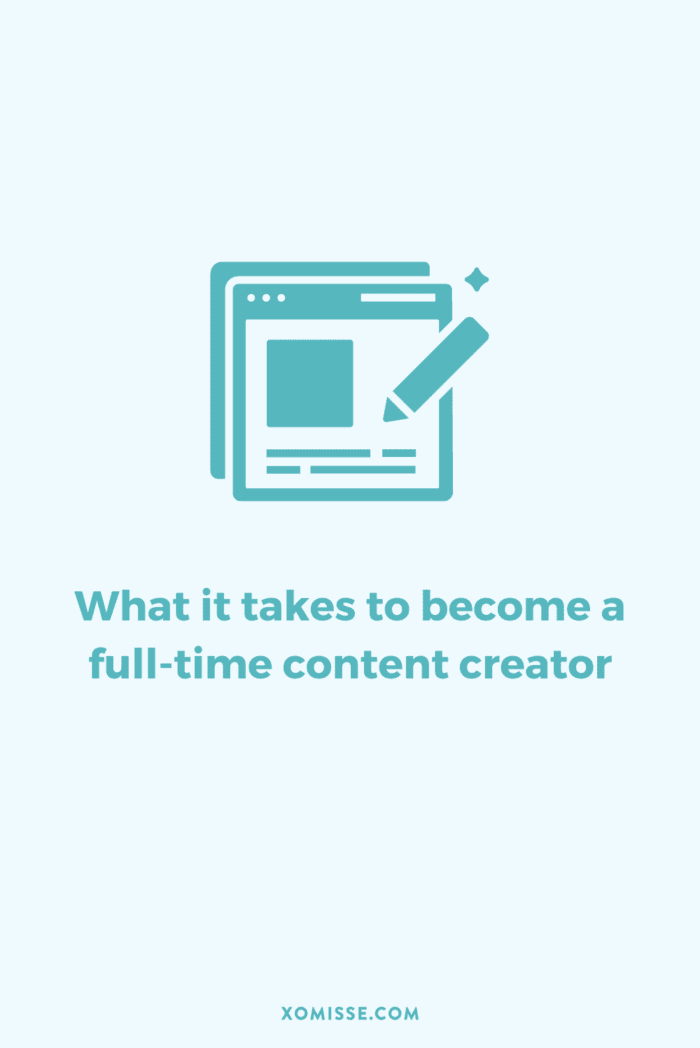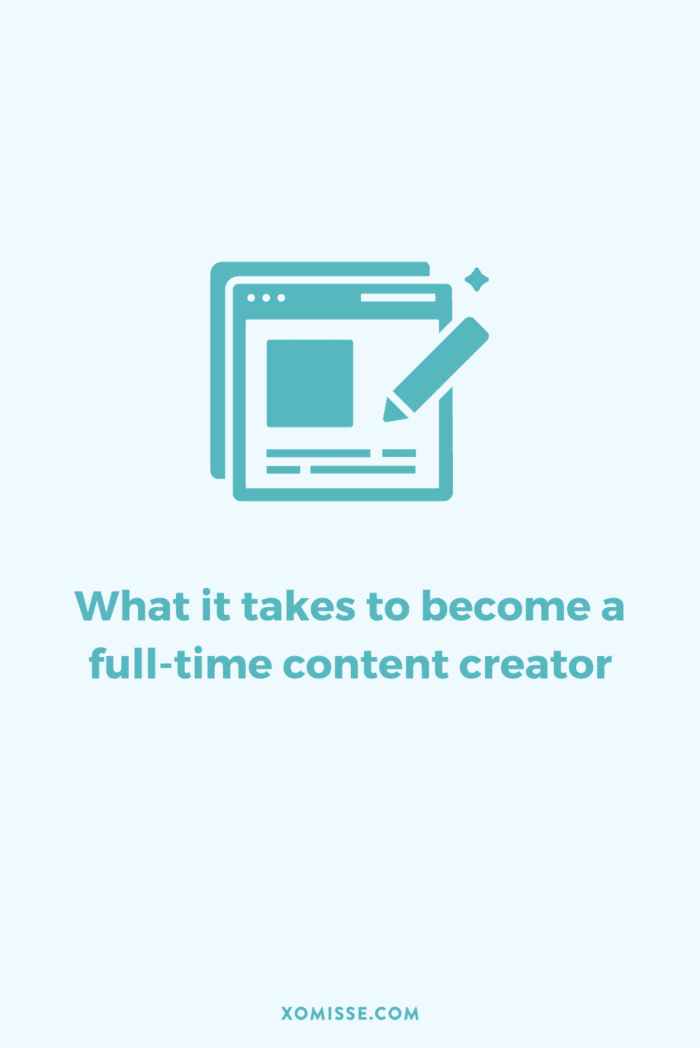 Firstly, what is a creator?
The term 'creator' is used to describe a person who produces content that is typically educational or entertaining for an audience online.
The creator economy is a network of creatives, writers, coaches, influencers, and more who want to earn a living online.

ConvertKit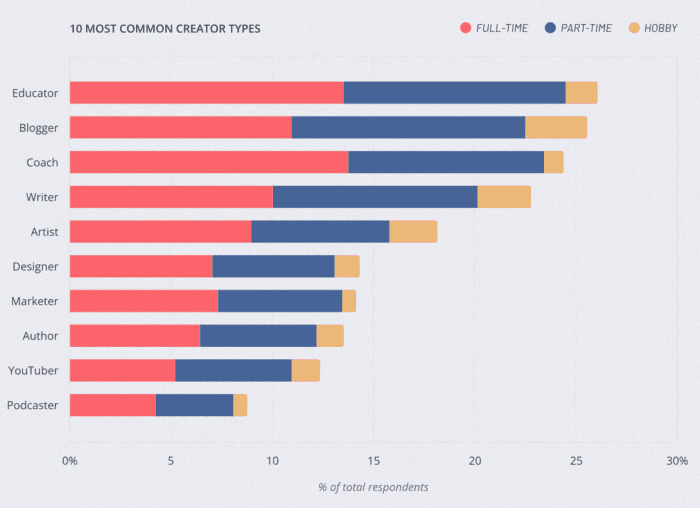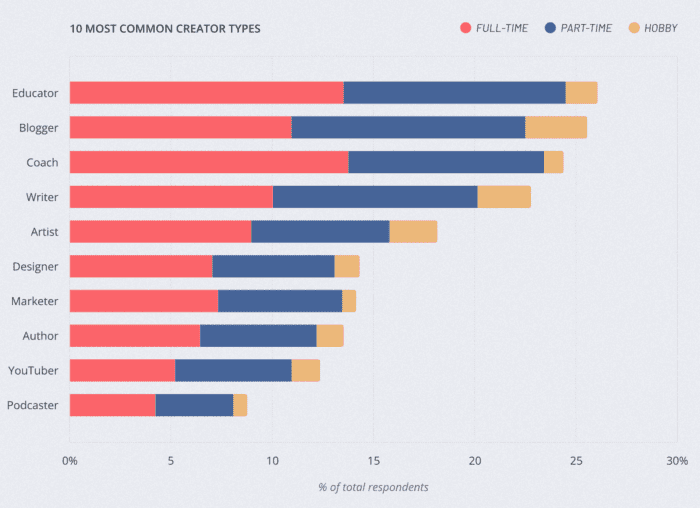 When we think of creators, we typically think of bloggers, YouTubers, social media influencers and podcasters. But the term 'creator' can also include educators, coaches, writers, designers, marketers, business owners and so much more. And while creators are all ages, the most popular age range for creators is 31-40 years old.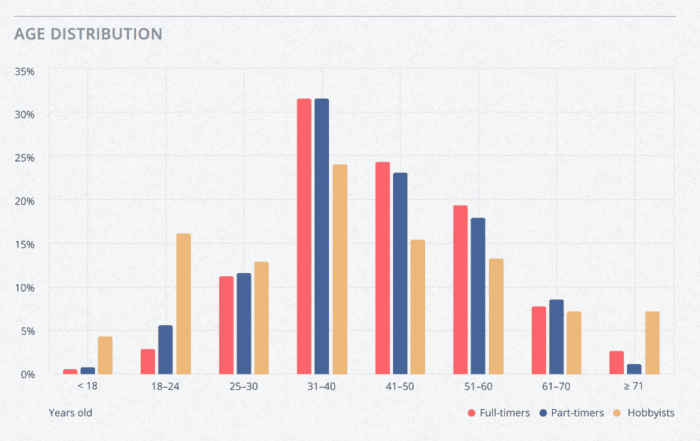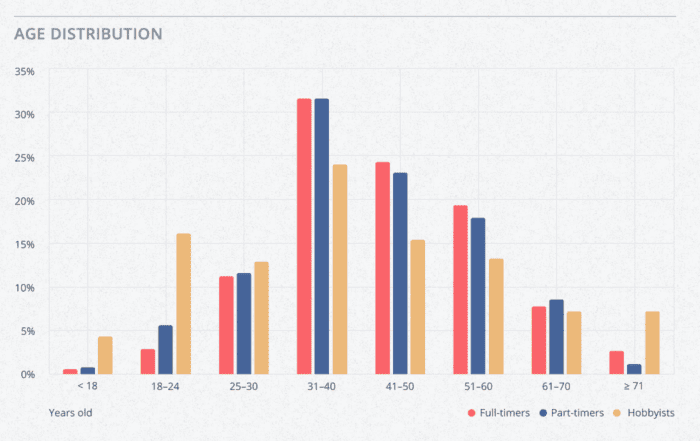 Is it possible to be a full-time creator?
It seems the answer is yes, as 46.7% of respondents are full-time creators. 10.6% label themselves as hobbyists, while 42.7% are creators on the side of another job.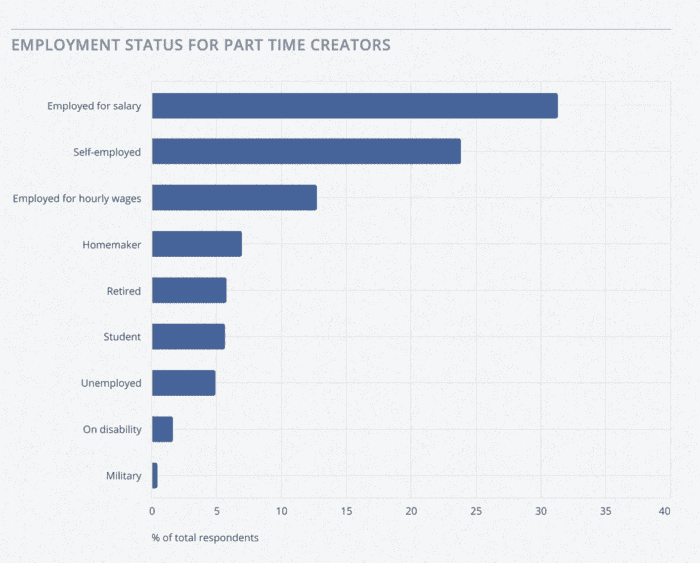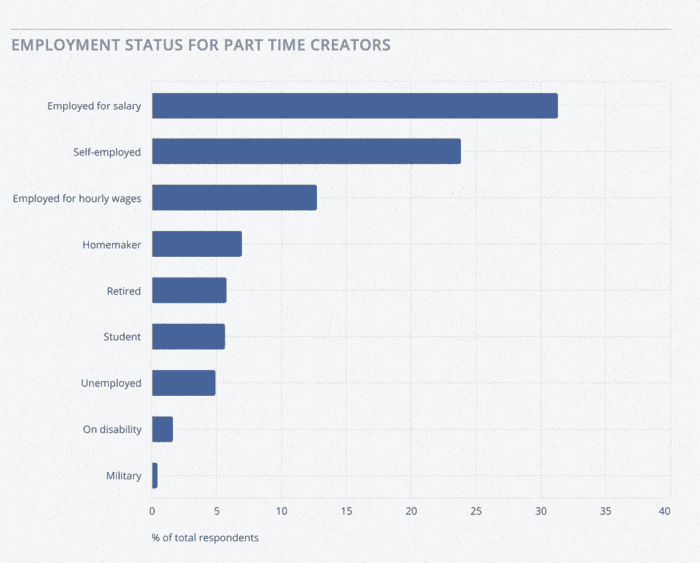 What niches are popular?
Entrepreneurship, personal development, marketing, small business and online business were the top topics for full-time creators. While personal development, art, design, crafts and mental health were the top topics for hobbyists.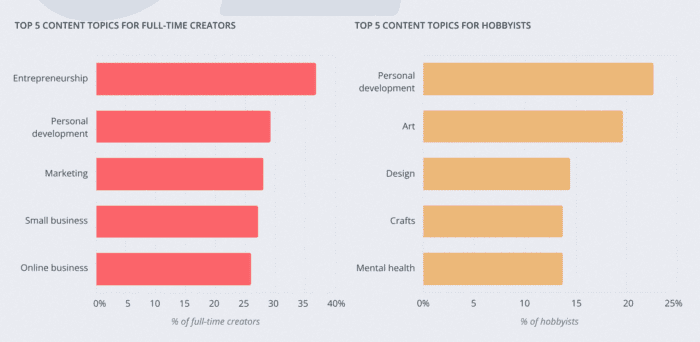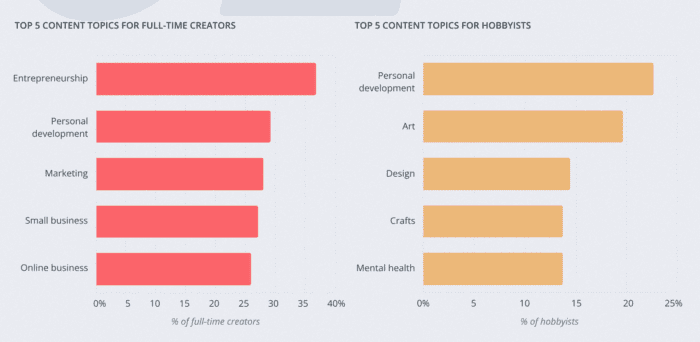 What type of content is created and for what platforms?
Content comes is many forms, the most popular content created in 2021 by full-time creators included social media posts, blog posts, newsletters, short-form and long-form video, digital products, courses, books, podcast episodes, physical products, music and art.
Hobbyists generated an average of 2.4 types of content and part-timers average 3.4 types. However, full-time creators consistently put out an average of 4.4 content types.
While blogging was the most common starting point 5 years ago, it seems that Instagram has taken over as the go-to platform for starting to build an audience. Email and Instagram tied for the most commonly used channel by full-time creators. Facebook, blog and YouTube followed. Full-time creators used an average of 3.4 channels.
How long does it take to grow an audience?
While many people think creators are overnight successes with filled inboxes and overflowing bank accounts. That is not the case!
Growing an audience is a difficult road that takes time and dedication. According to ConvertKit, 67% of full-time creators started more than 3 years ago while over 25% starting over 10 years ago.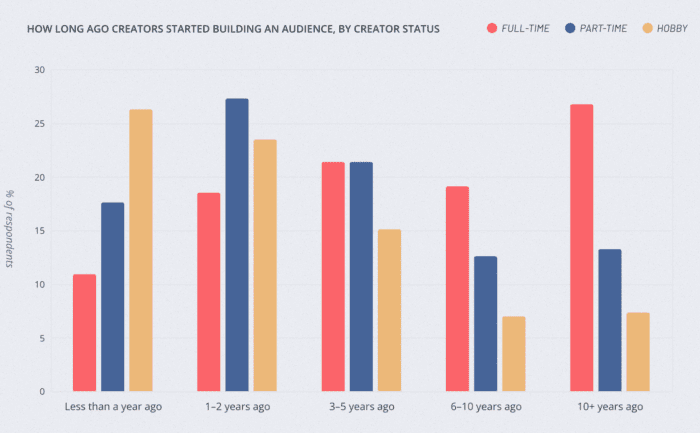 How do creators grow an audience?
The two most common ways creators grow their audience is through word of mouth and SEO. This was followed by YouTube, Instagram and Facebook.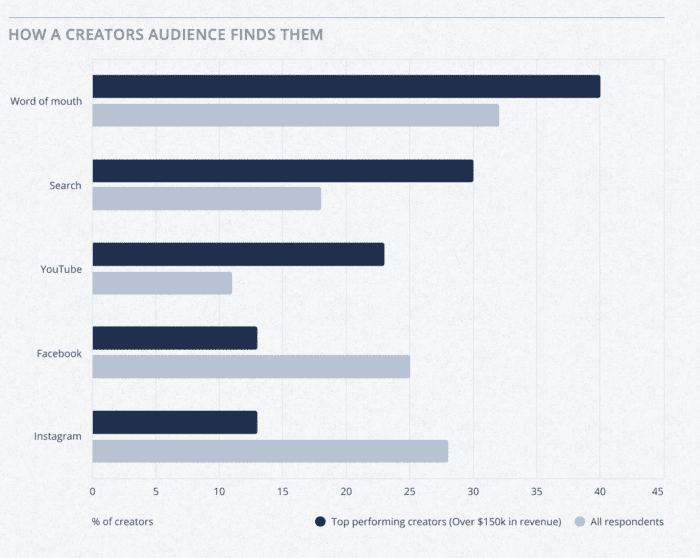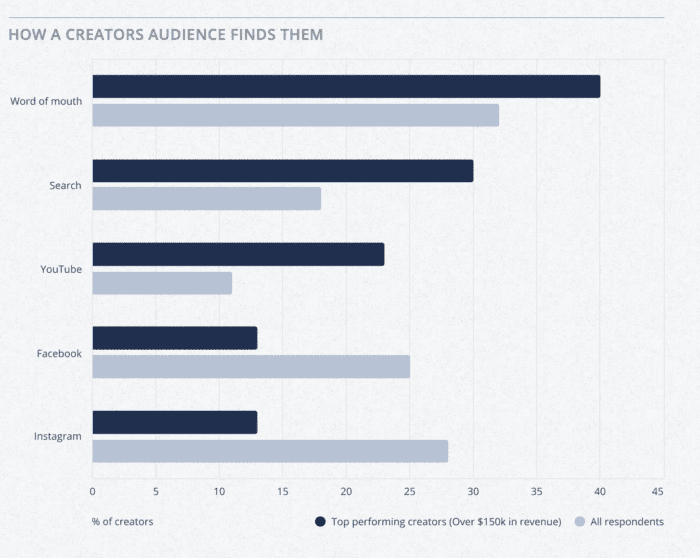 Full-time creators ranked email marketing as one of the most important tools for their business, outranking social media and paid ads. In fact, ConvertKit created send approximately 530 emails a second in 2021.
Join over 1,000 creators starting, building and growing their online business
By signing up you'll receive our fortnightly newsletter and resources. No spam or unnecessary emails. You can unsubscribe at any time.
How likely is it to earn money from content creation?
Although it often takes time, it is possible to earn a living from being a content creator even if you don't have a large audience.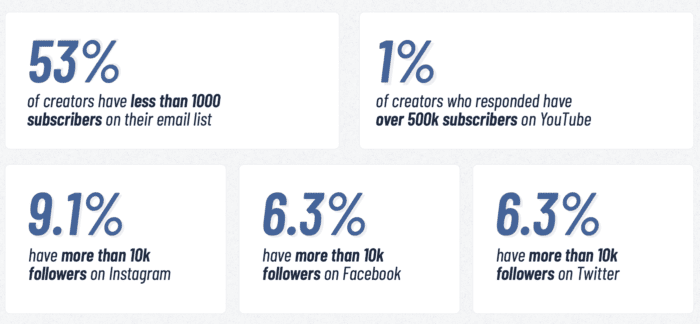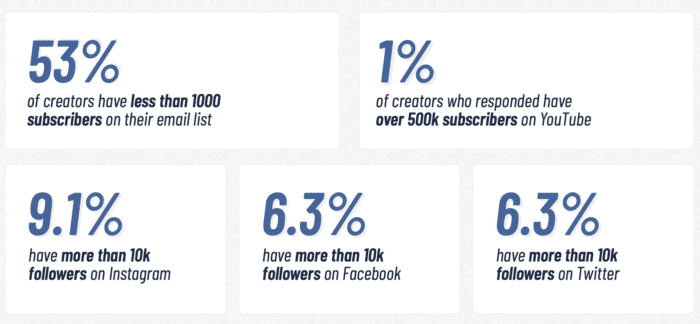 The secret is to diversify your income streams as much as possible. Full-time creators have an average of 2.7 income streams, while part-timers have 2.1 and hobbyists have 1.8.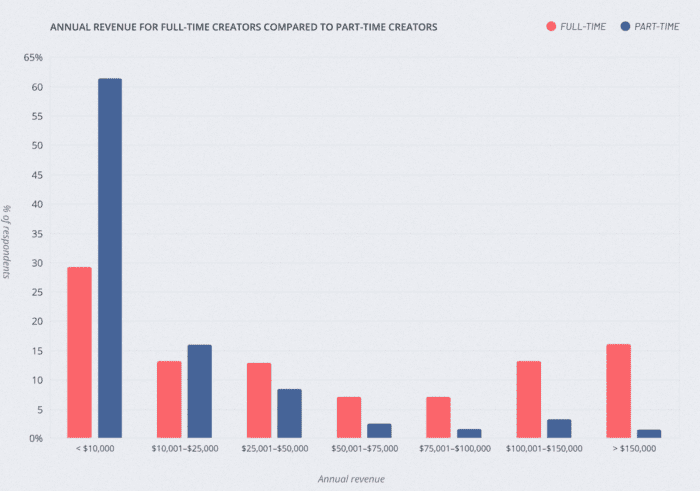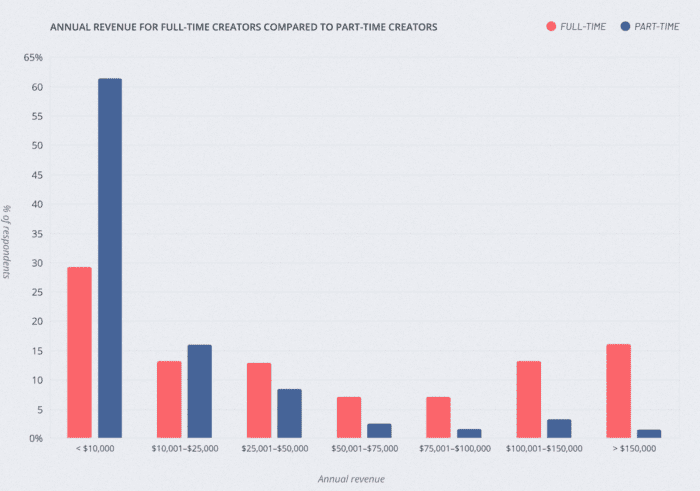 The top income streams for creators earning between $50-150K in 2021 was services, digital products, affiliate marketing, advertising and physical products.
While the top income streams for creators earning more than $150K was digital products, services, affiliate marketing, memberships and advertising.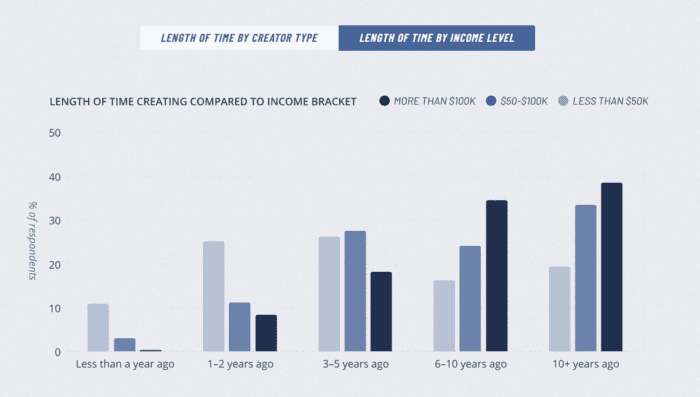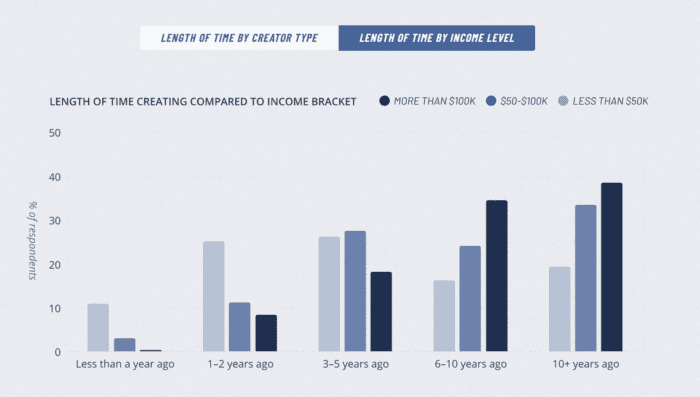 There is a gender pay gap…
Although female creators outnumber male creators by nearly 2:1, men are more than twice as likely to earn over $150K a year.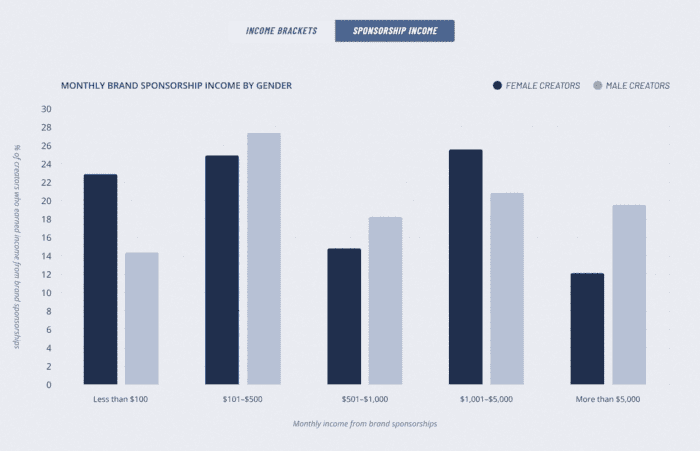 Most creators experience burnout
61% of creators said they experienced burnout in 2021, with full-time creators being the most likely group to suffer with it. The leading cause was the pressure to post content everywhere. Other reasons were content fatigue, emotional labor of showing up authentically as a personal brand, being unable to mentally disengage and comparison culture.
Most creators don't have a team and work over 40 hours a week
37% of full-time creators have no employees or contractors on their team. This is higher for part-timers (55%) and hobbyists (75%).
Full-time creators who do hire help typically work with 52% of full-time creators work with contractors (52%). Only 30% have part-time employees while 20% have at least one full-time team member.
A 40+ hour workweek was the most common choice for full-time creators in 2021 with 28% of creators choosing this option. 23% of full-time creators said they worked 30-40 hours while 21% work 20-30 hours a week.
The most used tools
Being a creator means having multiple tools for creation, distribution and scheduling. 28% of full-time creators spend more than $500 a month on tools, and 9% of top earners spend over $5,000. WordPress, ConvertKit, Later and Buffer are among the go-to tools.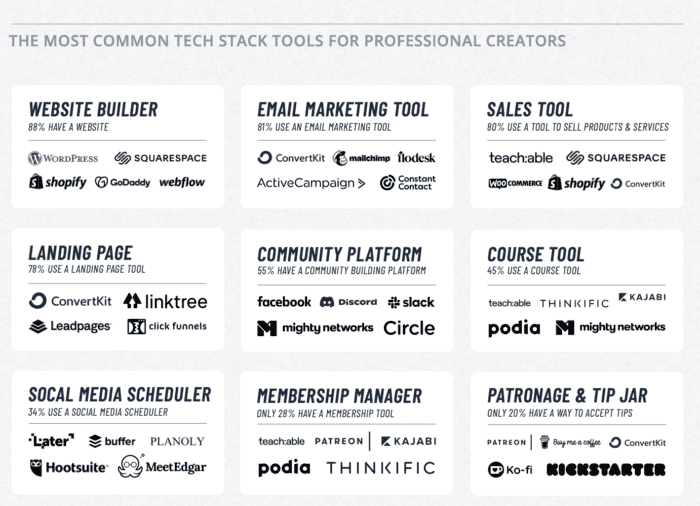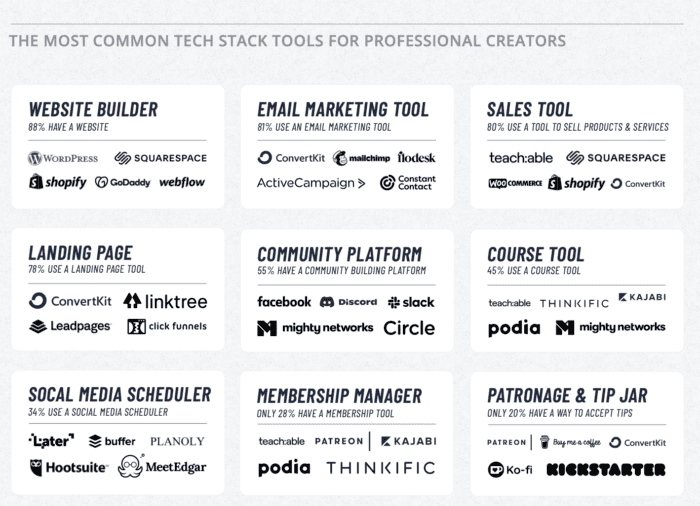 Conclusion
There you have it! If you're thinking about getting started as a creator, check out my getting started guides for finding your niche, picking your discovery and community platforms, growing your ideal audience and monetising your content.