I've got a couple of requests lately to do a post about the different commenting systems for Blogger, more specifically to compare Google Plus and Disqus. This post is an overview of the features, advantages and disadvantages of the three main commenting systems for Blogger.
BLOGGER COMMENTS
Blogger's default comment system seems to get mixed reviews. It got an update last year to include a new, much cleaner interface and improvements were made to threaded comments. Readers can log in with their Google/Blogger account, WordPress account, another profile or anonymously. You can change the restrictions for who can comment in settings and set moderation. The best part of the update was finally including an option for your readers to receive notifications if your comment has a reply by ticking "notify me" when they leave a comment. You can also add a little message to display before the comment system and customise the comment section to match your blogs branding.
If you comment on a lot of blogs that use Bloggers commenting system, make sure that you're profile isn't set to no-reply so that they can reply to you. Instructions on that can be found here.

Some people have mentioned that their reply button and threaded comments don't work, on certain third party/custom templates the necessary code has been altered or removed. If yours isn't working check out this tutorial to fix it.
The one negative things about Bloggers comment system is spam. Instead of turning on Word Verification straight away, try out these tips for preventing spam comments on Blogger.
DISQUS COMMENTS
Disqus ("discuss") is a free third party service that manages your blogs comments. It's pretty easy to instal and can be used across multiple blogging platforms. Readers can log in with Facebook, Twitter, Google +, a name and email address, a guest account or their own Disqus account. One of the main reasons for it's popularity is the overall clean interface, analaytics and the use of replies/threaded comments.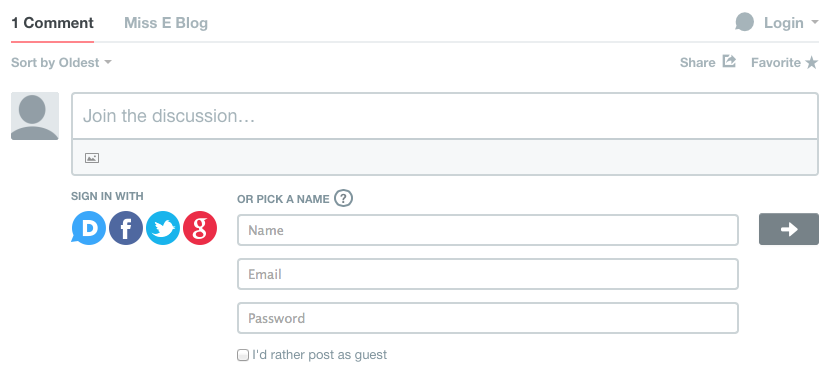 Disqus has many settings that you can customise including the appearance, comment sorting and auto closing after a certain time period as well as moderation rules – letting guest commenters, allowing links and media, word restrictions, blacklist users and more. Users can react to other comments (like or dislike) as well as share comments to social media, they can add pictures and video within the comments too. Beneath the comment section, you can choose to add a discovery box showing related posts and recent comments.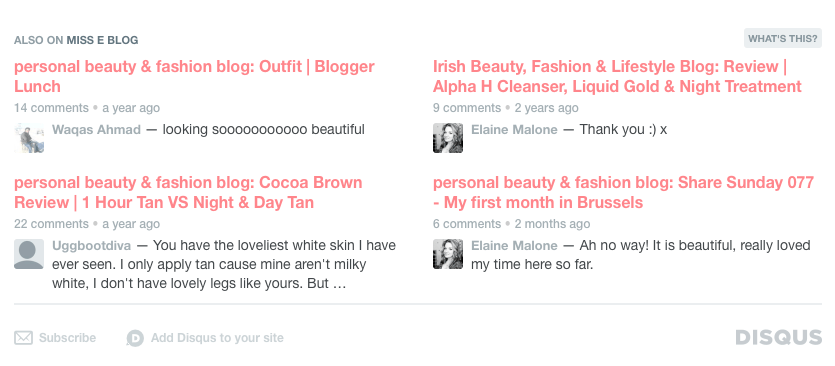 A common complaint is that Disqus doesn't allow comments to link to the comment author's website which isn't true. Set up a Disqus profile and you can add information and a link to your blog. You can also follow other commenters and see what comments they made on other blogs. If you have a Disqus account you can follow blogs to get their newest posts in your dashboard.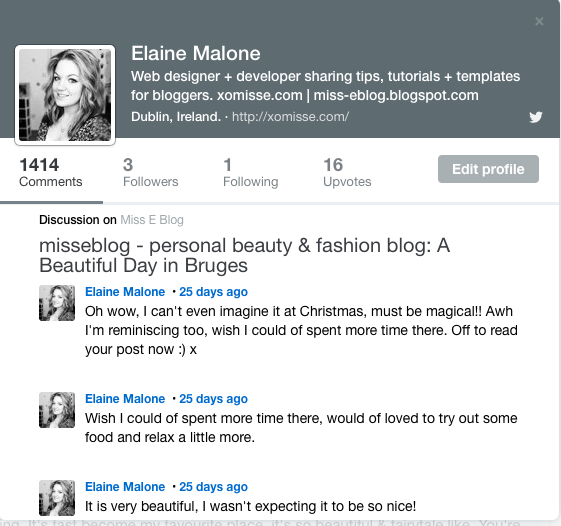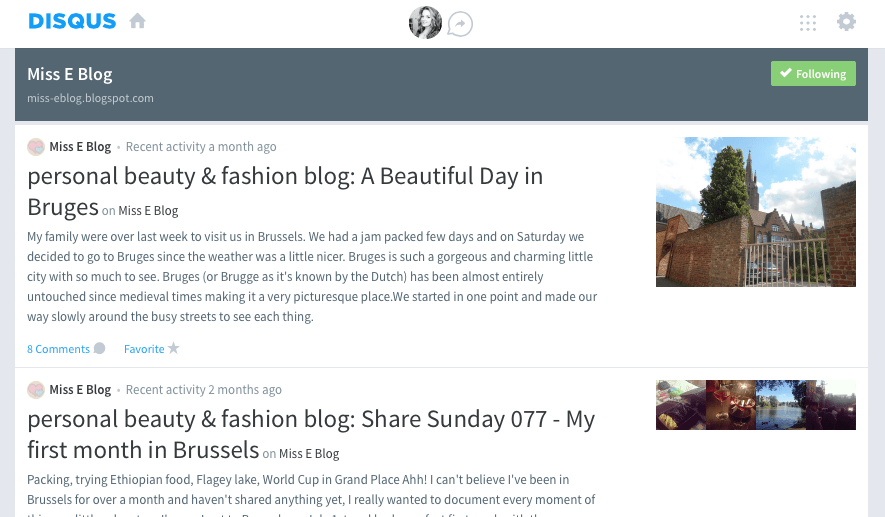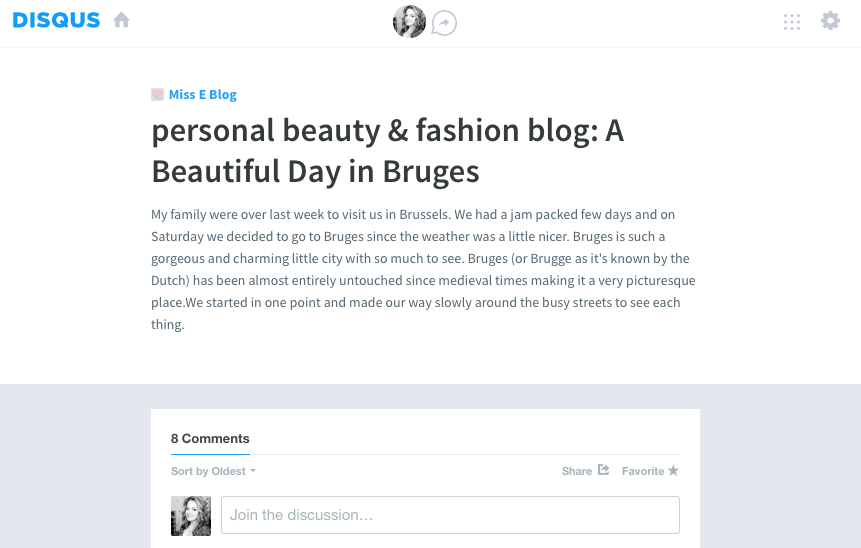 You can import your existing comments from Blogger, WordPress and other systems, which can take some time and occasionally not all the comments import correctly. If you switch platform or domain names you can migrate comments. If you want to revert back to Blogger comments and remove Disqus, you can sync your Disqus comments with Blogger so you don't lose them.
Some browsers and devices have trouble loading the comment system and I've had complaints from readers not being able to find the comment section or having trouble using it. Disqus is usually the last element to load on your site so it can sometimes be quite slow, it also overlays your current commenting system so depending on how slowly it loads your previous commenting system could be seen for a few minutes.
GOOGLE PLUS COMMENTS
Google+ comments include threaded comments for replies, public and private option so the commenter can choose what circles to share comments with as well as being able to edit published comments. You can also +1 comments (like them, agree with them) and share on Google+.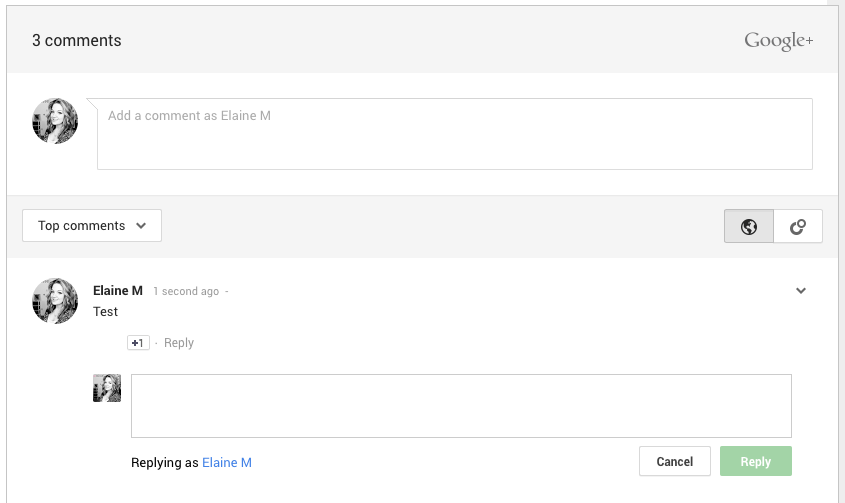 Comments made on Google+ posts will automatically show on your blog posts. When a user publicly comments on your blog, it is shown on their profile just like with YouTube comments. This is a great way to expand your readership and promote your blog but there are a few downsides. Readers can only comment if they have a Google Plus profile or page. Although most people and Bloggers do have a profile, not everyone will so consider that before installing.
If you do install it, comments made via Bloggers default comment system will remain but third party comments (such as Disqus) may not. You'll lose Google+ comments if you change domain so if you're thinking of getting a custom domain do so before changing to Google+ comments. If you want to implement Google+ Comments on Blogger, you need to connect your blog to your Google Plus page or profile. You can do this in the Google+ tab on Bloggers dashboard.

What is your favourite commenting system to use on your blog? Do you have a preference when you visit other blogs? Do certain things turn you off leaving a comment?