We're back with another HTML for Beginners post, this time on the Box Model. Margin and Padding are used so often for spacing out elements in a design.
I mention the two a lot in tutorials and regularly get asked how to edit spacing on different design elements in comments and emails.
Today's post will explain the differences between padding values and margin values as well as a couple other CSS tips. This isn't anything complicated, but knowing it will help you understand areas of your blog design and hopefully make adjusting your layout a little easier.
The box model
The Box Model is a collective name for margin, border and padding. In the centre you have the main content or element. This could be an image, a button, some text or something else.
We then have the padding around that, then the border area and finally the margin area on the outside. These values can contribute to the height and width of an element.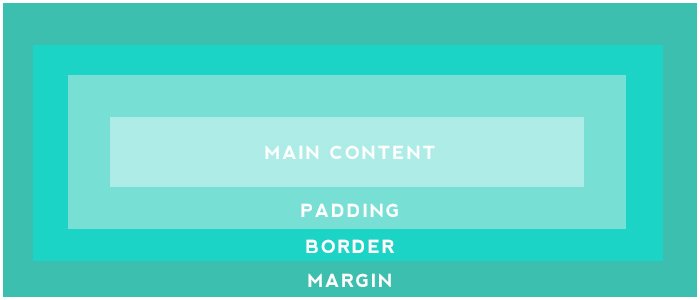 It's important to remember that the margin is space outside an element while padding is the space inside an element.
What does that mean? Adding padding values will add space around the element, if it has other style attributes such as a background or border they will be affected by the padding. Adding margin values will add space outside of the element, so it will be sepearate from content around it such as other text.

There's so many examples of how to use these both. We could add padding and a background to text to create a button and add a margin to separate that button from other content around it like text or images.
We can use one value to set an equal space on all four sides. We can also set the value individually for each side using margin-top, margin-right, margin-bottom, margin-left, padding-top, padding-right, padding-bottom and padding-left. We can shorten the values too as the next section will show you.
Using CSS shorthand for box model
We can shorten values down and combine them in CSS. Notice that this works in a clockwise direction (top, right, bottom and left). So if we used the following declarations
margin-top: 5px;
margin-right: 10px;
margin-bottom: 15px;
margin-left: 20px; 
we could replace that with this instead
margin: 5px 10px 15px 20px;
If the top and bottom values were the same and the left and right values were the same like this
margin-top: 5px;
margin-right: 10px;
margin-bottom: 5px;
margin-left: 10px;
we could use this instead
margin: 5px 10px;
If the value is the same for all areas like
margin-top: 5px;
margin-right: 5px;
margin-bottom: 5px;
margin-left: 5px;
we simply use one value
margin: 5px;
The values we use affect the layout in different ways, as you can see with the image below. The same HTML is used but the CSS we've added creates two different looks. The grey area is the padding, it's adding space around the element on the inside. The dashed line is the margin, it's adding space on the outside and is the area where other content will not enter.

I hope you found this post helpful in editing existing CSS or adding your own values. Once you start editing these it becomes easier to understand and you'll pick up different ways to use them. Let me know if you have any questions.