I can finally announce something I'm very excited to be involved in – Blogosphere Magazine!
Blogosphere Magazine is a new print magazine featuring the very best from the blogging and social media community. It will cover a range of subjects including beauty, fashion, lifestyle, food, photography, travel and parenting as well as interviews, features, news and helpful blogging tips.
The brand new magazine launches October 16th 2013 with issue 1 and will feature an interview with the beautiful Estée from EssieButton who is on the cover, as well as section editors like Lina from Makeup To Makeout, Poppy from PoppyLoves, Anna from South Molton St Style and Rachel from The Food I Eat.
I'll also be featured, answering reader questions regarding blogging – from beginning a blog to growing your audience and much more.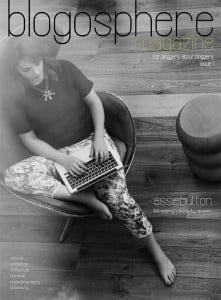 The magazine will be available to purchase on the website – both in print and digital versions. The first issue will be distributed throughout London and then following issues will be available around the UK. You can see a list of stockists here.
I redesigned the website in November 2015, read more about the magazine and see behind the scenes of the project here.
The brand new magazine launches October 16th 2013 so keep an eye out. More information will be up on the website as soon as it goes live until then follow along on Twitter @BlogosphereM.