Good news for Blogspot users, this week Blogger announced on their blog that they were releasing some beautiful new themes for the popular blogging platform.
The four new themes should now be available in your dashboard, they are:
Contempo – As good for a photo as it is for a story, Contempo puts a fresh, modern spin on life's many adventures.
Soho – Spare and simple, Soho is a gallery built to showcase your latest photos, designs or musings in their best light.
Emporio – From projects to objects, Emporio can take any array of posts and display them in a neat and tidy way.
Notable – Whether you're feeling pithy or profuse, Notable is your notepad for scribbles, stories, and so much more.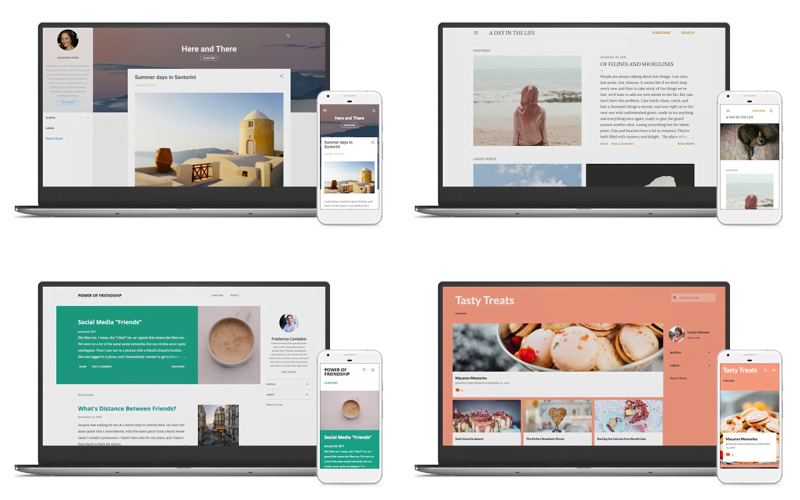 These new themes are mobile responsive so they will automatically adjust to any screen and have quick loading times, both of which are important for SEO in 2017.
The four themes come in a variety of colours and have some new features (including a nicer comment section and the ability to hide/show gadgets without having to delete them).
They are coded slightly differently to the previous themes available, but can be customised in the Template Designer. You can also edit the template code directly in Blogger's HTML Editor too to fully customise them to suit your style.
Want to switch to one of the new themes? On your Dashboard, go to the Theme tab and select the one you want to try. Remember to back up your old theme first!
I'm hoping this means we'll continue to see even more updates to Blogger soon, as they've been tweaking a few things on the interface over the past few months. I can't wait to have a play around with the new Blogger themes and introduce the latest features to themes of my own. Keep an eye out for new tutorials and pre-made themes!
Will you be switching to any of these themes? What tutorials would you like to see for them?