Plugins are an essential part of WordPress, giving us the ability to extend the functionality. It is best practice to be selective with the plugins you add, and ensure that all plugins and themes installed on your site are kept up to date.
One of the main reasons a WordPress site gets hacked or infected with malware is because of out of date plugins, themes and WordPress core. Updates can include important bug and security fixes as well as new features.
To solve this issue, an auto-update feature was introduced in WordPress version 5.5 letting you now choose which themes and plugins can apply updates automatically as they are released.
Automatic updates is great in terms of convenience and security, but there are some some potential downsides too.
What are the potential downsides to automatic updates?
There is always a risk when updating plugins and themes, but if you're manually doing it then you can immediately take action if needed. The problem with auto-updating plugins and themes is that they might break the site, but you may not know about it right away.
There may be numerous releases within a couple of days where the developer is resolving an unexpected bug, or fixing a conflict with another plugin. And as updates can happen at any time, you may not be around to test your your site for compatibility issues.
An update could be triggered at an inconvenient time, like just as you're about to publish a post. If there are quite a few updates to happen at one time, your resources may surge and the updates could fail.
If you've tweaked your theme, these may be overridden by the automatic update – this is why it's important to use a child theme.
Should I enable automatic updates for plugins and themes?
This decision will come down to each individual site owner.
If you can manually keep on top of updates yourself, then there's likely no need to enable auto-updates.
However if you typically avoid updating your site for weeks at a time or hardly ever login to keep up with maintenance, then auto-updates might be worth it.
How do I enable auto-updates on WordPress?
Enabling auto-updates for plugins and themes is pretty quick and easy after the WordPress 5.5 release.
To enable auto-updates on a plugin, visit Plugins > Installed Plugins. Along the side of compatible plugins you'll see the "enable auto-update" option. Click on this link for each plugin you want to automatically update.

For your theme, go to Appearance > Themes. If your theme is compatible you'll see the "enable auto-updates" option, which you can click to activate.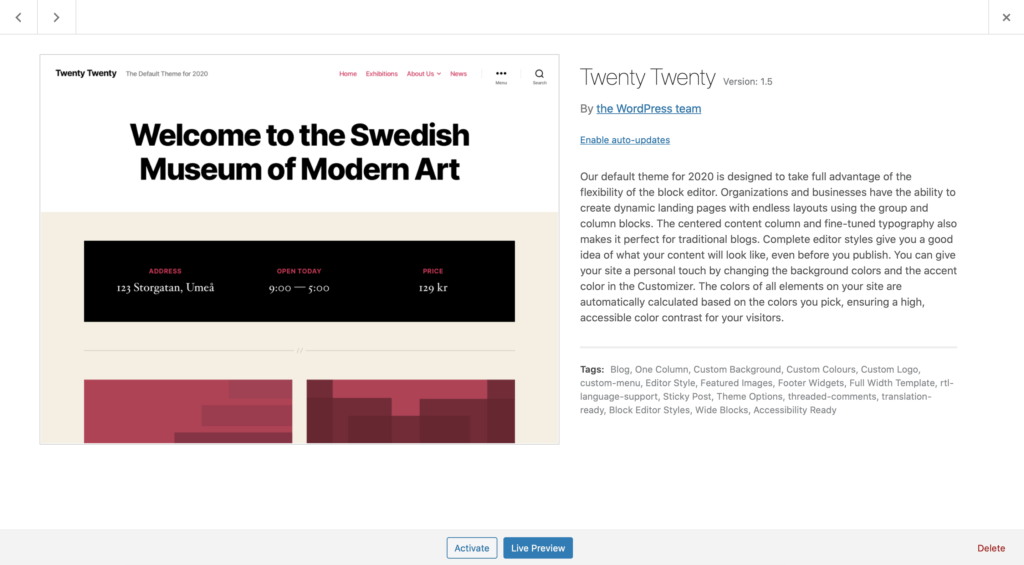 Conclusion
There is the possibility of running into an issue as described above if you do enable automatic updates, but that is likely to be more manageable than potentially being hacked.
I now offer a Monthly Maintenance service so you don't have to worry about backups, updates or security as well as my Consult + Code service if you need a couple of tweaks or customisations.