nRelate announced rather suddenly yesterday that as of December 31st 2014, their services will be shut down. This means that if you have a related or popular posts widget or plugin that is by nRelate on your site they will no longer work come January and you will need to find an alternative.
They advise you to remove and delete all plugins or widgets before that day. As an avid nRelate user, I'm pretty disappointed! I use it for all sites I own and create because I love the custom CSS feature. I know many of you are using it too so here are some alternatives.
Related posts can be a great way of regenerating old content and keeping readers on your blog longer, increasing engagement and reducing your bounce rate.
Linkwithin
Linkwithin a very well known related content widget for blog platforms like Blogger, WordPress, TypePad and many others. There's no need to register, you just enter a few details and it installs instantly. If you're on a different platfrom from those mentioned above, you'll have to install it manually which requires adding a few lines of code to your template. Linkwithin is very simple, it doesn't offer any themes or settings but has a clean design that you can slightly customise depending on your coding knowlege. You can install it here.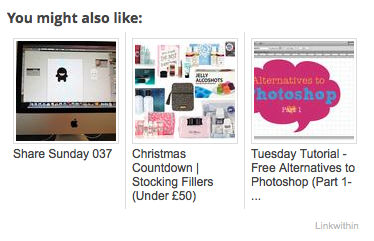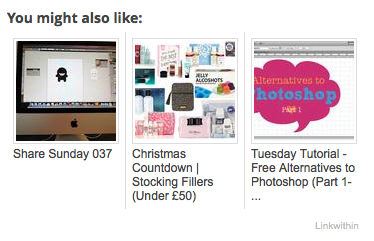 Engageya
Engageya is another well known related posts widget for WordPress, Blogger and other platforms. Enter your details and signup to install. It has quite a few themes to choose from as well as being able to customise it using CSS. There's an option to add sponsored content as you could on nRelate. This would be my top recommendation at the moment. You can install it here.


Shareaholic
Shareaholic provide a related content and recommendations plugin for Blogger, WordPress, Tumblr, Drupal, Shopify, Wix, Squarespace and many others. To install – you enter your details, choose the look of the widget, add the script to your template above </head>, click verify site and finally add the code snippet where you want it to appear. There are several themes to choose from and an option to customise your own. You can get it here.
Content.Ad
Content.Ad are another related content system to use on your site, there's also a quick install for Blogger and WordPress. They have a few themes to choose from, including a custom theme to use your own CSS and you can change the type of widget to be text only, image and text, 2 columns or banner. There's an option to add sponsored content as you could on nRelate. You can sign up for it here.
WordPress Plugins
There's a number of Related Posts plugins for WordPress such as CP Related Posts, Jetpack Related Posts, Sharaholic, Contextly Related Links, Related Posts, YARPP, Contextual Related Posts and Related Posts for WordPress.
Taboola, Gravity and Outbrain are other alternatives, although they are targeted at larger, high-traffic publishers. It's also possible to code you own, I'll do a tutorial on this in the future.
Only want them on your post pages?
Check out this tutorial if you want to hide related posts on your blog / home page and only show them in the post itself.