How many of you have purchased your own domain name? If you have, did you know that your personal information could be publicly available to anyone? This post will explain what a private domain is and how to make sure you protect your personal information.
What is a Private Domain?
WHOIS is an organisation that manages all data regarding domain registration. This data includes information about the domain buyer and registration details such as the registrar company and the purchase, renewal and expiry dates.
When you register a domain name, the registrar is required to report specific information and make this publicly available on the WHOIS database online.
Anyone who runs a domain search on the WHOIS database can view this information, including spammers, scammers and hackers.
Domain name registrars, like GoDaddy and NameCheap, offer an add-on service called Domain Privacy Protection. For a monthly or yearly fee, you are buying privacy from the registrar company to replace or mask your personal information in the database.
This prevents people from looking up your full name, mailing address, phone number and email address.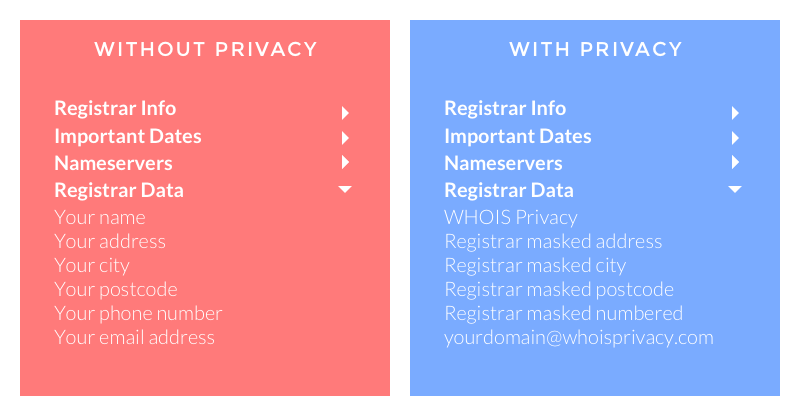 The Pros of Domain Privacy Protection
.Hide personal details and protect against identity theft
Help prevent spam and unsolicited marketing contact
Protection from domain name hijacking (stealing/transferring)
A large corporate business probably won't mind already public information being listed. If you're a blogger or small business owner you may not want your personal information so easily accessible.
The Cons of Domain Privacy Protection
Additional yearly cost
Grey area with who legal owner is
Usually the yearly cost is under €15/$15/£10, but that's still an additional fee on top of everything else you are paying for. Some registrars, like Namecheap, offer this service free for the first year. (ETA: As of May 29th 2018, Namecheap are offering free WhoisGuard for life available here!)
When it comes to the legal side of things, this does cause a bit of a grey area. You are essentially putting someone else's details down as the owner of the domain. For the majority of people, this will never cause an issue and a lot of registrars guarantee that the ownership remains with you. Ask the question before purchasing if you are worried, and use a reputable and ethical registrar. Also check the TOS and privacy policy to make sure they aren't selling your protected information.
How can I protect my information when purchasing a domain?
Once you've found your new domain name, you should see the option to add domain privacy to your order before checking out. Keep in mind that some domain registrars call it WhoisGuard, Whois Privacy, Whois protection or Private Domain Registration.
The add-on is available for the most popular extensions (such as .com), but some other extensions cannot use this service. This is something you may want to check when selecting your domain.
I've already purchased a domain, how do I now protect my information?
If you already have a domain purchased, you can still add domain privacy to it. It's important to keep in mind that your information has already been made public. Even if you protect it now it may still be accessible via caching and internet archived data.
Can't I just give them fake details?
No, you can't. The Internet Corporation for Assigned Names and Numbers (ICANN) requires the mailing address, phone number and email address of those registering a domain be made publicly available through the WHOIS database.
Giving fake details is a violation of the ICANN's TOS. Your site could be shut down and domain could be deleted by giving fake details.
Do you recommend purchasing domain privacy protection?
Yes, I think for 99% of people purchasing domains it's a good idea to purchase the privacy add-on. If you have a PO box or business address and contact information it probably isn't needed, but if you're using your personal home address and phone number I would recommend it.