Welcome back to the November edition of ICYMI, where we cover the the latest news and updates in the digital marketing world.
Today we're discussing Facebook Virtual Gifts, Instagram Social Channels, Pinterest ending their Creator Rewards program, end of life for PHP 7.4 and Google's stance on guest blogging for SEO reasons.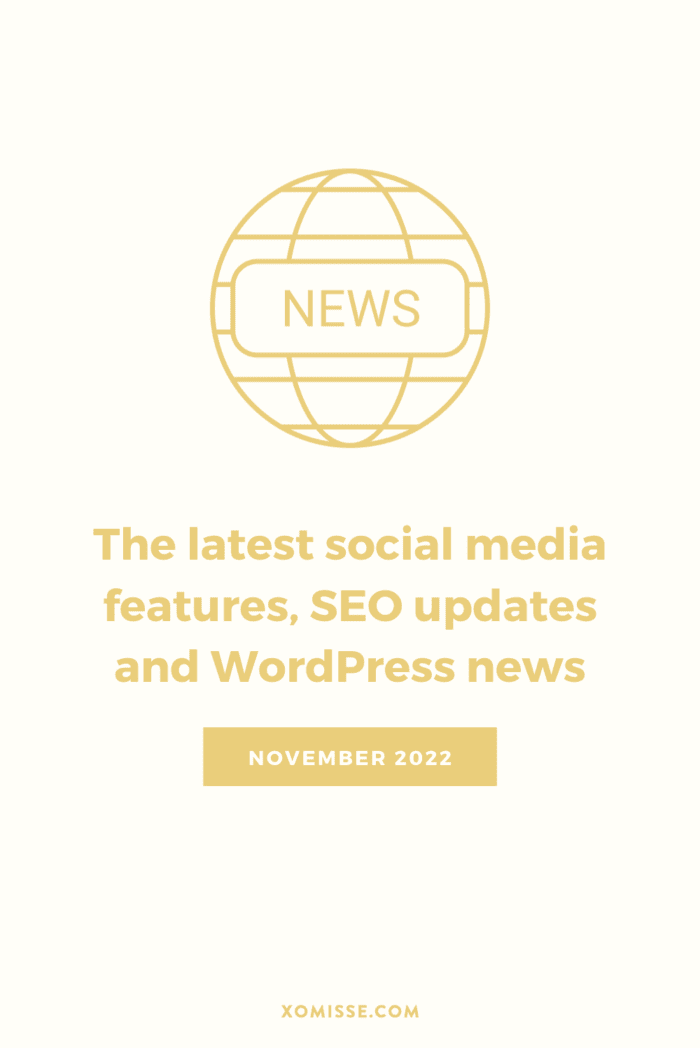 Social media
Things happen at Twitter…
Where to even start with this update?!
Musk lays off staff, introduces multiple verification systems, pauses Twitter Blue verification due to increased impersonation and starts an argument with Apple over advertising.
As many feel the platform is more unstable than ever, a lot of users have been inviting their followers to join them on alternative platforms like Mastodon, BlueSky and Hive. WordPress have also been calling for ex-Twitter developers to join the Tumblr team.
Facebook Professional Mode for Creators
Facebook expands the professional mode for profiles to more users. This new setting opens new features and tools for creators on the platform like monetisation programs, collaborations and updated analytics.
Meta shared details of several new creator-focused features at its Creator Week 2022 event this month. This includes creators being able to make their own NFTs on Instagram and Instagram Subscriptions expanding to all eligible creators in the US and the ability to send virtual gifts to your favourite streaming creators.
Instagram adds music to in-feed posts
Instagram has been testing a new feature, which allows users to add music to image posts on their feed. Brands will have a limited selection of music available to them, just like with Reels and Stories.
Instagram Social Channel
Instagram are working on a community option, allowing users to join a group chat through a sticker that's dedicated to a specific topic.
Facebook Group Introduction Prompts
Facebook are testing prompts in Groups. This will allow Facebook Group admins choose from a selection of prompts, which will encourage new members to write their first post.
WhatsApp Search for Businesses
Meta is rolling out a business search tool for WhatsApp, which will allow users to search for businesses and view locations on a map.
LinkedIn scheduling is here
Great news, LinkedIn is FINALLY rolling out native scheduling for profiles through the desktop version. This new feature will allow you to schedule text posts, images, videos and carousel PDFs.
LinkedIn have added that scheduling for Groups and Company Pages will be coming soon, as well as being able to schedule other types of content.
TikTok expands Shop feature to the US
While TikTok originally launched Shops in the UK and Southeast Asia in December 2021, major issues caused the platform to pause expansion. That was until now, as TikTok expands its in-app shopping feature in the US. This allows users to browser products with select retailers and purchase directly through the TikTok app.
TikTok's new Audience Insights tool
TikTok have launched a new audience insights tools for brands, businesses and advertisers to help them understand and target their audience more effectively.
Product Tags for YouTube Shorts
YouTube are testing the ability to allow creators to add product tags to their YouTube Shorts, that viewers will be able to click in order to purchase products through the video.
YouTube adds quizzes
YouTube expands its visual editing process for image-based Community posts and have added a quiz feature to encourage engagement with viewers.
Pinterest expands Shuffles
Pinterest launched its new app Shuffles in August and are now making it available to everyone. This allows users to create collages from images found on Pinterest that can be animated and set to music before being shared on other social platforms.
Pinterest ends their Creator Rewards program
Pinterest has announced it's ending their Creator Rewards program that allowed creators to make money on themed Idea Pins based on monthly prompts.
WordPress News
PHP 7.4 no longer supported
PHP 7.4 reached end of life on November 28th, using it after this date can increase security risks, reduce website stability and affect performance.
WordPress recommend using PHP 8.0 or 8.1 for WordPress versions 6.0 and higher, but notes that this support is still in beta and users may notice depreciation warnings.
Not sure if you need to upgrade? Check out my post on finding and updating your website's PHP version.
Gutenberg team works on a plan for a Font Library
The purposed idea is to have a font library within WordPress to manage registered fonts and allowing users to select which of these registered fonts they want to use on their site.
Goodbye FSE, hello Site Editor
The phrase Full-Site Editing (FSE) has been used to describe the new direction WordPress is heading. However, it's now been rebranded to Site Editor to be more user friendly.
WordPress launches Developer Blog
WordPress.org are working on launching a new blog for developers to give them a way of staying on top of new features without having to scroll through contribution and meeting notes on the Make Core blog.
SEO News
Google Search release ranking systems guide
Google have released a guide to Google Search ranking systems to make it easier for creators to learn about their algorithm.
Google rename updates to systems
Google have renamed their updates to systems – for example the "page experience update" is now "page experience system" and the "helpful content update" is now the "helpful content system". This is to differentiate between a new system and an update to that system.
Google say all links in guest posts should be nofollow
Not a surprising discovery, but one that's worth repeating. Google want you to make links in a guest post as nofollow. The reason is that you're placing these links on other sites yourself and so they work as an advertisement and should be nofollow.
Marie Haynes created a Twitter Poll asking her audience if they still guest post for SEO reasons. With over 400 responses, 43.7% said they do and 43.9% said they don't. Barry Schwartz did a follow-up post based on the findings reminding us that Google have said time and time again that guest blogging for SEO is dead and typically goes against their guidelines.
While backlinks are important, Google have stated that they are less significant now compared to a few years ago. Instead they rely on hundreds of signals to rank relevant and useful results.
It's worth also noting that Google have said that they have algorithms in place to detect guest posts, edited scraped content and other AI altered plagiarised content.
Conclusion
That's it! You're all caught up with the digital marketing news for this month. Join our newsletter below to get this news straight to your inbox every month.