Welcome back to the August edition of ICYMI, covering the the latest news and updates in the digital marketing world.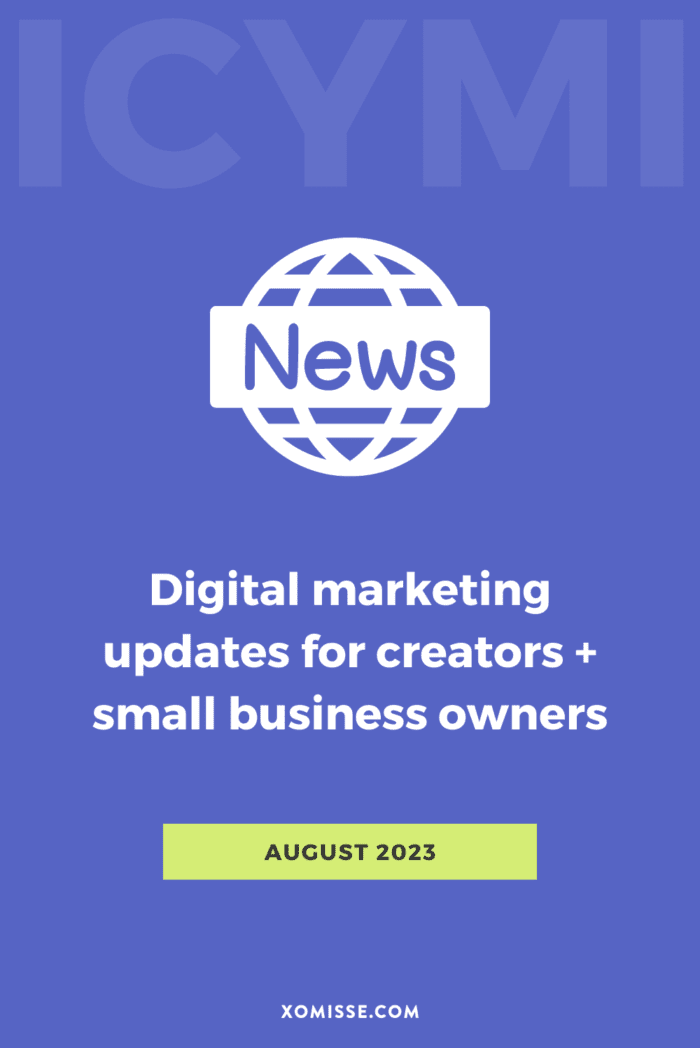 Instagram expands collaborator feature and introduce music on Carousels
Instagram first introduced collaborations in 2021 allowing you to publish a single post on two accounts with shared credit. Well now, you can include up to three collaborators on feed posts and Reels. This allows you to reach more of an audience as the post or Reel is also shown to your collaborators' audience.
Instagram have also introduced the ability to add music to Carousels, are looking into an audio clip format for Notes and are testing new comment and share counts on Feed posts.
YouTube adds new features to Shorts
YouTube are rolling out more features to Shorts, in order to compete with TikTok. These include adding a vertical live video feed, full-screen live videos, tools to make Shorts from regular horizontal YouTube videos, side-by-side recording similar to Duet on TikTok, and the ability to link Shorts to long-form YouTube videos. YouTube is also allowing you to add up to 14 links to your channel profile.
Instagram testing 3mins and 10mins Reels uploads
Instagram may have axed IGTV, but they seem to be experimenting with longer Reels as they are now testing the ability to upload 3 minutes and 10 minutes clips.
LinkedIn updates Newsletter interface
LinkedIn have announced several new features that will improve newsletters on the platform. Firstly, you have now host up to five newsletters under one account. The second update is that when a user subscribes to your newsletter, they will automatically follow your LinkedIn profile. And finally, one of the biggest changes is a redesigned publishing interface to make writing newsletters a whole lot smoother.
X (Twitter) plan to get rid of the Block feature and other updates
A truly bizarre update, but Musk has said that they plan on removing the Block feature. He then clarified that it would be replaced with stronger mute capabilities… but still a very odd update indeed.
The platform now allows paid users to hide their checkmarks, allowing users to benefit from subscription features without showing verified status. And they continue to work on ID confirmation to tackle bots on the platform. TweetDeck has also been rebranded to XPro.
Threads launches on desktop
Meta's new Threads platform has been on a bit of a rollercoaster, hasn't it? The X/Twitter-rival was dubbed the fastest growing platform after it gained 100 million users in just 5 days. Then things slowed down rapidly, as it saw significant decline in daily active users after the initial hype.
But Meta continue working on new features, like adding reposts and a Following tab. The latest update is a desktop version so you can now access Threads on the web. And they launched the initial test of keyword search in New Zealand and Australia. Are these updates going to draw people back in? I guess time will tell!
TikTok introduce text posts
TikTok users can now post text-based updates in addition to videos and photos. These text posts have a 1,000 character limit, and are similar to Instagram's Stories format where by you can select a background colour, edit the texts appearance, add music or stickers and so on.
LinkedIn add brand partnership tags
Influencer marketing shows no signs of slowing down, and LinkedIn are rolling out a feature that will prompt users to add official partnership labels on posts that they've received compensation for.
Meta to allow users to opt out of recommended content in Europe
According to a company post, Facebook and Instagram users in Europe will be able to opt-out of seeing personalised recommended content when accessing features like Reels, Stories and Search. These changes are being made in order to comply with new regulations from the EU's Digital Services Act (DSA).
TikTok adds required labels for AI-generated content
With AI content becoming even more popular, TikTok is requiring users to disclose their AI-generated content or risk having it removed. Instagram is also reportedly working on a similar feature.
Facebook warning to inactive Group admins
Facebook is reminding group admins that they should be active in their Groups, with a prompt to add new admin before Facebook automatically assigns one.
TikTok deny plan to ban e-commerce links
A rumour started this month that TikTok are planning to ban links to e-commerce sites like Amazon to try and push the use of TikTok Shop. However, TikTok have denied these rumours.
Instagram share comments to Story
Instagram is live testing the ability to share comments from any public post or Reel to your Story. In the test, you can swipe left on any comment and share it to your Story, where the comment will then be featured in a new sticker type.
YouTube lowers entry requirements for Partner Program
YouTube have made it easier for more creators around the world to monetise their channels by lowering the requirements to join the YouTube Partner Program (YPP).
YouTube lowered the eligibility requirements for creators in the US, UK, Canada, Taiwan and South Korea back in June, but have now expanded this to more countries in North America, Central America, South America, Europe, Africa and Asia.
The new criteria states that channels only need 500 subscribers and 3,000 watch hours in the past year to apply to the program, which will give them access to features like Channel Memberships, Super Chats, Super Stickers and merchandise sales.
WhatsApp introduce HD images and screen-sharing
WhatsApp finally allows us to send full-sized HD images, so no more poor quality photos when you're sharing with friends or clients. And they've introduced screen-sharing on video calls.
ConvertKit Creator Economy Report
ConvertKit have released their annual State of the Creator Economy report, which discusses the experience of over 1,200 creators over the last year and what they will be working on in the coming months.
That's it!
You're all caught up for the month. Don't forget to follow me on Instagram or LinkedIn for more updates throughout the month.